A couple of months ago Neil Thomas dropped in to see Dave McDonald, the Warrington Foodbank Manager to have their regular catch-up to see how the Warrington Masonic Group could help on the run-up to Christmas.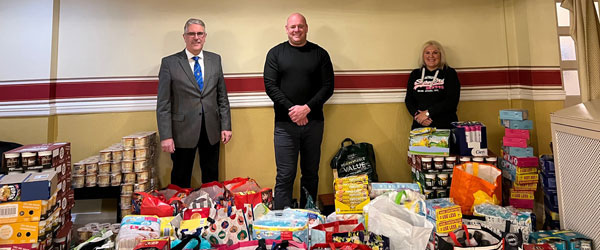 The Warrington Masonic Group have been donating food and raising money for several years now but since COVID the Warrington Group have been carrying out regular collections, ad hoc campaigns and Christmas collections as well as acquiring funds through the MCF.
One thing which was evident when speaking with Dave, was how busy they were, the number of people waiting for food packages, the number of extra staff working, coupled with phones ringing off the hook. Clearly, the dependence on the Warrington Foodbank had grown significantly since the last visit. Dave was told the number of people now using the Warrington Foodbank had doubled in 12 months.
Due to this, they have had to adapt and expand into other areas such as school uniforms, clothing and toys due to the economic crisis at the moment. Not only are they collecting food but they also collect and distribute old school uniforms, collecting winter clothes; hats, gloves and scarves ahead of the cold weather and second-hand toys to hand out.
This year the group has again participated in the Provincial Christmas Food Bank appeal which raised £1,700 with an additional £450 in cash donations. Warrington Group opted to collect food and toiletries again. Neil Thomas, with the help of his wife Gill Thomas, set to work once again, researching the numerous supermarkets for the best deals as food has gone up significantly in the last 12 months and the shops used previously were no longer the obvious choice this time around.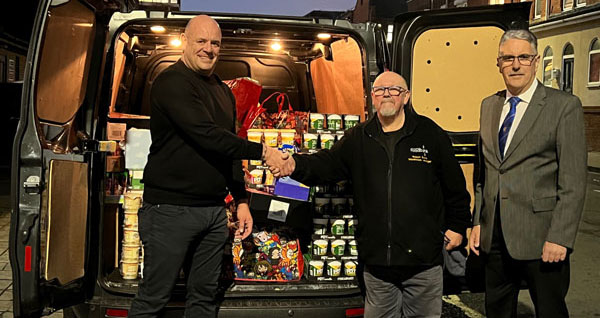 Looking back over the years you can really see how much food has gone up. For example, last year, the price of a pot noodle was 50 pence. The cheapest this year was 89 pence and the same goes for other essentials like soup, beans and tinned vegetables.
This year was the hardest to find the bargains and deals, luckily, with the helping hand in the form of Lewis, the Store Manager at B&M Home Store in Widnes, who kindly gave a staff discount. The shopping was broken down into tinned items, packet items, toiletries. Washing and baby items tend to be overlooked as it's the most expensive but it's one of those essential items which are desperately in need.
The shopping was taken to Warrington Masonic Hall where it was handed over by Warrington Group Chairman Andy Barton, Neil Thomas and his wife Gill to Rob Booth, Warrington Foodbank Warehouse Manager.
Story and pictures by Neil Thomas.