Warrington Group hosted its Annual Charity Giving Day at the Warrington Masonic Hall, attended by the Deputy Mayor of Warrington, Councillor Graham Friend, representatives from the charities that the group had supported in 2022, Warrington Group officials, the Provincial Grand Charity Steward Paul Shirley and Assistant to the Provincial Grand Principals Colin Rowling.
During 2022 the Warrington Group have made donations to Masonic Charities amounting to approximately £4,518 and a further £21,566 to 31 non-Masonic charities.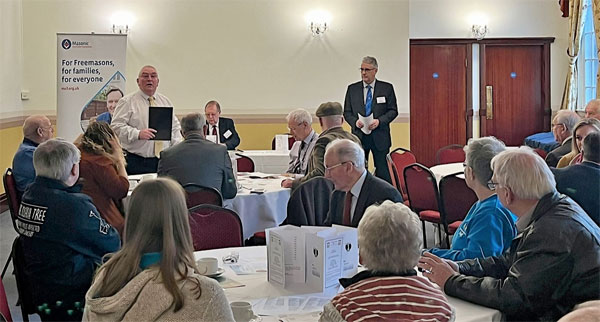 The Giving Day not only allows the meeting of people who have either received the benefit of the donations or are responsible for the donation's ongoing use. It also allows the local charities to meet other charities who have a shared interest in the services and support they offer, for example, the Walton Lea Project sells second-hand bikes and the Armed Forces Community Support repairs bikes. Here is a great opportunity for them both to work together.
The morning started with an introduction by Warrington Group Chairman Andy Barton and Colin Rowling who tendered the apologies of Assistant Provincial Grand Master Barry Jameson who was unable to attend. The introductions were then followed by a short talk by each of the attending charities.
The Mayor's Charity:
Andy Barton said: "Sometimes we tend to forget the good work that the leaders in our community do. For some years now the Freemasons of Warrington have supported and have been part of local community life in Warrington. This year they have again been pleased to be associated with the Mayor of Warrington's choice of charities. Earlier in the giving period, the Warrington Group of Freemasons were happy to present a donation to support their efforts. Today ladies and gentlemen, we are indeed honoured by the presence of the Deputy Mayor Councillor Graham Friend to whom I now present £250."
St Elphin's Church
A small donation of £280 was made as a thank you for hosting our annual re-dedication service attended by all Warrington lodges, including the lady Freemasons and associated Masonic Orders.
Warrington Foodbank – David McDonald
The Warrington Foodbank started 11 years ago. They handed out approximately 2 tonnes of food in the first year. In 2022, they handed out a staggering 138 tonnes of food along with school uniforms, children's toys and winter clothing. In the UK there are now 1,306 foodbank centres spanning from the Shetland Isles down to Cornwall and from Lowestoft to Londonderry, more than the total number of McDonald's restaurants in the UK, which is 1,270. In 2022, £3,100 was made available for the foodbank.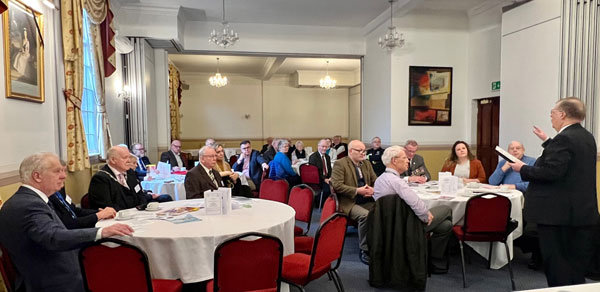 St Rocco's Hospice – Bob Garner
St Rocco's Hospice provide quality care and promote social, psychological and spiritual well-being for patients with life-limiting illnesses. All of the care they provide is free, for both patients and carers. They don't even charge for car parking. Less than a fifth of their funding is provided by the NHS, the rest comes directly from the community and the Warrington Group of Freemasons, collectively a number of lodges have been delighted to provide funds to the value of £1,250 plus a cheque for £250 presented on the day by WM George Hayes of Mersey Valley Lodge of Installed Masters No 9057.
Zoë's Place – Aimee Miller.
"Zoë's Place Baby Hospice exists to provide a variety of palliative and respite services to support families of babies with life-limiting or life-threatening illnesses. It is a 6-bed hospice and is the only one in the UK that caters specifically for babies, aged from birth to 5 years. We do not just care for the baby, but for the whole family. We know that dealing with a child with a life-limiting or life-threatening illness can be hard for everyone involved, so we want to make it as easy as possible for them all.  We do this by creating a family-like community, providing things such as counselling sessions, sibling support, activity days and much more. £1,900 was donated in 2022."
Adam Lewis Effect Foundation – Kim and Peter Lewis
The Foundation has been supported for a number of years by Warrington Freemasons and last year received £300. It raises funds to provide cardiac screening for young people in North West UK, and awareness of Sudden Arrhythmic Death Syndrome (SADS) in the hope of preventing further young tragedies. The Foundation was created in memory of Adam Lewis, who sadly and suddenly passed away from SADS in June 2014 at the age of only 24.
Radley Common Luncheon Club – Elaine Taylor
"The Luncheon Club is run by a small number of volunteers and provides a free lunch for anybody who wants one. It has been opening its doors to about 80 regular elderly members, four days a week, for the last seven years and all its funding is provided by donations from the local community. The Warrington Freemasons have donated £1,000."
Warrington Talking Newspaper – Jonathan McMurtrie.
The Talking Newspaper was the brainchild of Jonathan McMurtrie. If you are a loyal reader of the Warrington Guardian but begin to lose your eyesight, how can you keep up to date with the news? Since 1977, the Talking Newspaper has been recording articles from the Guardian for visually impaired readers. 37 years on, chairman Jonathan McMurtrie said they have almost never missed an edition of the newspaper.
"There are a lot of Warringtonians who still take the Guardian and when they no longer can read it, they really do miss it," Jonathan said. "Many of our listeners are ex-teachers and have read books and magazines avidly all their lives, the oldest recipient was 104." The charity received £450 in 2022.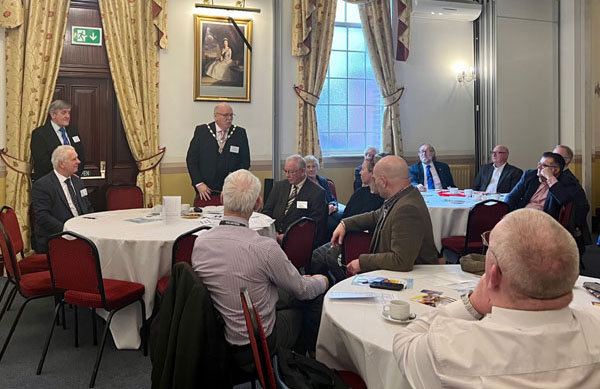 Walton Lea Partnership Project – Donna Sleet
"£250 was donated to support the project which provides a variety of activities and supported learning opportunities for adults and young people with learning disabilities and complications. The Partnership provides a variety of activities and learning opportunities across our two sites at Walton Lea Victorian Walled Garden and Walton Gardens Conservatory Range. Many of these activities can be described as 'horticulture' because they involve plant care and propagation, other initiatives are bicycle recycling and furniture up-cycling."
JUMP Children's Charity – Harriet Pratt
JUMP received £400 from Warrington Lodges in 2022. The charity supports children with terminal and life-limiting illnesses across the North West of England and in Clwyd County of Wales. Its ambition was and continues to be, to support children with life-threatening health conditions, enabling them to make unique memories with their loved ones and have them captured in photos or film.
The Joshua Tree Children's Charity – Dai Hill
"The Joshua Tree provides bespoke programmes of support to improve the emotional well-being and mental health of all immediate and extended family members who are affected by childhood cancers, for as long as they need it. The charity's interest in clinical research continues with the development of links with surrounding universities to better understand the effects that childhood cancer has on a family emotionally, cognitively and physically. The charity continues to offer support to the whole family, from diagnosis, through treatment and beyond. We hope that the £500 from Warrington Freemasons will have helped in some way in achieving these aims."
Armed Forces Community Support – Arnie Arnold
"The Armed Forces Community Support in Warrington offers a variety of welfare and mental health support, together with comradeship and a sense of well-being, to the ex-military community and their families across Warrington and Cheshire. The charity also assists in supporting those who want to further their education and training to gain sustained employment. They are a stand-alone charity which is built upon unique working partnerships with SSAFA, Citizens Advice Bureau, Combat Stress, The Royal British Legion, DMWS, NHS Trusts, Help 4 Heroes, Cheshire Police, CGL Pathways to recovery and local authorities." They also run several projects, including bike maintenance and ownership, crown green bowling, and external trips. They also hold functions within their building and have an on-site commercial café. A £350 donation was made by Warrington Freemasons in 2022.
Room at the Inn – Helen Fearon
Room at the Inn is the charity that was launched after the closure of the old Warrington YMCA. They provide daytime services to homeless and vulnerable people and have 22 bedded accommodations. Their ethos is to help people to access the services they need to go forward with their lives. Their dedicated staff and volunteers support people through very difficult times and help them to find a better future. Not everyone, without help, is able to move forward because of the challenges that they have. £700 was donated in 2022.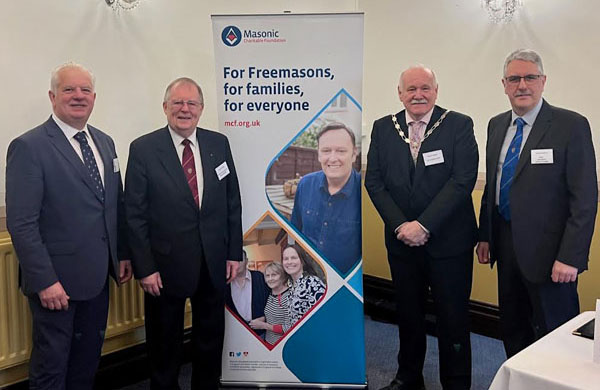 The morning continued with Colin Rowling speaking about a number of Masonic charities that the Warrington Masonic Group also supports. They include the Masonic Trust for Boys and Girls, a charity which will take the dependents of Freemasons who have either been ill or have passed away and were possible they can provide assistance in education. The West Lancashire Freemasons Charity based in Huyton, Liverpool, which covers the whole of the Province, it's the largest charity of its kind in the country and provides assistance for distressed Freemasons and also continually makes contributions to non-Masonic causes. And then we have the Masonic Charitable Foundation based in London but distributes grants all over England and Wales.
The Warrington Group Charity Steward, David Eccles who organised the event gave a short speech about the amount of money that the Freemasons throughout England and Wales have distributed in the past year. He handed over to the Deputy Mayor of Warrington, Cllr Graham Friend, who responded and thanked all the charities for their amazing work serving Warrington and its surrounding areas. He also thanked the Warrington Masonic Group for their continued support. The Warrington Group Vice Chairman, John Tyrer gave the final speech of the day before all the visitors were allowed a tour of the hall, lodge rooms and the extended museum.
Donations to non-Masonic charities in 2022 by the Warrington Masonic Group; St Elphin's Church, Warrington Food Bank, St Rocco's Hospice, Clatterbridge Cancer Centre, Zoe's Place, Adam Lewis Effect Foundation, North West Air Ambulance, Ukrainian Relief Fund, Cromwell Vulcan Girl's Football Team, St Thomas' Church, Radley Common Lunch Club, Warrington Talking Newspaper, MND Association, Walton Lea Project, Jump Children's Charity, Joshua Tree Children's Charity, Armed Forces Community Support, Room at the Inn, Dementia Research, RNLI, International Animal Welfare, Alzheimer Research Trust, Clare's House Children's Hospice, Alder Hey Hospital/Hospice, Halton Haven Hospital, Warrington Foster Carer's Association, Blood Bikes, Warrington Youth Sailing, Red Cross, Warrington and Halton COVID Fund, Francis House Hospice.
Story and photographs by Neil Thomas.