The Rev Michael Ridley welcomed everyone to the service at St Thomas' Church Stockton Heath, saying that for him, the annual service of nine lessons and Carols for Warrington's Freemasons was the start of the Christmas season, celebrating the birth of Christ.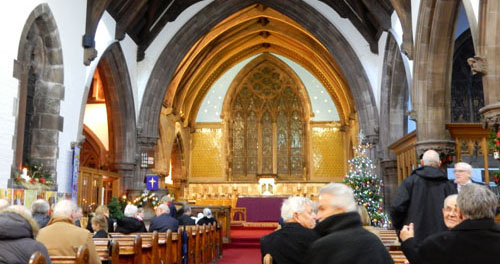 He added that it didn't seem like 12 months ago since the last Masonic Carol service. He announced that the Cadishead Public Band would be enhancing the evening, suggesting that the congregation may like to show their appreciation before the service started. Concluding his introduction, he thanked everyone for turning out on such a dreadful night and for their continued support.
The band played carols and Peter Blease played the organ, whilst the congregation joined in sang. Both the choir and the congregation were in fine voice. Many said they had really enjoyed the service particularly the band and the singing.
The lessons were read by Stephen Clarke, Caroline Crook, David Eccles, Paul Rigby, John Gregory, Hannah Gleave and Rev Michael Ridley. At the appropriate time during the service, a mock interview took place in which the shepherds described what they saw and heard on the night of the birth. This was conducted by Kai Whalley, Rob Crooke and Caroline Crook, which was most entertaining!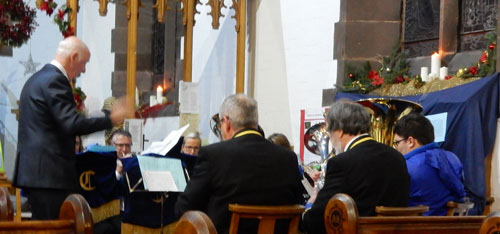 Following the service, most of the congregation assembled in the church hall, where refreshments were available in the form of tea/coffee, sherry and mince pies.
John Tyrer, Warrington Group Vice Chairman, gave special thanks to the Rev Michael Ridley and the Parochial Church Council for the work undertaken and for the use of the church and the church hall. Thanks also went to Hannah Gleave, for directing proceedings, Peter Blease for playing the organ and for organising the service, to the Cadishead Public Band, the Masonic hall staff, the readers and all who took part in the service and those who helped both during the service and afterwards. He also thanked Dave Anderson for organising the grand Christmas draw and John McIntyre for all his help.
The raffle was then drawn for £300, £200, and £100 respectively with many more prizes of wines, spirits and confectionery being won.
John brought the evening to a close by thanking everyone for their attendance and wishing all an enjoyable Christmas and New Year with family and friends.