Warrington Group Chairman Andy Barton and group secretary John McIntyre were pleased to present a cheque for £100 to Revd Michael Ridley of St Thomas' Church, Stockton Heath.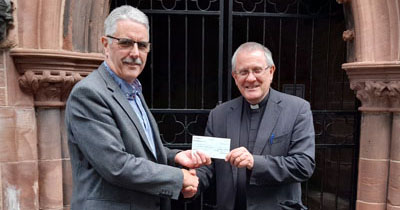 For many years, the Warrington Masonic Group have held their carol service at St Thomas' Church. Unfortunately, last years' service had to be cancelled due to rising COVID levels. This meant that the church didn't receive the usual donation from the service collection. To compensate, the Warrington Group Executive decided to make a donation of £100.
St Thomas' Church is a satellite distribution centre for Foodbank Warrington; it funds a youth, family and children's worker, two days a week and is a community hub for people in the area.
Revd Michael Ridley was delighted to receive the donation and looks forward to seeing the brethren later on in the year for the annual carol service