Warrington Group '100 Club' – an initiative to ensure that the group's future is financially viable – has held its second draw of the year in May 2021.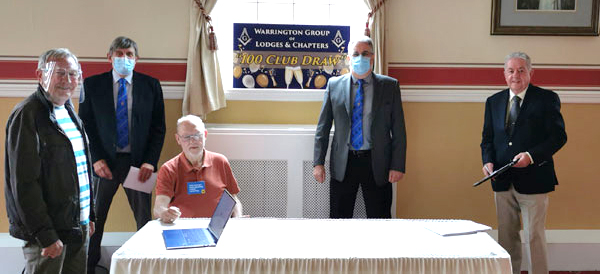 The idea of the draw is that each year, the brethren of lodges, their friends and family, purchase their own individual number. Each month a draw will take place for three numbers, for each of the three numbers drawn a cash prizes given.
The second draw for the '100 Club' was made in Winmarleigh Street Masonic Hall with all present socially distanced. This draw was made in the presence of the Andy Barton (group chairman), John Tyrer (group vice chairman), Jim Cartledge (group treasurer) and Steve Clarke, who has undertaken the administration of the '100 Club'.
To verify the impartiality of the draw was Jim Stubbings, WM of Newton Lodge No 6288.
The winners for May are:
1st Prize of £50 – Bet Davies.
2nd Prize of £30 – Alan Pattinson.
3rd Prize of £20 – Paul Santus.
It is not too late to join the '100 Club'. If you are interested in becoming a member, just contact Steve Clarke at; steve@bartonclarke.com
Story by John Tyrer, photos by Andy Barton.