When David Ogden, AProvGM for the Province of West Lancashire, rose to accept the gavel at the meeting of Holmes Lodge No 2708, it didn't really surprise Alan Brown, who was happy to give up the chair of King Solomon for a few minutes and allow David to add his support to the evenings 50th celebration.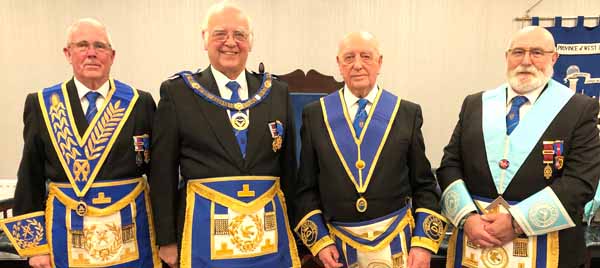 In fact, the whole room was there to celebrate Walter Green's 50 years in Freemasonry and David had the director of ceremonies offer Walter a comfortable chair so that he could relax and enjoy the following story.
David reminded the lodge that not many people get to celebrate being a member of anything for 50 years and during that period it is hoped that some effort has been put in by the individual. Certainly with Walter this has been the case both in his private and Masonic lives.
Born in May 1932, the country was in a deep depression and for parents it was an extremely worrying time. Walter was schooled at St Andrew's Junior School, Springfield and then onto Gidlow Middle School, leaving like a lot of others at the age of 14.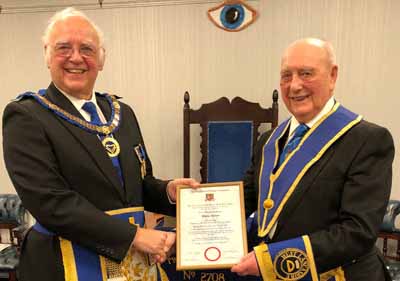 Walter had three years with the Co-op delivering bread before beginning a career in tailoring which led onto his self-employed status selling textiles and eventually floor coverings on various markets around the north west. Walter's rugs, vinyls and beds business was one of the largest in the North West.
Married for 63 years it is now his daughter Karen, son Christopher and grandson who run the business under Walter's watchful eye. Easing back in business has allowed him to pursue his hobbies of crown green bowling and cruising as well as numerous coach trips, much to David's pleasure.
Walter's other pleasure has always been his Masonry and it was on the 8 February 1972 at the age of 40 that he was initiated into Holmes Lodge where he eventually held the office of chaplain. Walter went through the chair in 1983 and received Provincial rank in 1994 as PPAGDC and later in 2002 he was promoted to PPDepGSuptWks.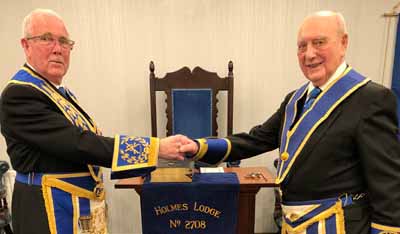 David reminded the lodge that without members such as Walter there would be no Freemasonry. Before bringing the proceedings to an end, David asked Wigan Group Vice Chairmen John Selley to read a certificate stating that Walter Green had been promoted to PPGSuptWks for his service to Freemasonry.  David was pleased then to present him with his new Provincial collar before requesting Geoffrey Porter to read the Provincial Grand Master's 50 year certificate.
When the chairman had completed reading the certificate for Walter's 50th, David added that this certificate was personally signed by the ProvGM Tony Harrison and the seal of the Province of West Lancashire Freemasons was affixed to it and then Walter was presented the certificate.
Following the presentation, David passed the gavel back to the WM Alan Brown who resumed his seat before the Provincial officers and group officers retired.
The lodge was closed in peace and harmony and all members retired to a glorious festive board in the Hindley Masonic Hall dining room, where many stories from the last 50 years were re-told and a number of extremely important toasts were made before it was time to draw proceedings to a close with the tyler's toast.

Ian K Dawson, Wigan Group Publicity Officer.