David Winder, Vice President of the West Lancashire MCF 2021 Festival, couldn't have hoped for better weather for the 'Raven Winder Walk' part two, in aid of the Festival. This part of the walk was originally planned as one of the 2020 keynote fund raising events for the Festival. However, due to the COVID-19 pandemic the walk was cancelled.

Given the COVID-19 situation this year, David decided to do the walk with his wife Susan on behalf of all the brethren in the Province who would have taken part in the walk if they had been allowed to. Before starting the walk, David had received sponsorship donations totalling over £10,000 from brethren, lodges and chapters across the Province, which David said he expected the final total to be £15,000 when all the pledges are honoured.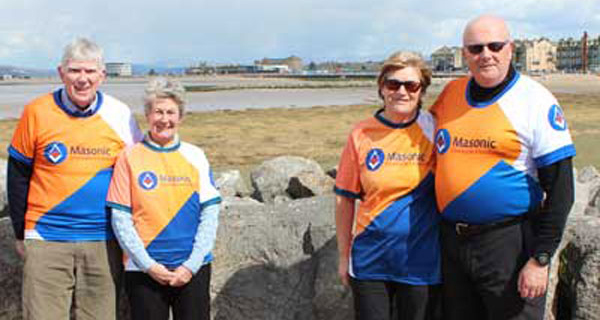 David and Sue were joined at the start of the walk by John Robbie Porter and his wife Susan, David Randerson and his wife Anne, who joined for the first part of the walk. They set off as planned at 1pm from Heysham Village car park at a brisk stride, planning to arrive at Happy Mount Park, Morecambe in around an hour and a half.
The Provincial Grand Master Tony Harrison and his wife Maureen joined the walk at the Battery which is near to the historical art deco Midland Hotel. Chris Reeman and his wife Jacque joined the adjacent 'Stone Jetty' where they stopped for the obligatory photograph at the diagram of the Lakeland fells. This just happened to indicate where 'Raven Winder' stands, near Flookburgh, on the north shore of Morecambe Bay. It was at this stopping point that the 'Winder' double entendre became clear.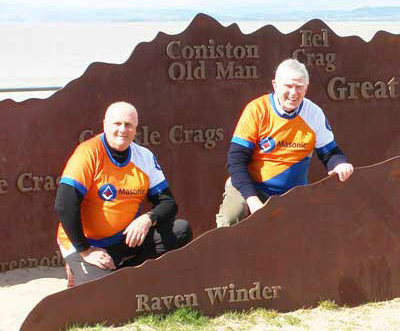 Other stopping places before and after included the whimsical statue of comedy legend Eric Morecambe, a challenge to find Eric's spectacles and the clock tower, they then dressed Eric in an MCF tee-shirt so that he was properly dressed for the photograph with Tony and Maureen, who left the walk at this point to return home.
Tony thanked David and Sue for doing the walk, adding his thanks on behalf of the many people who will benefit from the support of the MCF he said: "The generosity of West Lancashire Freemasons, their families and friends is the most heart-warming benefit of leading this wonderful Province."
On arrival at the halfway point David, John and their wives made their way to a strategically placed ice cream van in Happy Mount Park before commencing their return journey to the car park in Heysham Village.
David said: "A big thank you to everyone who has donated to the Raven Winder Walk and for their support and commitment."