Wigan Group Chairman Geoffrey Porter explains how Frank Highton, a member of Orrell Lodge No 8371 has viewed each morning during the lockdown period.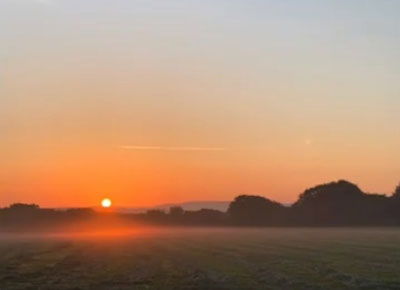 Consider that glorious luminary of nature. Each day, without fail, the sun rises to dispel the darkness as new dawn breaks. Each day the sunrise is different, often going unnoticed by most of us. We do take it so much for granted. Each day, during the COVID-19 pandemic, one of our brethren has had the pleasure to be out with his two dogs, Harry and Mac, early enough to capture the magic of the new day dawning.
Frank, who is privileged to live amongst the beauty of Roby Mill, took his camera with him on his daily walks and we are privileged that he has given us the opportunity to share in those captured moments. To view the video, click here. There are no two pictures the same, just as there are no two days the same, no two people the same.
We should look forward to each new day beginning because, for all of us, it brings a fresh start, it is a time of the day when we have not yet made a mistake, it is a new canvas waiting for us to enrich with our individual talents, our thoughts for good and our care for each other.
Frank has completed his lockdown diary of local sunrises over the last 103 days, and he is sharing them with us. It is obvious that Frank understands the beauty of nature but also knows that not all people have the wonderful gift of sight so he is hoping to raise funds for the RNIB.
A JustGiving page has been created by Frank for those wishing to support Frank's nominated charity. To make a donation to his nominated charity, please click here. All donations made will be thankfully received and faithfully applied.
Many thanks to Frank for sharing the beauty of sunrise in his particular Lancashire open landscape.

Geoffrey M Porter
Wigan Group Chairman