The meeting of Harmonic Lodge No 216 at the Adelphi Hotel, Liverpool promised to be a very different affair with over 25 visitors due to 'visit' the lodge.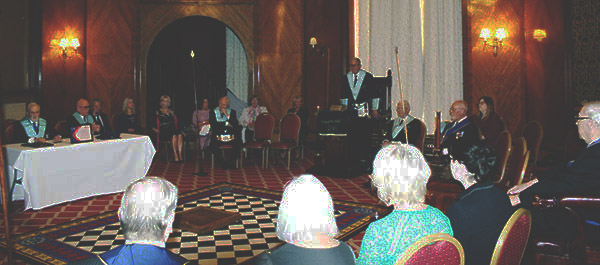 The lodge was opened in due form by master James Murphy, assisted by acting senior warden Gerald Carson and junior warden Geoffrey Holly; whilst ensuring that all went smoothly, Phil Marshall as acting director of ceremonies.
After all due business was completed, the lodge was closed in solemn form. James Murphy then requested that the inner guard admit all of the visitors to the lodge room and for them to sit amongst the gathered brethren who welcomed all to the lodge and made sure everyone was seated comfortably.
Lodge treasurer Ian Elsby gave a brief introduction to the history of this fine lodge, explaining the purpose of the lodge and Freemasonry in general. Ian gave a very thoughtful and humorous explanation of what it means to be a Freemason in the modern world; while interspersing it with anecdotes about Harmonic Lodge in particular, commenting that there had been many distinguished brethren who had also played their unique part in the local history of Liverpool and surrounding areas.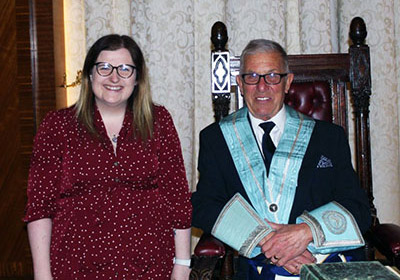 Ian introduced the various officers of the lodge, explaining to the visitors the purpose of each role and their unique position within the lodge itself, describing the various collars and aprons that the officers wear. He then went on to talk about the charitable aspect of Freemasonry, and in particular various local charities that Harmonic Lodge has supported over the years. The visitors and brethren applauded Ian for a very informative and entertaining talk.
Lodge secretary Eric O'Callaghan introduced to the visitors and brethren a very special guest, Rhianna McDermott, community fund raiser for Stick 'n' Step, a charity which has been especially supported by Harmonic Lodge and championed by Eric himself.
Stick 'n' step supports children with cerebal palsy and Rhianna talked about the important work that the charity does, going on to explain how charitable donations like those raised by Harmonic Lodge are such a big part in enabling that work. Rhianna went on to say how grateful and delighted she was to be invited and thanked all those present for their much-appreciated donations. At the conclusion, all applauded Rhianna in thanks for her presentation and in support of the charity itself.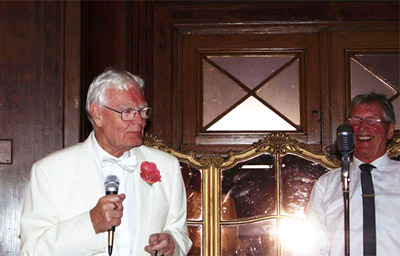 The WM, James Murphy thanked all those who had taken part in the presentations and invited all to join him in the Sefton Suite for refreshment, food, fun and general merriment. On arrival, the stewards presented a welcoming glass of champagne and ushered everyone to their respective tables. At the other end of the suite was a small stage where director of ceremonies John Donnelly swapped roles and welcomed all and entertained the guests and brethren with a medley of popular music.
After dinner had been served it was time for the raffle, with guests opening their golden envelopes and, with their number called, to go up to collect raffle prizes, very ably co-ordinated by Harry Kinney. It seemed that everyone was a winner and without further ado, a game of stand-up bingo then took place with everyone enjoying the game until the final winner was called – the last person standing.
Phil Marshall, the assistant director of ceremonies, looking very dashing in a white dinner jacket accompanied by pink carnation, introduced himself as the 'Abominable Dodgy Crooner' and sang a selection of popular songs which was loudly applauded after each refrain. John Donnelly, providing both a duet partner and backing vocals, ensured this was an extremely popular slot. If Phil lands a spot on Blackpool Pier this summer, remember you read it here first!
The floor was then opened to requests, with guests and brethren being invited up to the stage to sing a song of their own choice. With popular favourites of 'Sweet Caroline', 'Mad World', and 'You'll Never Walk Alone', the visitors and guests were kept well entertained. Even Gladstone Group membership officer Malcolm Hodgson took to the stage and sang a superb rendition of Sinatra's 'That's life'. It was a wonderful evening and who would have known the depth of talent that was just 'waiting in the wings'!