Following the unprecedented action taken by the Grand Master to suspend all lodge and chapter meetings for four months, obviously means that all physical meetings have been suspended. However, the Grand Master did not suspend Freemasonry.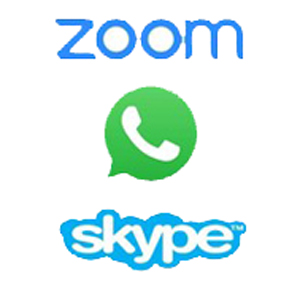 Keeping in contact with members of your lodges and chapters has never been more important. As a result many lodges and chapters are now making extensive use of social media to maintain contact. Committee meetings, virtual rehearsals and quizzes being the most popular use, but also almoners are able to speak directly with many members at once. Mentors are able to maintain relationships and we still have a means collectively of obtaining our daily advancement in Masonic knowledge.
Above, all regular contact maintains the fraternal relationships we have built up over many years.
Obviously, there are some rules to be observed and holding a virtual meeting of any kind can never
be considered to have been a regular meeting.
This document PowerPoint / PDF looks at the three most popular applications being used throughout the Province:
Of these, the most popular is Zoom, which has been used by the Province for many years.
During this period of suspension, no meeting of any kind can ever be considered to be a regular or emergency meeting. So for example you cannot hold a virtual meeting and propose or ballot for a candidate.
However any business that would have normally been conducted within a lodge / chapter room that is not tyled is acceptable, in fact it is encouraged by UGLE in order to maintain involvement of the brethren.
Basic rules to observe
The entire virtual meeting is just that – a virtual meeting with no recognition by Province or UGLE (committee meetings excepted).
A lodge or chapter can hold rehearsals and committee meetings, indeed anything that isn't done inside a tyled lodge room. You should never discuss modes of recognition or passwords.
The meeting organiser should announce, at the start of the meeting, to advise that nothing that follows is recognised Masonic business, committee meetings excepted.
It is recommended that you appoint one person as a 'virtual tyler' to ensure that everyone on the call is recognised as a bona fide Freemason and to continually monitor and verify those that may join after the meeting has started.
If the app has an option to lock the meeting always do so once all expected attendees are present.
Any notes that may follow are not official minutes as it was not a recognised meeting, exception being committee meetings.
Always look at the privacy options on the app you are using to make sure privacy options are maximised. For example, on using the Zoom privacy measures – always having a password on meetings and using the 'waiting room' function where participants have to be individually admitted by the host.
Be mindful what you are discussing if there are others nearby in your household.
Always do your best to ensure that all members of the lodge have access so if they want to join, they are able to. We do not want the use of any of these 'apps' to make members feel alienated through them not being able to participate.