When Freemasons at Urmston Freemasons' Hall answered the call from the Provincial Grand Master to provide food for the vulnerable, they really did step up and surpass all expectations. Not only did they contribute a huge amount of food and essentials, but they created a food bank for their area they went above and beyond to make sure it was a total success.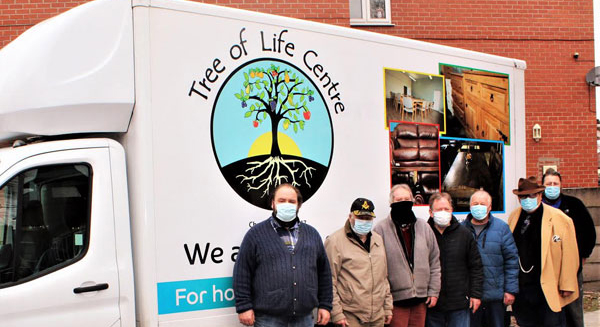 Because of the suspension of normal activities at the hall, it was a ready to go venue to house the collection, storage and distribution of the items donated by Freemasons, their families, friends and local businesses. The team from Urmston put a tremendous amount of time and effort into serving the needy in the local community through the very difficult COVID-19 restrictions and lockdown times.
The introduction of the vaccination process and reduction in infection rates has been complemented with what now appears to be a road map out of the tightest restrictions. Preparations for the looming resumption of Masonic activity at the hall means it is no longer practical to operate as the home for the foodbank. In fact, it was initially a short term and temporary measure, but such has been the success that, as the hall now returns to its normal use, and after extending its original length of service, and having completed the ProvGM's directive, some members, along with members of the community, are continuing on by moving the foodbank at a new location.
Although it was initially thought that there was little local need for a foodbank in the area, it has proven to be a great success and has consistently delivered food and toiletries to the local residents, care homes and veteran societies throughout the COVID-19 pandemic. The foodbank has shown, and will continue to do so, that Masons serve a useful and important role in the community.
There was a stockpile of food and essentials at the Urmston Freemasons' Hall, which Shaun Brookhouse, the foodbank administrator, has donated to 'The Tree of Life' foodbank, thereby also assisting the needy from a wider area.
Despite the end of the foodbank at Urmston Freemasons' Hall, the excellent work goes on. Ezra McGowan, a member of Hand and Heart Lodge No 4109, has now secured a room at the John Alker Club on Flixton Road in Flixton in order to continue providing a foodbank under the umbrella of his charity 'The Forget Me Not Trust', a charity supported by Freemasonry.
The foodbank will in future be open on Saturday between the hours of 09:00 and 13:00 and will still be administered by Shaun Brookhouse. If you wish to volunteer your services or know of anyone in need, as a first point of contact, email Shaun Brookhouse at foodbank@masonicmail.net where he will make suitable arrangements.