It was a special occasion for the members of Chapter of Unity and Perseverance No 580, when the companions and many guests gathered at Ormskirk Masonic Hall for the installation of Roderick Green as their new first principle.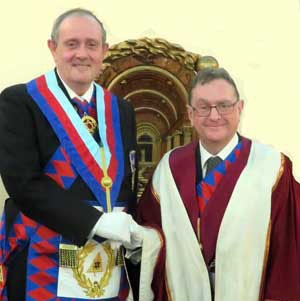 The chapter was honoured to have the presence of Tony Hall as their principle guest and he was accompanied by Ormskirk and Bootle Group Chairman Graham Chambers and group vice chairman Malcolm Alexander along with acting Provincial grand officers.
The meeting commenced with the first principle Robert Hales welcoming everybody and once the initial business had been completed the DC Mike Rimmer announced that Tony Hall was without and sought admission. Tony entered the temple in a procession accompanied by the grand and acting Provincial grand officers.
After Tony was warmly greeted by the three principles, the installation ceremony commenced with all present witnessing a faultless ceremony in which Roderick Green, Leon Teesdale and Mike Dutton were installed as first, second and third principles respectively.
The robe addresses were flawless delivered by Jonathon Raymen the scarlet robe, Tom Hale the purple robe and the blue robe address by Adam Woods, all of whom were relatively new to Royal Arch.
At the conclusion of the ceremony, Tony brought congratulations on behalf of the Grand Superintendent Tony Harrison, wishing them good health and an enjoyable year in office. Tony then congratulated Robert Hales and Mike Rimmer and all who had taken part in what was an excellent ceremony, with a special mention for the companions who had delivered the robe addresses.

Roderick then presented Tony with three cheques for charities on behalf of the chapter, £250 to Broad Green Chest Hospital, £250 to Rainbow House and £100 to the Alzheimer's Society.
Tony thanked the companions on behalf of the recipients who would benefit from their generosity, stating it always amazed him how generous the companions of the Order were with all the other calls on their charitable giving. Following the conclusion of the convocation the members and guests retired to an excellent festive board were the camaraderie from the meeting carried on during the meal.
During the festivities a raffle raised £146 which will be donated later in the year to charities. The evening closed with everyone leaving after a very enjoyable meeting amongst friends.