Lodge Amounderness No 7105 were delighted to welcome Provincial Grand Secretary Peter Taylor as the principal guest at their installation meeting held at Masonic Hall, Wyrebank, Garstang. Peter was accompanied by grand officers Tom Blackburn, Howard Jones, David Grainger, Michael Threlfall, Graham Halsall, Don Richardson and Peter Schofield. Also, in attendance were the Lancaster and District Group Chairman Neil McGill, group secretary Chris Larder and acting Provincial grand officer Terry Ridal.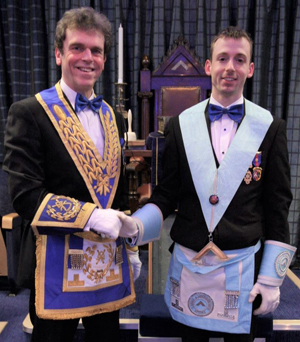 The meeting saw Michael Lewis Threlfall installed into the chair of the lodge in a delightful ceremony of very high standard. The first part of the ceremony was undertaken by the WM Ian Cuerden, before handing over to the master elect's uncle Michael Threlfall (not to be confused with Michael Lewis Threlfall), who conducted the ceremony during the inner workings and installed his nephew into the chair of King Solomon.
After assuming the master's chair Michael was presented with impressive explanations of the working tools by David Emery (master Mason), Hal Hamer (fellow craft) and Stanley Crozier (entered apprentice) respectively. Stanley had only entered the lodge as a joining member at this installation meeting. Following the appointment of the lodge officers the address to the master was delivered in style by Graham Halsall, followed by the address to the wardens by Anthony Berry which was equally praiseworthy. As you would expect Tom Blackburn gave the address to the brethren of the lodge with expertise and grace.
At the close of the ceremony it presented the opportunity for Peter to bring the greetings and congratulations of the Provincial Grand Master Tony Harrison. Peter said that Tony would have been delighted by the excellence of the ceremony and would have certainly wished Michael, his officers and brethren of the lodge a very enjoyable, healthy and busy year. At this juncture, Peter was presented with notification of charitable disbursements totalling the splendid sum of £1,250, for which he thanked the lodge on behalf of all the recipients. This total included MCF 2021 Festival £500, Pumping Marvellous Foundation £500 and the Salvation Army (which was the master's nominated charity for his year in office) £250.
The festival of St John was held in the banqueting suite of Wyrebank, where 53 brethren treated to a superb banquet. During the course of the festive board £246 was raised for charitable causes.

Article written by Paul Thompson.