The South Fylde Group Joint Convocation was held in the presence of the Deputy Grand Superintendent Christopher Butterfield and Assistant to the Provincial Grand Principals David Barr. The event was held in The Palace Masonic Hall in St Annes.

21 companions from the six chapters of the group; Chapter of Fidelity No 1256, St Anne's Chapter No 2457, Semper Fidelis Chapter No 4428, Quadrant Chapter No 8044, Tithebarn Chapter No 8446 and Senatores Chapter of First Principals No 8966, delivered a word-perfect lecture of the rarely performed, Lecture of the Exaltation of the Candidate.
The Joint Convocation was hosted by Quadrant Chapter No 8044 and 20 companions, with ages ranging from 33 to 76, were divided into two lines of 10, one line asking the questions and the second line answering them.
The team, who had never met before, first assembled in February 2022 when they were introduced to each other and allocated parts. At the end of the first meeting, they were informed that they would have to learn their scripts for the convocation but for the first four practices, one each month, it would just be a read through. They didn't have a practice over the summer but were recommended to keep reading, just reading.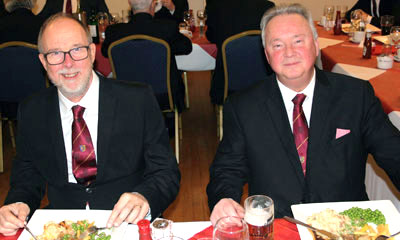 In September, one or two of the companions had learnt their parts but for one reason or another there was never a complete turn out. Again there was one practice each month. Even so as the year ended the companions had become more confident with their sections. In January 2023, at the 11th hour, due to illness, two new volunteers stepped in to help out and quickly learned their script.
So on the evening of the Joint Convocation and for the first time throughout the year, the whole team assembled. Ben Gorry, the immediate past first principal of Quadrant Chapter, took the first principal's chair and introduced the companions to those assembled. He delivered a prologue for the lecture and then asked the first pair to start. They stood up, completed their questions and answers then sat down. The pair from the second section continued in this way and so on.
At the festive board, Chris Butterfield said that it was one of the best if not the best Joint Convocations he had seen. David Barr agreed.
The group chairman, John Robbie Porter, felt in awe of them saying: "To those who took part, no matter how long or short their contribution, it is a credit to them all for the amount of time and energy they spent in preparing and delivering the lecture. More especially the best thing to come out of the performance has been the friendships made, the support for each other, the encouragement given and the team spirit which was infectious."