The members of Park Hall Lodge No 8375 met to celebrate the 50th year since their lodge's consecration in October 1971. They also celebrated Harold Stainer Thacker's 50 years in Freemasonry.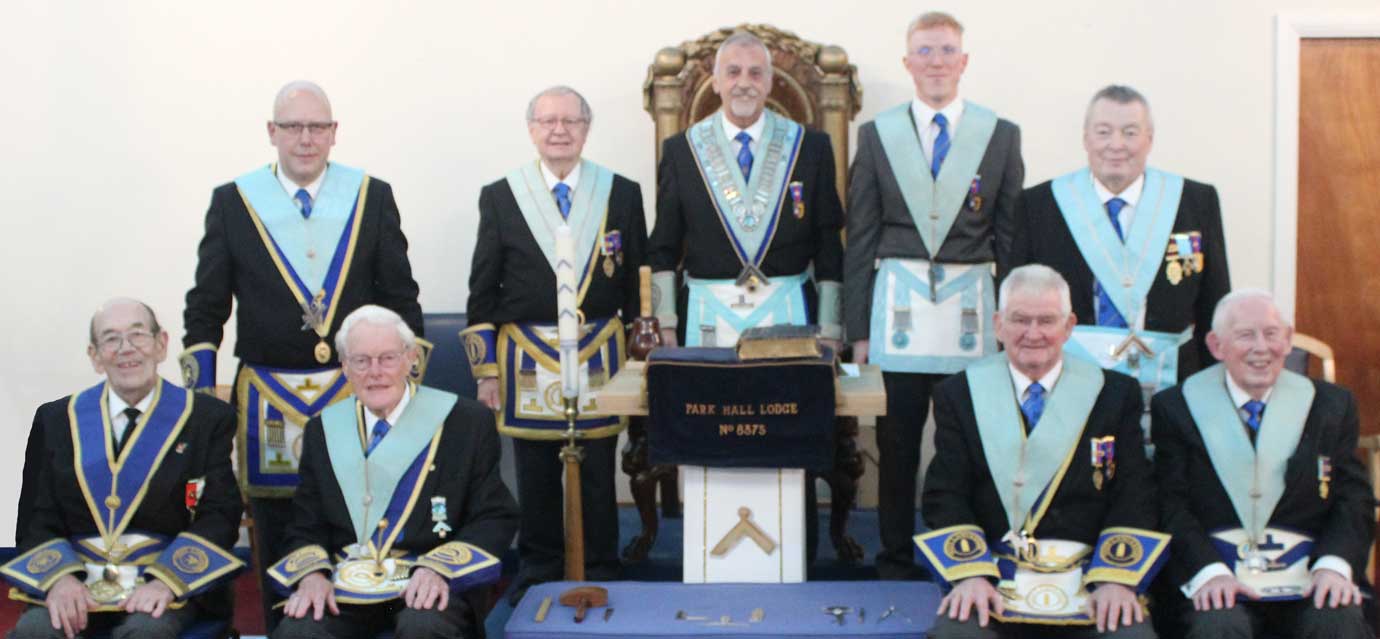 The lodge currently has 15 subscribing members and two honorary members. Sadly, Roy Worthington, Stuart Cunningham, Andrew Cunningham, Steve McArdle, Colin Maxwell, Dave Golder, Glen Forshaw and Charles Matthews (honorary member) were not able to attend the meeting due to health issues and work commitments.

Although the lodge may be low in numbers, it was high in energy as they and their guests enjoyed a presentation of their lodge's 50-year history given by the only surviving founder of the lodge, John Fitzgerald Allwright who is now in his 55th year in Freemasonry.
John began the history from 1969, when Fred Lyons, Ronnie Entwistle and Albert Letheren, all of Perfect Ashlar Lodge No 5246 which met in Southport, decided to see if was possible to form a new Masonic lodge based in Ormskirk. They, along with other brethren, notably Bill Brown, Harry McKee, Jim Swift, Ted Hughes and a number of junior brethren including John, met at the Masonic Hall in Ormskirk to discuss the way forward.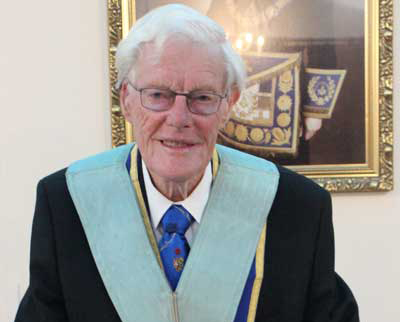 So, in the August of 1970, some 16 brethren forwarded a petition to the Provincial Grand Secretary, also suggesting three possible names for the lodge, Park Hall Lodge (from Park Hall Restaurant – the original name of the Ormskirk Masonic Hall), Parbold Lodge and Park Lodge. History shows that their first choice proved successful. A warrant was granted on 7 of April 1971 and duly signed by the founders.
On the morning of the consecration, the brethren were summoned to meet and practice all their various duties and perambulations. A remark made by one of the brethren was that they thought they were back in the army, as all the directions were ordered by numbers!
The rehearsal was overseen by Kenneth Moxley, the Provincial Assistant Director of Ceremonies, due to the absence that morning of Alan Fletcher Ferris (the Provincial Director of Ceremonies) who, along with Sir Knowles Edge, the Provincial Grand Master, were busy elsewhere attending the funeral of yet another Provincial Grand Master.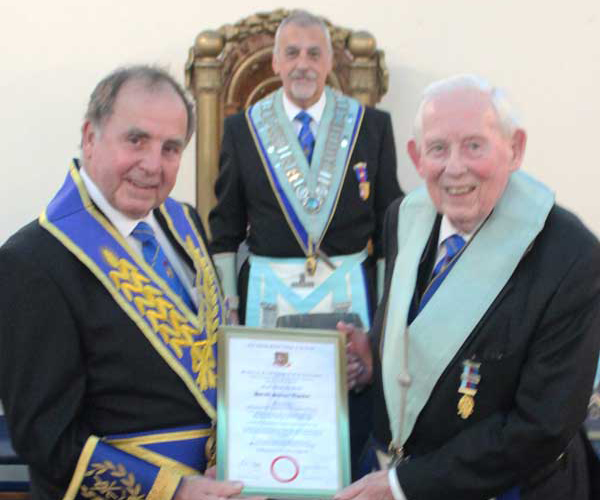 By lunch time, Kenneth Moxley was satisfied with the rehearsal and at 2:30pm, by now under the direction of Alan Ferris, the ceremony of consecration took place. The Consecrating Officer was Sir Knowles Edge, Provincial Grand Master. The ceremony being conducted by the Rev Richard Kenyon Leigh, Past Deputy Grand Chaplain, Deputy Provincial Grand Master as installing master, assisted by Lewis Aspinall Pardey Past Grand Deacon, Deputy Assistant Provincial Grand Master. The whole proceedings being held under the direction of Alan Ferris.
Later, at the festive board, some 120 brethren sat down to a truly festive banquet, which together with wine, put everybody at ease – especially the founders of the lodge! If you would like to read the full lodge history, it is available to download by

Following the talk, the Ormskirk and Bootle Group Chairman Graham Chambers presented a certificate to Harold Thacker to mark his 50 years in Freemasonry. Harold is a quiet gentleman and wanted a low-key celebration of his membership.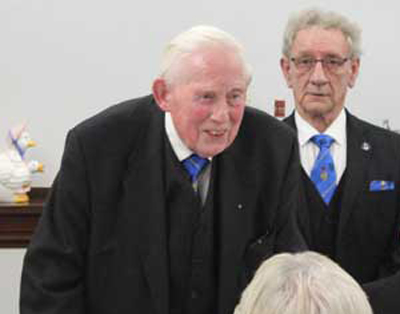 After the meeting, the members and visitors retired to the dining room to enjoy a wonderful three course meal chosen by Harold, which was enjoyed by all.
After the meal, Graham Chambers proposed a toast to Harold. In his response Harold said he was initiated into Stanley Lodge No 1325 in November 1970 by his father who also carried out his second and third ceremonies which were held in Garston Masonic Hall, due to the fire in Hope Street that had forced lodges to relocate while repairs were completed. He said his third degree had been brought forward so that he could attend the lodge centenary as a master Mason. Harold said that there were over 200 Masons in attendance at the centenary meeting.
Harold said his job as a chemical engineer caused him to travel around the world and he had hoped to visit lodges during his trips, but sadly he was too busy and never managed to attend a meeting although he did have a tour of a wonderful Masonic hall in Nairobi. He concluded by saying he has enjoyed his Freemasonry and has met many good Masonic friends.