After two years of cancellation, True Light Lodge of Friendship No 2963 held their Annual Charity Clay Pigeon Shoot at the Star Lane Gun Club in Lymm.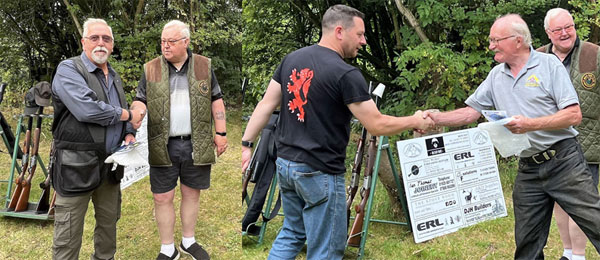 The event proved to be popular and the lodge members were joined by non-Masons and members of both the Warrington and Widnes Groups. The whole idea of the day was to be a relaxed, fun day of shooting and camaraderie followed by lunch and drinks at The Red Lion in Stockton Heath put on by True Light Lodge of Friendship's WM Tony Shadwell, who is also the landlord of the pub. The event was open to all levels of ability from novices right through to master marksmen with a total taking part of 26 shooting, 24 male and 2 females.
The day started with a safety talk from the gun club's owner Ged on the dos and don'ts and general advice for novice shooters. He also ensured everybody had applied a good dose of mozzie spray as it was a warm day and we were advised the little critters were hungry.
After everyone had a quick cuppa to set themselves up for the day and signed the relevant paperwork, competitors were given a box of cartridges and earplugs. Competitors were then split into four teams; captained by Don, Eddie, Arthur and Dennis who are some of the more advanced/experienced brethren.
The shoot consisted of 4 ranges with a total of 25 shots overall. Each range was unique, there were clays coming from either side, going straight out and dropping down, this kept everyone on their feet. The team captains did a fantastic job of keeping the shooting very relaxed, especially for the novices who had never shot before, they spent the time to help and advice.

The overall event winner was Andy Pope, a member of Victoria Lodge No 4629, from the Widnes Group with second place being claimed by our own Tony Shadwell. Both received a trophy and certificate from Ged, the owner, and the best news of the day was nobody blanked and everybody hit a clay.
Once the competitors had wrapped up the shooting everyone took a short drive to The Red Lion in Stockton Heath where some of the ladies had put on a spread of sandwiches, pies and cakes for the shooters. Everyone enjoyed sitting outside having a drink, catching up with old friends and having a bite to eat.
On behalf of True Light Lodge of Friendship, the members would like to thank all those who arranged, supported and attended the shoot and social event, and we trust and hope that we will be able to welcome you all again next year. Thank you for your support.