The Palace, St Annes-On-Sea is where Lodge of Triumph No.1061 meets. It is the oldest lodge of the South Fylde Group, being 157 years of age. An extremely regular visitor to the lodge and lodge social events for over 30 years has been Peter Gratrix.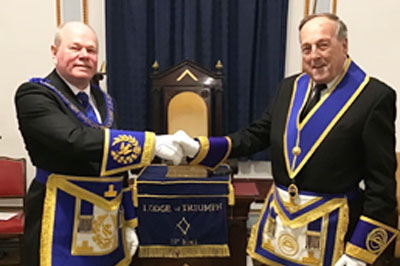 Peter has enjoyed the company of his former police officer colleagues in Lodge of Triumph so much that the lodge members decided to make Peter an honorary member. The Lodge of Triumph was therefore delighted and honoured to make its final meeting of 2022 a celebration event of Peter's 50 years in Freemasonry.
On a dark and wintry evening, The Palace Lodge Room was alive and buzzing with anticipation as a total of 63 brethren assembled within the lodge room with some forming a procession comprising of six grand and 2 acting Provincial grand officers, within the entrance.
Graham Smith had requested the opportunity to be WM for the evening, to be able to oversee the lodge business on the occasion of his friend and former police colleague's 50th year as a Freemason. The lodge was opened by the WM and business items on the summons were efficiently dealt with.  At the appropriate moment, the brethren were upstanding to receive Assistant Provincial Grand Master Duncan Smith and other distinguished officers.  The WM greeted the Duncan Smith who accepted the gavel of Lodge of Triumph and occupied the master's chair.
Following salutations which were offered by Ryan Modlin, Provincial Deputy Grand Director of Ceremonies, Duncan swiftly returned the lodge to the first degree and readmitted the lodge's three entered apprentices. The tyler was also admitted into the lodge.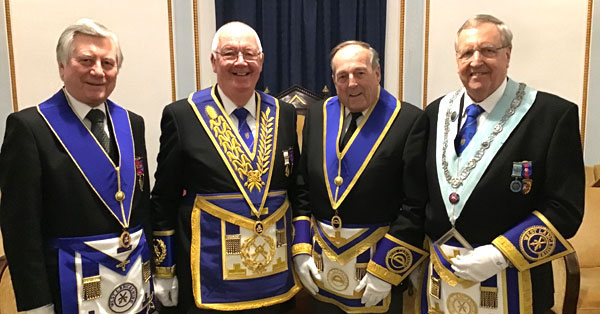 Peter was placed in front of Duncan who proceeded to inform those in attendance of some notable events in Peters birth year of 1940.  He shares a birthday with the actress Jill St John who starred in the James Bond film 'Diamonds are Forever', Johnny Nash the American singer-songwriter and record producer, whose greatest hit was 'I Can See Clearly Now', and Roger Cook, the British songwriter and record producer, the singer in Blue Mink who had hits with 'You've Got Your Troubles' and 'I'd Like to Teach the World to Sing'.  Peter was a 'War Baby' and back in 1940 the world was a very different place than today.  Britain created 'The Home Guard' to act as the first line of defence in case of invasion.
Duncan continued by informing the brethren that Peter was born in Morecambe, the son of Cecil and Lilian Gratrix, being one of four children. He had a sister Sheila, and two brothers Stuart and Michael. Sadly, Sheila and Stuart are no longer with us but Michael lives in Canada and has been in the construction industry for many years, working since the age of 20 all over the world on large construction sites.  Peter's father was from Burton-on-Trent and Peter's Grandfather was the accountant for Bass Brewery.

Peter's father was a policeman at Heysham, which in those days was a little village, and the family lived in a police house adjoining the police station on Heysham Road, next to the Strawberry Gardens Pub which is still there. Towards the end of Peter's schooling his father had heard of a police cadet course starting in July which caused a little bit of a problem as Peter's birthday was in August, so he would only be 15.

However, he overcame that hurdle and left school on Friday 13 July 1956, and during the summer holidays, he started work four days later on Monday 17 July at Farnworth Police Station as a cadet.  Following basic training, Peter returned to Lancashire and was posted to St Anne's.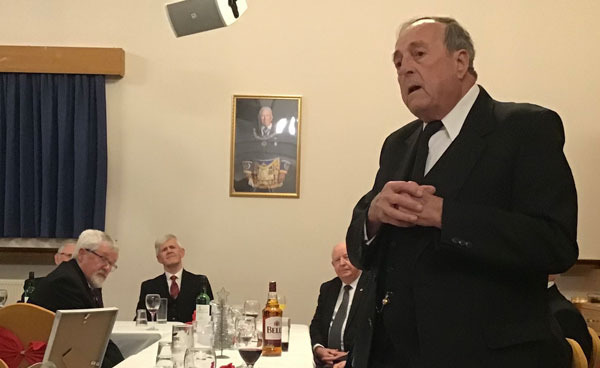 He enjoyed his career in the police and retired two weeks short of 35 years' service on 30 July 1991.  Peter has many stories to tell and Duncan said: "With a number of your ex-colleagues present, you are too modest to extol your virtues so I will leave those to Ted at the Festive Board. However, we do have with us tonight the Past Assistant Provincial Grand Master, Stewart Seddon, who you booked for being the sixth cab on a five-cab rank at the then Fountain Rank in Blackpool. Good to see you don't hold grudges Stewart."
Peter's hobbies are gardening and raising money for charity which he has been doing for many years both inside and outside of Freemasonry. His parents had always been supporters of the Donkey Sanctuary in Sidmouth in Devon and on his father's death he decided to take on the mantle of sending a large sum of money twice a year. Peter is a big supporter of Trinity Hospice and the many Masonic charities.
Duncan went on to ask Peter the big question: "So where did you meet your wife Florence?" Duncan explained that Blackpool Police used to organise the Midnight Matinee held at the ABC Theatre, a charitable show put on by the artists who were performing at the various venues in Blackpool. To keep them happy, each year a wonderful spread was put on for the performers for when they got off stage. Unfortunately, this became a bit of a free for all, so it had to be made all ticket and Peter was put in charge of the door.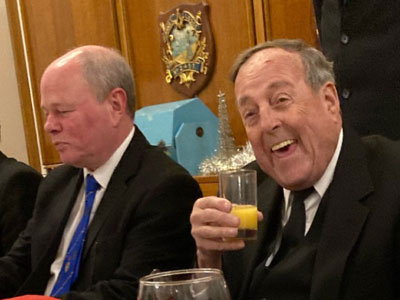 At the end of one night, tidying up, Florence, who was involved with the caterers, came over and said: "I seem to know you, your name begins with G doesn't it?" and you said "Gorry, Gough, Gledhill, Grant, Gratrix" and she said that's it, Gratrix, it's you; you did me for careless driving." And indeed, Peter had come across a car accident where Florence had run up the back of a car and given her a ticket for careless driving.That driving conviction has bugged her for years, but even with that they ended up marrying each other and have been happily married ever since for 41 years. However, there was karma, because when Peter decided they didn't need a car each, he put her on his insurance and the careless driving conviction put the price of the policy up, so Florence had the last laugh.
Peter used to socialise with a police colleague, Alan Forrest who was a member of Lodge of Benevolence No 6340, and they both would talk about a whole number of subjects and eventually Freemasonry cropped up. Peter was interested in the charitable side and fancied giving it a go so Alan found him a seconder in Superintendent Donald Hawe who was the director of ceremonies of Lodge of Benevolence. Peter went to Donald's house for a four-hour interview after which he was initiated on 22 December 1972, becoming the 14th steward on the list.  However, even in those days, the lodge was struggling to get brethren to progress through the offices so Peter became WM in November 1986 and again in November 1990.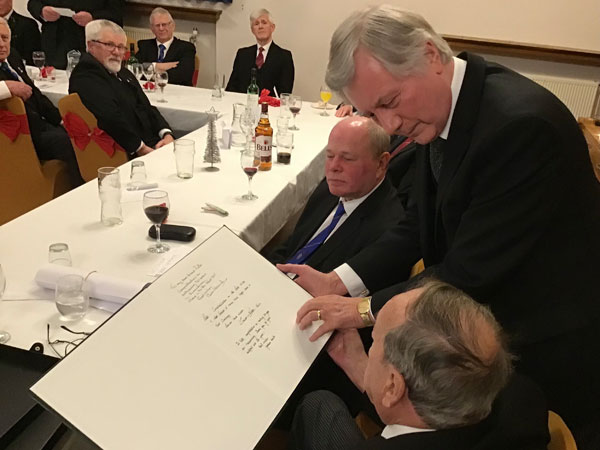 Peter held the office of assistant director of ceremonies and then director of ceremonies for a period of nine years. He was charity steward of the lodge for four years.  Peter was recognised by the Province in 1996 with a first appointment to Past Provincial Senior Grand Deacon, and again in 2009 when he was promoted to the rank of Past Provincial Grand Superintendent of Works.
He joined St Anne's Chapter No 2457 in 1991 and remained a member for eight years. Peter was an honorary member of Bispham-with-Norbreck Lodge No 4731 due to a friendship with Ken Turner, Martin Steel, Peter Lonican to mention but three. He resigned that honorary role and become a subscribing member so he could become WM in November 2022.
Duncan concluded by wishing Peter good health and happiness for the future and called upon group chairman John Robbie Porter to read out the scroll from Provincial Grand Master Mark Matthews. Following the reading of the scroll, Peter was informed that he was now going to be promoted to Past Provincial Junior Grand Warden.  John Robbie Porter read the Patent of Appointment and Duncan Smith invested Peter with the collar and jewel of that rank to considerable applause.