Second Provincial Grand Principal Chris Butterfield, Assistant to the Provincial Grand Principals Malcolm Alexander and Chairman of Chorley and Leyland Group Peter Allen joined the companions and their guests at Chorley Chapter No 6287 to celebrate 50 years of Royal Arch Masonry that was attained by three companions, John Eccles, Ray Gore and Peter Dawson.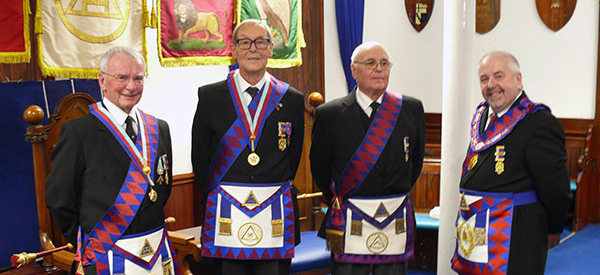 Reaching the 50 year anniversary of initiation into Freemasonry is a very special occasion and many members in the Province of West Lancashire have achieved and celebrated that. Attaining 50 years as a member of the Royal Arch is something rarer which makes it a very special celebration. What made this occasion even more rare was the fact that three companions celebrated on the same evening.
Chris Butterfield told the companions as he led the celebrations that his aim was to enlighten everyone about the celebrants. He hoped that he would tell them something they didn't know about the companions concerned, so that they would leave the evening feeling they knew the companions a little better, but more importantly, for the celebrants to enjoy the evening, to feel they had shared the special occasion with many friends and celebrated this milestone in their Royal Arch Masonic career.
Chris invited the celebrants to occupy the principals' chairs so that everyone could see them while he told their potted personal and Masonic stories. This caused some consternation when he asked if they were ready for a candidate to be admitted for exultation!!!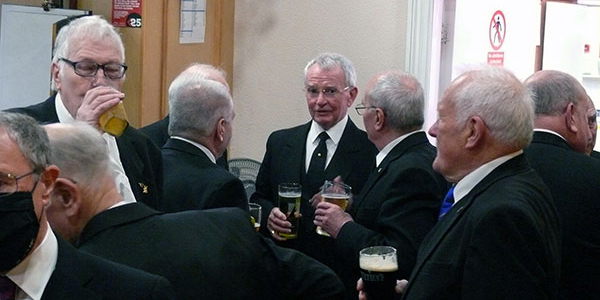 He then addressed them saying that it was his honour and pleasure to help celebrate three companions reaching the milestone of achieving their jubilee in Royal Arch Masonry. He went on to relate the stories and careers of each of the three celebrants, the details of which will be recorded individually in these chronicles.
Continuing, Chris said that John, Ray and Peter had led very full and interesting lives and that it had been a pleasure for him to address the companions and that he was sure that all present would be able and delighted to help them celebrate the magnificent milestone. He added that each of them had served with distinction in their public, working, private and Masonic lives and were examples to everyone.
Chris finished by saying that it had given him great pleasure in being able to play some small part in their jubilee celebrations and expressed the wish that they would have many more years to enjoy their Freemasonry and in particular the Royal Arch
Following the formal celebrations, the companions retired to the bar and dining room to exchange memories of the celebrants and the chapter from the last 50 years.