With master of the lodge David Clarke on holiday, immediate past master Mike Casey took the chair of Kirkham Lodge No 6615 for a very enjoyable meeting.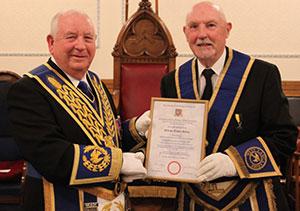 Members of the lodge were delighted to receive Past Assistant Provincial Grand Master Harry Cox as their principal guest at the celebration of William Trevor Molloy being a member of Kirkham Lodge for 50 years. Harry has known Trevor for well over 30 years, as they worked together at ICI.
On his procession into the lodge, Harry Cox was accompanied by several distinguished brethren as follows; Malcolm Worsley Past Assistant Provincial Grand Master from East Lancashire, Peter Elmore Past Junior Grand Deacon, grand officers Ted Rhodes, Ted Vollans and Ian Ward who is Chairman of the South Fylde Group.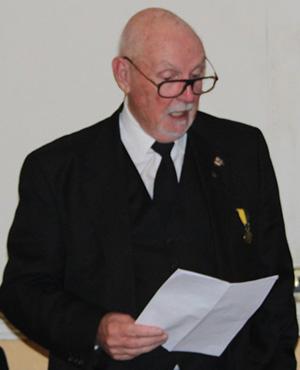 Also, in attendance were the Provincial Senior Grand Deacon Gordon Smith, Provincial Junior Grand Deacon Chris Tittley, Provincial Grand Pursuivant Jim Finnegan, Provincial Grand Steward John Pitches, this procession was formed and led by Assistant to the Provincial Grand Director of Ceremonies Gary Smith.
After Harry had regaled the assembled brethren with a resume of Trevor's life within and without Freemasonry during the past 50 years, Ian read the certificate of appreciation from Provincial Grand Master Tony Harrison. Group vice chairman John-Robbie Porter then presented a 50th pin badge on behalf of the South Fylde Group.
Trevor was born in 1939. His father was a footballer and played for Arsenal. He had an ideal childhood fishing with his grandfather even though he once had to be pulled out of a whirlpool.
At the age of 15, Trevor attended Blackpool Technical College and in 1958 gained 'A' levels in Physics, Maths and Chemistry. From there he had National Service with the RAF where he became a Radar Fitter and worked on V Bombers and the Canberra.
With National Service complete he had an interview with ICI on a Friday, was offered a job and started work on the Monday. With his experience with ICI he became a member of the Royal Institute of Chemists and a Member of the Royal Institute of Chemical Engineers.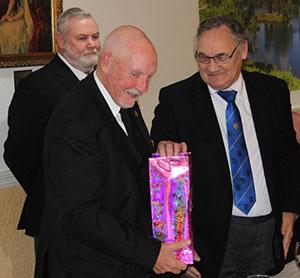 Trevor was initiated into Kirkham Lodge on 24 April 1968. The current lodge secretary, Gareth Owen, read the minutes from that meeting. Trevor became master of the lodge in 1979 and had his ladies evening at the Winter Gardens, Blackpool, when nearly 200 people were in attendance. They played whist, then had afternoon tea, dined sumptuously and danced the night away.
During his long career in Freemasonry, Trevor has held the lodge offices of assistant secretary, secretary and director of ceremonies. In 1989 he was appointed Past Provincial Senior Grand Deacon.
In 1990 Trevor moved to Holland where he stayed until 1998.  While there he joined the Lodge Le Préjugé Vaincu 21 at Deventer. He still has contact with the members there and visits them occasionally.
A keen golfer, Trevor is a member of Knot End Golf Club where he has been captain three times. He was made President of the club in 2009. He and his wife Jean are keen dancers, especially sequence dancing. In fact, Trevor met Jean at the Empress Ballroom in the Winter Gardens in Blackpool. They married at Kirkham in 1964 and have recently celebrated their 54th wedding anniversary.
This celebration meeting was concluded by a fine four course dinner with several toasts, one particularly to the celebrant, Trevor Molloy, which was proposed in fine style by Neil Scott, an old friend of Trevor from the New Sanctuary Lodge No. 6612.