Merchants' Lodge No 241 was honoured to be able to hold the golden jubilee celebrations commemorating Tom Wood's achievement of 50 years in Freemasonry. The lodge, the oldest in Liverpool, has continuously operated under its original warrant issued in 1780. For Tom's event the lodge was opened by the WM Glyn Pine, ably assisted by his wardens, the senior being Tom Woods himself, along with the other officers present.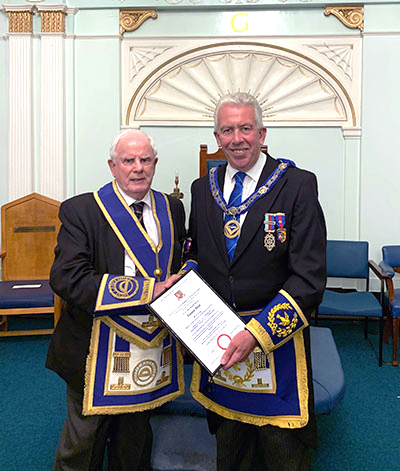 On completion of standard business, the lodge was raised to the third degree to welcome Assistant Provincial Grand Master Mark Matthews, Past Assistant Grand Director of Ceremonies Steve Kayne, along with the Liverpool Group Chairman Dave Johnson. They were escorted in by Provincial Deputy Grand Directors of Ceremonies Jason Dell and Robb Fitzsimmons. Work was then resumed in the first degree and the appropriate salutations performed. Subsequently Glyn vacated the chair of King Solomon to Mark for the purpose of the evening celebration.
Mark began by wishing all present a good evening and that it was his pleasure and honour to be leading the celebration to Tom for the very special milestone he has achieved. The Provincial Deputy Grand Director of Ceremonies was requested to place the Tom Wood in a comfortable chair before Mark.
Speaking directly to Tom, Mark began by saying: "Tom, I trust that you are settled, so that I can recall some of your life story to the brethren gathered here tonight to support you."
Tom's story began in 1935 when he was born at Mill Road Maternity Hospital, Liverpool. The family lived at that time at 2 Rothesay Street, Everton and consisted of dad Francis, mum Eliza and elder sister and brother May and Francis.
Looking back to 1935, the 'people's car', better known as the Volkswagen Beetle was launched in Germany. The first parking meters appeared in Oklahoma City USA – so it's their fault that parking around the Masonic hall is so restricted and expensive! Alcoholics Anonymous was founded in New York City and ironically the first canned beer went on sale. Mark commented that in his research he had not been able to establish if those two facts were directly linked or not. The driving test was introduced in England, Penguin produced the first paperback books and the country of Persia was renamed as Iran.
Also born in 1935 were Rock and Roll legends Elvis Presley and Jerry Lee Lewis, actors Woody Allen and Donald Sutherland, golfer Gary Player and singers Julie Andrews, Luciano Pavarotti, Sonny Bono and Gene Vincent. In music, Fred Astaire was singing 'Cheek to Cheek', Shirley Temple 'On the Good Ship Lollipop', Cole Porter 'Begin the Beguine' and Fats Waller 'I'm Going to sit Right Down and Send Myself a Letter'.
At the age of four in 1939, with the outbreak of war, Tom and his siblings were evacuated to Bangor, North Wales, and Tom going to school there but not being at all happy. As a result, his mother brought him back home to Liverpool in early 1941, just in time for the Blitz of May that year, with Tom's house suffering damage from bomb blast. It was around this time, following the death of his aunt, that three cousins Alice, Sadie and Helen came to live at Tom's. As the family had grown significantly, they moved to a new flat in nearby Prince Edwin Street. The Blitz was a particularly difficult time for Tom as cousin Sadie was killed on her 21st birthday by random 'strafing' in London Road.
Tom sadly contracted meningitis and was admitted to Fazakerley Isolation Hospital, and as he lay in bed a bomb struck the hospital. Tom recalled the ceiling collapsing on him but thankfully he was rescued by a nurse. Soon after he was again evacuated back to North Wales, this time to Llandudno, a time and place of which Tom has many happy memories.
After returning to Liverpool, he attended Salisbury Street Primary and Secondary Schools in Everton, next attending Technical College to hone his skills in bricklaying, plastering, joinery and plumbing. A five-year apprenticeship working within the city centre with a plumbing company followed. In 1956 Tom commenced his National Service with the Army and after basic training he was posted to a tank regiment, where he became a Tank Commander, responsible for a crew of four men, attaining the rank of Corporal.
Returning to civilian life as a plumber, he met his future wife Joan and married in 1961. The family continued to grow following the arrival of three daughters Joanne, Carolyn and Amanda. In his working life, he continued to develop and advance, taking on more responsibility as an engineer and working in mechanical services. He further built upon this success by becoming an independent consultant and then, as an 'expert witness', worked on preparing cases for the BBC TV programme 'Rogue Builders'. Sadly, his beloved wife Joan passed away in 2010, following a short illness.
In terms of Tom's Masonic career, he was initiated into Sceptre Lodge No 4341 in 1971. His proposer was Les Jones and seconder Jerry Harris. Tom became WM of that lodge in 1985, thoroughly enjoying his year in office, especially his Ladies Evening, which was held at the Blundellsands Hotel and attended by over 200 people. Continuing to assist Sceptre Lodge for many years, Tom became WM for a second time in 2000, and in 2003 the lodge amalgamated into Merchants' Lodge No 241.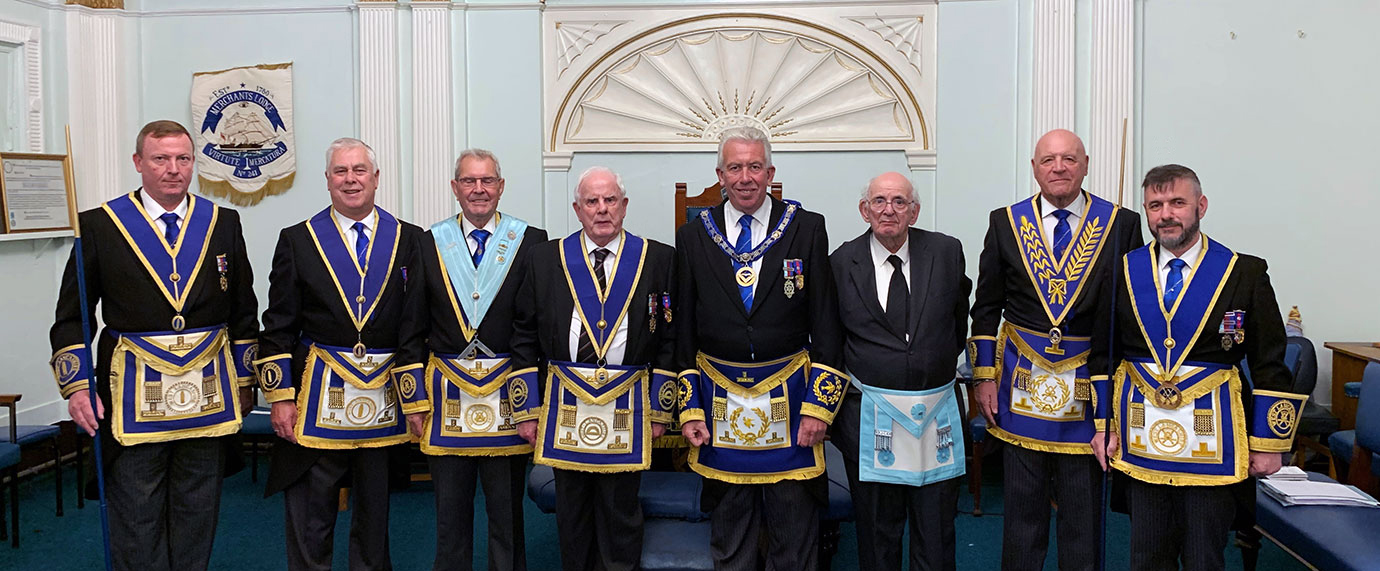 As a member of Merchants' Lodge, Tom continued on his Masonic travel to become the WM of Merchants' Lodge in 2014 and remained in that post during 2015. In recognition of this Masonic work, Tom now holds the high rank of Past Provincial Grand Superintendent of Works.
Tom has spent the last 11 years very happily with partner Jacqui. Always being a keen sportsman; in the past he enjoyed playing tennis for many years and to this day still plays golf.
Mark Matthews, turning with a wide grin towards the room, then said: "Now brethren, Tom has a group of friends with whom he regularly plays golf. A word of caution! If in the future you are due to meet an Assistant Provincial Grand Master for a celebration interview, think carefully before you include your wife or partner in that meeting. As Tom and I discussed his golfing friends, Jacqui was very quick to inform me that Tom's group is known as the 'Rusty Zips'. Now I'll let you draw your own conclusion, as to what exactly that means!"
During the period of the pandemic lockdown with golfing off the agenda, Tom applied his engineering skills to build a remote-controlled model yacht. Three weeks previously, at the boating lake in Southport, the said yacht had its maiden voyage, and was currently on proud display in Tom's conservatory – so clearly it didn't sink.
Speaking directly to Tom, Mark continued by saying: "50 years' service to Masonry is a remarkable achievement. I hope that you will continue to have many more years in the Craft. Tom, it has been my honour to preside over your golden jubilee and to learn about your most interesting life and Masonic progress. I thank you for the hospitality shown to me by Jacqui and yourself when I visited your home to discuss this special occasion with you. I also know that the Provincial Grand Master phoned you personally this morning to convey his own congratulations. Brethren, please join with me in showing your congratulations and appreciation to Tom in the traditional West Lancashire Province way, who tonight is celebrating 50 years as a Craft Mason. The Provincial Grand Master James Anthony Harrison, has also sent you his congratulations and recognition of your achievement in the form of a certificate, which I will now ask the group chairman Dave Johnson to read." When done, Mark presented the 50-year certificate to Tom who was then invited by the Assistant Provincial Grand Master to join his delegation for the processional retirement from the lodge to the festive board.
The toast to Mark Matthews was proposed by Glyn Pine to which Mark replied, in the first instance by congratulating Tom and hoped he would enjoy many more years of Craft Masonry.  He then passed on the message from the Provincial Grand Master with regard to taking lateral flow tests before attending meetings, the focus being on safety of not only oneself but of others who may be more vulnerable. As to the Provincial Grand Chapter and Provincial Grand Lodge meetings in Blackpool on 12 October, Mark asked the gathering to comply with the guidelines outlined in the message sent to all from Province. The 2021 Festival Celebration Banquet on Saturday 18 September revealed that the Province had raised £3,504,423 for the Masonic Charitable Foundation. Mark thanked all for their efforts and contributions and outlined that the Provincial Grand Master would now like us to focus our charitable giving back towards West Lancashire Freemasons' Charity.
Mark also turned to thank the Liverpool Group Chairman Dave Johnson for his efforts within the group and lodge secretary Neil Francis for his assistance towards the smooth running of the night, even though he was away on holiday enjoying the fine wines of Northumberland. Special thanks were extended to the Provincial Deputy Grand Directors of Ceremony Jason Dell and Robb Fitzsimmons for their work and for adding something a little special to the occasion as always. In conclusion to his reply, Mark gave a special thank you to the WM and brethren of Merchants' Lodge for the beautiful potted orchid that had arrived earlier that day for his wife Debbie. She sent her sincere thanks and appreciation to all.
The highlight of the evening came at the festive board when Tom Wood rose to reply to the toast to him. He enthralled the audience with many stories and anecdotes about his life and Masonic journey saying that when he joined Masonry on that night of 1971, he could never have foreseen a time when he would be celebrating 50 years. He added that he had enjoyed every single minute of it and was particularly delighted to have his elder brother Frank with him there that night. Tom then sat to thunderous applause