Tom Clark received a number of visitors, to celebrate another milestone along his Masonic journey, when Sam Robinson and Mark Matthews called to present a long service certificate. Sam is an Assistant to the Grand Principals, while Mark is the Chairman of Liverpool Group. Accompanying them were members of the Neptune Royal Arch Chapter No 1264, first principal Tony Christy, Brian Heeney, Ron Ibbs and Don Chetwynd. The certificate was presented by the Province of West Lancashire on behalf of Grand Superintendent Tony Harrison, in recognition of Tom's outstanding contribution to the Royal Arch and in particular, Neptune Chapter.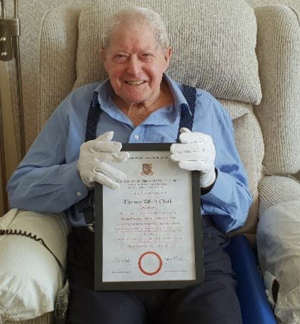 Tom, now age 95, was the eldest of 11 children and was named after his father. He left school at the tender age of 14 (typical for that time) and started work at a market gardener's in Fazakerley. He changed course soon after, by taking up construction work at the nearby Royal Ordnance Factory, then when the opportunity arose to go on a government training course as a vehicle fitter, Tom grabbed the opportunity with both hands. From this, he progressed to repairing and maintaining the vehicles for the Royal Navy at Pollard and Critchley and with the outbreak of war joined the Local Defence Volunteers, later to become known as the Home Guard. During this period, Tom became proficient as a driver.
Eventually, in 1943 his call up papers arrived and he reported to Peninsular Barracks, Warrington, to undergo basic training. There followed a motor fitters' course at Arbourfield, Bromley, Kent and then posting to the Royal Corps of Signals. A motorcycle accident saw Tom hospitalised and during this time his unit was posted to Burma, while he was re-assigned to the Royal Electrical Mechanical Engineers. He underwent training to maintain and repair armoured fighting vehicles, before being posted to the Orkneys, where he prepared tanks for amphibious landings.  Further postings to the Scottish mainland, the midlands and Germany followed, each time to maintain armoured vehicles.
In 1947 Tom was demobilised after serving an extra six months, wherewith civilian life resumed and he took employment at the Ribble Motor Company, maintaining their vehicles. Within two years, Tom moved to Liverpool Corporation Passenger Transport and in its various guises this is where he stayed until retirement. He gradually rose up in the organisation from fitter, charge hand, foreman and finally garage engineer. He built a reputation of being hard but fair and became very well respected. One amusing incident happened at a 'leaving do' when changing garages, he was presented with a pair of old working boots painted silver and with the wings of Pegasus fixed to them, as a humorous reminder of the speed that he could patrol his domain.
His start with Liverpool Corporation, also saw the start of his married life to Catherine (Kay) and later the birth of their first child, with the second arriving a couple of years later. Always a strong family man, Tom worked hard to provide for his family and to ensure that his children had more opportunities than he had enjoyed.

There was always a family holiday, often camping and frequently in Devon, but during the early 60's, Tom was keen to travel further and made various trips to the French Riviera and northern Italy by car. Occasionally he was called upon to utilise his mechanical ability to keep the car road worthy after encounters with the French roads. Times were not always good and it is during these times that his other qualities shine through. His wife Kay had battled breast cancer for nearly 20 years and he was always there supporting her. That said, they both enjoyed life and were always present at Masonic functions. His year in the chair culminated in the 'ladies' night' and this event was always fondly remembered by Kay.
It was the recurrence of his wife's illness, with a terminal prognosis, that led him to take early retirement in 1985 and he supported her throughout the remaining time. Since then, he remained active in both his social and Masonic life, for many years undertaking the roles of charity steward and almoner. Tom has always been a very keen and energetic dancer, often he was the first on to the dance floor and the last one off. Over later years, his enjoyment of dancing was shared with his regular partner and late companion Ethel, who, like him, was a staunch supporter of the RAF Association club in Formby.
Tom's Masonic life began when was initiated into Freemasonry, then aged 31, in 1955, at Uranus Lodge No 6485, becoming WM in 1972. It was a proud moment for Tom, when he brought son Stephen into Freemasonry and Uranus Lodge. He celebrated 50 years membership of Uranus in January 2005. Uranus Lodge has now merged with Temperance Lodge 2714 and Queens Lodge 2681 to form South Liverpool Lodge No 2681, meeting in Garston Masonic Hall. He celebrated 60 years in Freemasonry in January 2015 and at the age of 93 was made an honorary member of the lodge.
His service to the Craft was recognised in 1985, with his appointment to the rank of Past Provincial Assistant Grand Director of Ceremonies, with promotion to Past Provincial Grand Superintendent of Works in 1993 and a further promotion in 2007 to Past Provincial Junior Grand Warden. With regard to his development in Royal Arch Masonry, Tom was exalted into the Neptune Chapter in 1968, becoming first principal of the chapter in 1980. He was appointed as Past Provincial Assistant Grand Sojourner in 1986. Within Neptune Chapter, Tom held the office of almoner from 1996 through to 2003.