At a meeting of the Lodge of Peace and Unity No 314, member Tom Blackburn celebrated 60 years as a Freemason. The lodge was honoured by the presence of a total of 37 grand officers led by the Deputy Provincial Grand Master Phil Gunning, who was accompanied by Assistant Provincial Grand Master David Winder, and the Provincial Grand Director of Ceremonies Keith Kemp. In recognition of Tom's service to Freemasonry, a further five Assistant Provincial Grand Masters, Past Provincial Grand Master Peter Hosker, Past Deputy Provincial Grand Master Howard Jones and 10 Past Assistant Provincial Grand Masters attended the occasion. They were supported by the presence of the Preston Group Chairman Steve Bolton and three additional acting Provincial grand officers.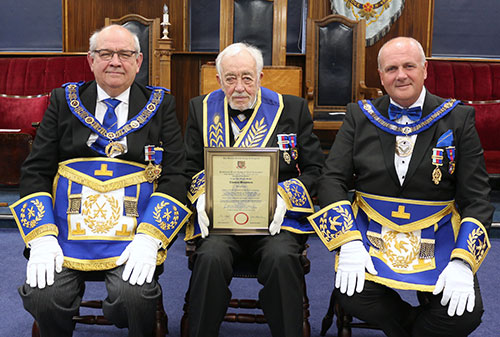 The lodge was opened in due form by the master of the lodge David Winder for the administrative business of the lodge to be quickly completed. Following its conclusion, the Provincial Director of Ceremonies entered the lodge to announce the presence of the Deputy Provincial Grand Master Philip Gunning. He duly entered the lodge accompanied by Assistant Provincial Grand Masters and other grand and Provincial grand officers to be formally welcomed by David.
Having occupied the master's chair, Phil invited Tom to occupy a suitable position in the lodge. With a beaming smile he opened the page and began to relate the life and times of Thomas Blackburn VII, Past Deputy Provincial Grand Master.
Phil informed the younger brethren present that he was taking everyone back in time to a period shortly after the dinosaurs stopped roaming the earth. Although, he did qualify that statement by saying their descendants could still be seen staggering up and down Preston's Church Street on a Saturday night. The year in question was 1932, a year that would see the opening of Sydney Harbour Bridge, the first experimental TV transmissions, the appearance of the Zippo Lighter and Mars Bars.
Continuing, Phil said it was the year when Aldous Huxley wrote 'A Brave New World' and on the 22 July Thomas and Minnie Blackburn introduced the world to their son, who would also be called Thomas. Unfortunately, the world at that time was not the utopian vision of Huxley, but really the opposite, with the great depression in full swing and soup kitchens the norm. However, this did not bother young Tom as he had a healthy childhood attending Woodland School in Ribbleton. He continued his education at Lawrence House in St Annes, described in its literature as, 'A school for young gentlemen.' It was therefore a school that Phil thought would suit Tom perfectly.
On completing his time at Lawrence House, Tom moved to Oundle School in Northampton. It was a school that boasted three winners of the VC, countless MP's and high-ranking members of the armed forces. Tom quickly showed his ability in the classics by gaining an 'A' for Latin as well as a 'B' for mathematics. In his second year he was awarded the form prize for mathematics. On his own admission, Tom modestly said it was because 7/5th's of the other form members didn't understand fractions. On the sporting side, Phil mentioned Tom having represented his school at cross country and shooting and had also shot at Bisley in 1949 and 1950.
Turning to Tom's working life, Phil informed the brethren that wishing to stay in the Preston area, Tom started gainful employment as a student apprentice with English Electric during which time he gained an HNC in Mechanical and Production Engineering. It was also a job that opened Tom's eyes to a different level of society and shift work, all of which served him well in later life. It was also that time when Tom joined the Combined Cadet Force that gave young men an introduction to military training, again something that he said provided a useful grounding for his future time as a Provincial DC. At this point Phil observed a few former Deputy DC's shaking their heads.
Moving on, Phil continued with Tom's working life that, on completing his apprenticeship, Tom entered the family firm of Thomas Blackburn and Sons Ltd. It was a company concerned with the manufacture of bridges, girders, forgings, castings and other similar engineering products. He joined at a time when the company was on the crest of a wave that was to change when Harry Ferguson, for whom the company made farm implements, sold out to Massey. Unfortunately, the result was Massey taking all the farm implement work in house. This was compounded by the Monopolies Commission having a bad effect on the structural steel industry and the slowdown in deep coal mining having a negative effect on the company's bottom line.

Phil then went into Tom's various directorships of other family businesses that involved the sale of some sections and a lot of forward planning regarding the desired ultimate outcome. He went into detail regarding Tom's adventures in designing and producing an improved braking system for British Rail rolling stock knowing that success would almost guarantee a long-term contract would follow. The problem came when, after a considerable investment in the project and the manufacture of long lead time items by the company, British Rail decided to fully test the new system. The tests revealed that the brakes had been improved so much that the braking loads tore off the couplings between the waggons. As this did not meet with the requirements of British Rail, the contract was cancelled and Thomas Blackburn and Sons subsequently went into receivership.
Next, Phil referred to Tom's tenacity by trying to rescue some parts of the original business and by taking a new tack by entering the road haulage business. These were eventually sold enabling Tom, during that time, to purchase a farm on Jeffrey Hill and convert it into a family home, a home he remained in until he recently down sized. The final business, Sewards, kept Tom in employment for 20 years until increasing legislation and issues with sub-contractors, finally Tom decided it was time to retire at the age of 60.
Continuing, Phil mentioned Tom's early interest in motor sport and the purchase of his first car, an ex-works Aston Martin International, that he purchased for the princely sum of £250 and which he described as a well-used example. At this point, Phil had great delight in informing Tom that, had he kept it, the vehicle would now be worth around £130,000. Phil related stories of Tom's time in rallying, first as a navigator and then as a driver. To add dimension to the task of rallying in those days, Phil described typical routes as covering 1,500 miles, starting on a Friday and finishing on a Sunday with little or no sleep in between. The thought of averaging 30mph over Hardknott Pass, possibly in the dark, whilst driving a Fraser Nash, Hillman Minx, Ford Poplar et al makes one realise the commitment required.
Tom went on to compete in most of the major rallies of the day, including the RAC Rally. It was in the 1952 RAC Rally that Tom swerved to avoid a marching platoon of imaginary soldiers, and following impact with a telegraph pole, fractured his skull. Following the accident, Tom decided that one-day and one-night events were the safer option in future. It was, when rallying he came into contact with Bill Huck who later became Tom's navigator. Phil then listed off the number of events that Tom had not only entered but had won. Obviously getting bored with rallying Tom turned his attention to racing on the circuits, first in a Lund Special then a variety of Jowett Javelins and Jupiter's. His wheel waving prowess was eventually spotted, and he became a member of the Standard Triumph Works Team. The team went on to win the manufacturers prize in the Tourist Trophy Race in Ireland and Tom was a team reserve driver in the 1955 Le Mans 24-hour race. Bringing this part of Tom's life to a close, Phil said that after four successful seasons and an impending marriage to Diane, Tom declined to take part in the 1955 Tourist Trophy Race and became a sensible and happily married man.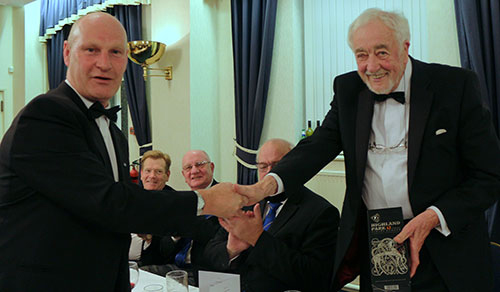 To dispel any thought of Tom taking the easy life, Phil changed the subject to Tom's love of field sports, ie, Fin, Fur and Feather It was a sport in which he was a very successful fly angler, a hill stalker of some repute and a shot with a deadly style. Not for Tom was the graceful style of a Stanbury or Churchill, it was a case of gun up, bang, bird down. Having been shooting with him on several occasions, Phil went on to praise Tom's marksmanship and to say what a pleasure it had been to watch a master at work. By way of example, he naturally referred to Tom, at extreme range, letting loose at what was but a speck in the sky that, on its way down, turned out to be a magpie!
Phil complemented Tom's love of the country life and all that it entails by reference to his dealings with the League Against Cruel Sports and their appeal for funds. It was an appeal that fortunately came with an attached pre-paid envelope. It was an envelope to which Tom generously attached a surplus roof tile! He did say he was not alone in that course of action as it was estimated the process eventually cost the league around £50,000 in excess charges.
Unfortunately, failing eyesight has meant that Tom has had to give up both motoring and the gun but still has the great joy of watching his son, 'Young Tom' and two grandsons, Chris and Tom, shooting. As chips off the old block, they possess the family trait of being safe but deadly accurate.
After inviting Steve Bolton to read the celebration certificate, he rose, making his way onto the floor to formally present Tom with it as a memento of what was a wonderful occasion. His presentation was followed by a sustained standing ovation from all the brethren present.
Everyone being aware of Tom's many Masonic achievements, Phil concluded his words by saying: "Tom, you have been and still are, an essential part of the Provincial furniture and may that continue for many years to come.  You know of my own regard for you and what it has meant to me personally to be able to do this. God Bless you Tom, friend, man and complete Mason." The brethren showed their appreciation of Tom, as a person and a Mason with further applause.
Later in the evening, at the celebration banquet, the toast to Tom was given by his former rally navigator, Bill Huck. Bill said he was pleased to have the honour and privilege of proposing the toast to such a fine person who had been a continuing close friend for over 60 years. He reminded the diners that a lot had already been heard about Tom's journey through life earlier in the evening, however, he was pleased to note that a few snippets had been left out. He proceeded to expand on a number of items mentioned earlier by Phil, paying particular attention to Tom's admirable shooting skills. By way of thinly disguised hints, he made numerous references to Tom's, mostly questionable excuses, for the imbibing of large quantities of gin, particularly the damson variety. However, to balance his comments, he also referred to Tom's religious convictions and the comfort it brought him. They were convictions that gave him the opportunity to spend many arduous hours practising his bell ringing skills. Bill did reveal that the hard labour it entailed could only be relieved by later consumption of copious quantities of some form of liquid refreshment, ie, another hint.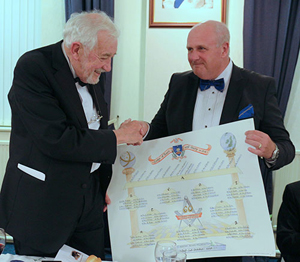 Much to the amusement of all, Bill closed his comments by describing, with actions, Tom's efforts to demonstrate Masonic sword drill. It was a demonstration that took place at a festive board in the dim and distant past and involved an unsuccessfully waved piece of bread in the form of a French stick.
Among many of Tom's Masonic attributes was recorded, the fact that he was a founder member of Longridge Lodge No 8077. Having been aware of Tom's 60th, a contingent from the lodge, led by Michael Monks, duly arrived and much to his surprise, presented him with a bottle of whisky as memento of the occasion. On behalf of Lodge of Peace and Unity, David Winder had the pleasure of presenting Tom with a beautiful and ornate table plan, produced for the occasion and a copy of the festive board menu that had been signed by all present.
In reply, Tom thanked Bill for the generous toast to his health and the many happy times their families had shared together. He reminded Bill of their joint exploits during their rallying days and now, no longer able to drive, thanked him for the for the help he provides in the transport department. Talking about his motor sporting times and his short racing career, he remembered wearing a cork crash helmet and short sleeves in summer. In those days there were no thoughts about fireproof overalls or full-face crash helmets.
He thanked Phil Gunning for the all work he had obviously put in researching the excellent presentation he had made earlier. Tom's comment was: "An object lesson to us all." He went on to say what a pleasure it had been to have Peter Hosker present who he remembers officiated at his 50th. Thanks also went to the administrative officers of the lodge for all their hard work in preparing what had been a wonderful occasion.
He closed by thanking everyone for coming to help him celebrate the occasion. It had been wonderful to meet with so many old friends who he hadn't seen for some time. As he sat down, the room resounded to the sound of applause as everyone rose to acknowledge the presence of a gentleman and outstanding Mason.