The Tithebarn Care Home residents had an amazing and enjoyable week leading up to Christmas. It started off when they went to visit Blackpool for the annual illuminations. Going in comfort by travelling in the new minibus/ambulance driven by Roger Holt, who is a member of Crosby Lodge No 3714. On this trip they were able see six miles of some of the brightest light displays in the country.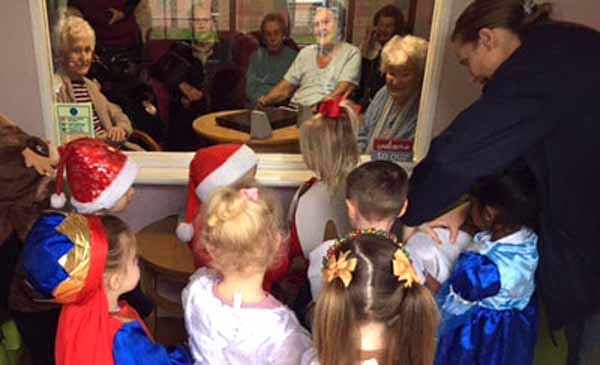 The visit to the illuminations was followed a couple of days later with the residents of Tithebarn being taken to the Litherland Masonic Hall to be given their Christmas Lunch, with a traditional Christmas meal and some top class entertainment provided during the afternoon.
This was followed the next morning by a visit from children of St Elizabeth's Primary School. 10 pupils aged three to four years old in nativity dress, entertained the residents with Christmas songs. This had been a treat for the residents in 2020 and was repeated by popular demand.
As last year the children were introduced to the residents, in the visitor pod at Tithebarn, enabling residents to observe the children in safety and comfort with the COVID restrictions in place, while enjoying the Christmas songs.
The whole occasion of the visit by the primary school was enjoyed by the residents, children and staff of both Tithebarn and St Elizabeth's. At the end of the visit all involved left in high spirits and with a cheerful smile.
At the end of the week the residents of Tithebarn had really enjoyed all their visits during the week.