Brookfield Hall was the setting for the installation meeting of Tyldesley Lodge No 2572, and the lucky master elect was David Hargreaves. David was initiated way back on 19 December 2001 and was very active in the lodge.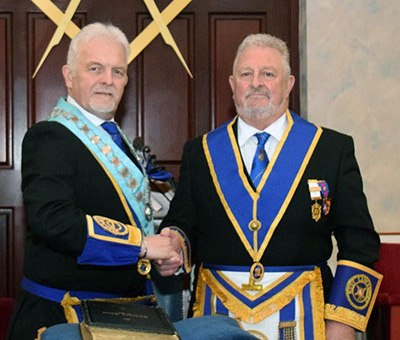 David's first time in the chair was in 2007, then again in 2012, consequently, this installation makes it his third time. David has also been the lodge secretary for the last 10 years, making him a valuable lodge member.
The installing master was Bryn Hart who delivered a truly heartfelt ceremony. Interestingly, David had installed Bryn into the chair twice before.
The lodge was honoured by the presence of the Chairman of Chorley and Leyland Group Peter Allen, who represented the Provincial Grand Master tony Harrison. Peter was accompanied by acting Provincial grand officers.
Everyone agreed that it was an excellent ceremony and that all who took part performed exceptionally to make it a great night for the new master. Special mention was made of the three junior brethren who presented the working tools; first degree by entered apprentice Andrew McVee, the second by David Peacock and the third by Jonathon Battersby.

As Peter gave the greetings from the Provincial Grand Master, he commented how great the three young members did with the working tools and said the future or the lodge was looking good. David then presented some cheques as donations to charities totalling £1,500; a magnificent sum, and Peter congratulated all the lodge members for their very generous efforts.
So, with an entered apprentice and a candidate waiting in the wings to join, it looks like David has a busy year ahead and the future of the lodge is looking well.