St Bartholomew Lodge No 6071 normally holds its installation meeting in April but, for a number of reasons, the lodge decided to seek a dispensation to hold it in October in order to install David Bridge in the chair of King Solomon.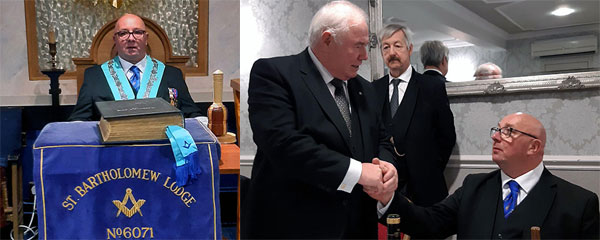 The reasons for the change were; firstly David, who is a keen and enthusiastic Mason, was due to be installed in April 2020 but missed out due to the pandemic and secondly the members the lodge having decided to amalgamate with Brookfield Lodge No 5077 later in the year wanted David to experience the office of WM for his first time in his mother lodge.
The meeting started with the usual business but there was one extra very pleasant duty the outgoing and installing master Tony Fletcher had to perform which was to congratulate the honorary organist Ray Dainton on being awarded an MBE in the Queen's Birthday Honours list for his extensive work with local charities, an honour that is very well deserved.
The principal guest for the evening was Peter Hegarty who represented the Provincial Grand Master Tony Harrison.  Peter, along with Chairman of Chorley and Leyland Group Peter Allen and other grand and acting Provincial grand officers were treated to a wonderfully heartfelt ceremony by the officers of the lodge, ably led by the director of ceremonies Steven Gregory and which the new master David will no doubt remember as a special day in his Masonic career for a very long time to come.

During the course of the evening the lodge presented cheques to a number of different Masonic and non-Masonic charities, totalling an impressive £1,650.
The festive board was the usual friendly and relaxed affair with good food and wine and company in the beautiful surroundings of Brookfield, and one of the many highlights of the evening was the singing of the traditional master's song by Zack Thornley (a visitor from another Westhoughton lodge) and who will no doubt become a very popular visitor at other lodge installations in the future