Dr Albert Mackey's 14th landmark of Masonry reads as follows: 'The right of every Mason to visit and sit in every regular lodge is an unquestionable landmark of the Order.  This is called the 'right of visitation.'  This right of visitation has always been recognized as an inherent right, which will inure every Mason as he travels through the world.'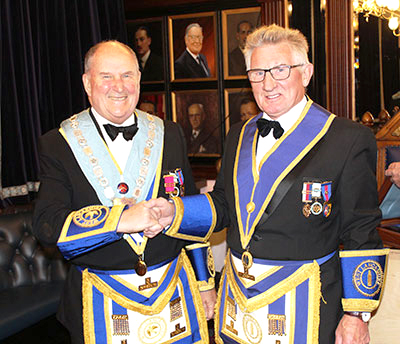 Such a right of visitation was evident during the installation meeting of Croxteth United Services Lodge No 786 when a large contingent of visiting Masons from Southport, Bootle and Gladstone Groups all attended at the Artists Club, Liverpool.
The lodge being duly opened, the lodge was delighted to receive principal guest David Anderton, accompanied by Gladstone Group Vice Chairman Ian Sanderson and other distinguished guests.
The visiting brethren were treated to an exemplary execution of an installation ceremony performed by the installing master Joe Williams when installing the new master Don Fraser into the chair of the lodge.
Grand officer Roy Pine delivered a fine rendition of the address to the new WM.  This was followed by David Anderton offering congratulations from the Provincial Grand Master Tony Harrison and himself, wishing the new WM and brethren best wishes for the ensuing year.
Retiring to the dining room of the Artists Club, under the watchful gaze of the many portraits displaying the past and present presidents of the club, the visiting Masons and brethren of the lodge enjoyed an excellent meal at the festive board.
David Anderton delivered a humorous and heartfelt speech in conveying the best wishes of all in attendance to the health of Don, with both David and Don being especially keen to express thanks to Joe Williams in his continued service to the lodge and holding of multiple offices. The brethren responded enthusiastically with the use of the lodge firing glasses in support.
Organist of Eureka Lodge No 3763 Raymond Massey then took up position at the grand piano and accompanied by all present, played 'The Master's Song', with all wishing health and happiness to the WM 'in a song'.
With the tylers toast delivered, a most enjoyable evening for the visiting brothers inevitably ended with many promises to visit again.