Ian Moore was initiated 32 years ago into Bootle Lodge No 1473, he was WM in 2005 and now a member of County Palatine Lodge No 2505, he was WM in 2005. Ian's father, John is also a member of County Palatine Lodge and is a Past Assistant Provincial Grand Master. Ian and his wife Siobhan have two sons George (18) and Harry (13).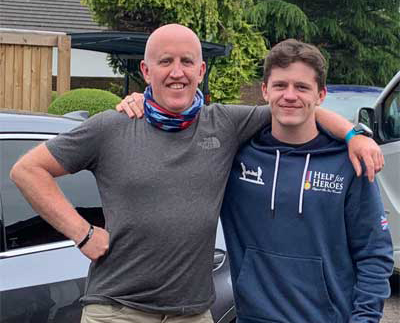 Ian said: "George was a Royal Marines Cadet and had ambitions to join the Royal Marines, he wanted to take part in the Marathon des Sables (MDS), which according to the Discovery Channel is the 'toughest foot race on earth'. Whenever I mention it to people, they usually refer to the fact that James Cracknell did it a few years ago and they did a documentary on him."
After Ian decided to do the MDS with George, they trained for over three years, fortunately living in Formby, near Southport the sand dunes were close at hand! Ian and George took part in numerous other multi-day ultra-marathons and heat acclimation sessions at Edge Hill University, in Ormskirk. Due to COVID-19 they endured no less than three race postponements.
Ian said: "We ran the MDS because not only was it a once in a lifetime challenge and opportunity that tested us to our physical and mental limits. It was also the ultimate 'dad and lad' experience." Ian continued: "But more importantly we ran to raise money for Sefton Royal Marines Cadets and we ended up raising over £3,000."
MDS competitors have to battle across a 155 mile / 250 km course (including a 51mile / 82 km stage) over 6 days in the Sahara Desert in Morocco. In addition, competitors have to carry their own food, water and kit for the race and endure temperatures as high as 45°C (120°F). It's the only race with compulsory repatriation insurance and a venom pump as part of the mandatory kit. Due to COVID-19 there was an interim MDS in October 2021 when it was particularly hot. So much so, 48% of people DNF'ed or did not finish and Ian believes there was one fatality and four people collapsed and had to be medevaced.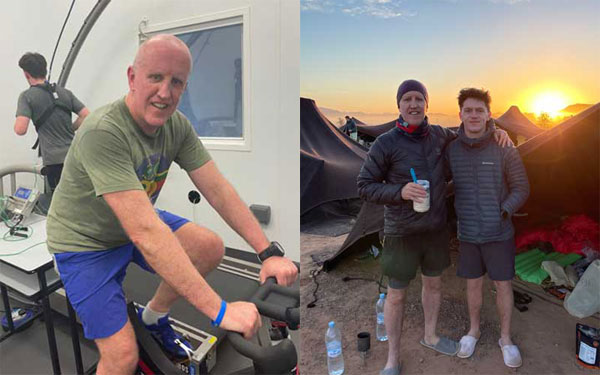 Ian said: "The really interesting part in all of this is that I had to leave George 'behind' during the night of the double marathon stage. George had collapsed twice, he was brought round once with saline, but the second time we both agreed his race was over as he was shivering and his eyes were rolling. I put my duvet jacket on him and stuck him in two sleeping bags – despite us being in the Sahara and I pressed the SOS button. I left him with the scorpions (they come out at night) for the medics to pick up and ran on into the night, as they had a pact that the other would continue the race if one of them was laid low."
Ian continued: "I knew he'd be in safe hands along with all the self-confidence and life skills he'd picked up from the cadets. One thing I would say is I've never seen anyone 'dig in' as much. He was in tears and staggering on but we both came to the conclusion that he might make the next checkpoint but probably not the one after that."
When we got home George was diagnosed with stress fractures in his pelvis, due to the constant running through the sand dunes of the Sahara carrying weight. Happily, George is now fully recovered and running again. Sadly, another past injury has subsequently precluded him from joining the Royal Marines.
Ian completed the MDS and had the obligatory tattoo. But George didn't. In his words: "It is still like having unfinished business and I plan to go back after University in 3 years or so."  Ian then commented: "If that's the case, I might go too along with Harry. Now that would really be the ultimate dad's and lads experience!"