It was a fine but breezy day for the installation meeting of Tow Law Lodge No 3349 in County Durham, as over 50 members and guests gathered to see Graeme Wade installed into the chair. With the intended installing master taken out of action by COVID, it fell to grand officer Harold Butterfield to perform the ceremony.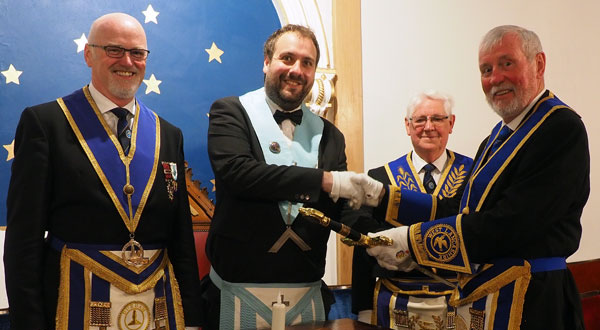 Things had to be done correctly with the Provincial Senior Grand Warden Martin Jameson, representing the Provincial Grand Master of the Province of Durham, so Harold was definitely the man for the job. Now what the reader may ask, has that got to do with the Province of West Lancashire? Well, read on.
It was an unfortunate fact of life that after 67 years in existence, Landmark Lodge No 7273 had to hand in its warrant during the lockdown period and many of its effects and furniture were donated to other local lodges, while other items languish in the storeroom at Poulton-le-Fylde Masonic Hall.
One item that was proving surprisingly difficult to find a new home was the ceremonial sword which was wheeled out at installation meetings. 'Wheeled out' is not too much of an exaggeration as this sword is a beastie. Not a weapon to be handled by the faint-hearted! So where was it to go? Well, Chris Thompson, who has been the master of both of the named lodges had the answer.
At Chris's suggestion Tow Law Lodge were offered the sword as a memento of the many occasions in recent years when visitations across the county border for installation meetings had been enjoyed by members of the two lodges. The Durham based lads were only too pleased to inherit a majestic piece of ironware complete with its custom built carrying box. Both of which were gifted to Landmark Lodge by David Atkinson, veteran of some fine stories from Fairhaven Lodge No 5076.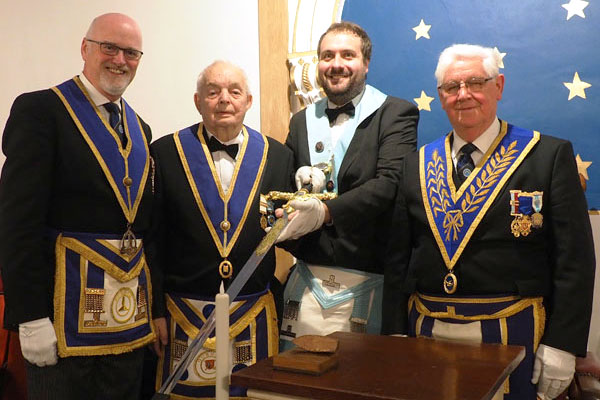 And so, back to the installation meeting of Tow Law Lodge, where brothers who had been officers of Landmark Lodge had been pleased to witness a fine ceremony of installation. Once most of the new Tow Law Lodge officers had been appointed and invested the Landmark Lodge lads stood up and carried forward a big long wooden box.
"Hang on, we haven't installed the tyler yet," one brother was heard to say. Before any further comment could ensue the box, held by Chris Thompson at one end and Glenn O'Brien at the other (it is that heavy!) was opened by Norman Prue and there was the sword, gleaming in all its splendour from its niche.
In his presentation address, Norman thanked the Tow Law Lodge lads for all their hospitality when hosting West Lancashire brethren and for all of their support when travelling across the Pennines to visit Poulton-le-Fylde. Norman then removed the sword from its box and presented it to the new WM who thanked the visitors for their very generous gift to the lodge and warm applause followed.
The tyler, John Ozyer-Key, was then admitted, appointed and invested and presented with his new sword, which he manfully handled out of the lodge room. John was also surprised to receive a fine gold watch in recognition of his many years of service to the lodge and to Tow Law Chapter No 3349. The last items of lodge business were then dispensed with and the brethren retired to the banqueting suite for a fine meal and some entertaining toasts.