Chapter of Equity No 1384 were delighted to welcome as their principal guest, Assistant to the Provincial Grand Principals Colin Rowling, at their installation ceremony.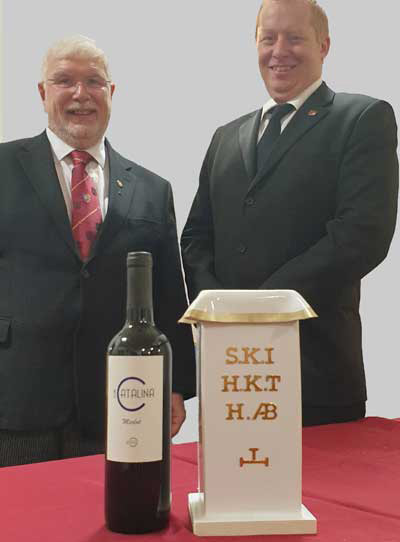 Due to the ravages of the pandemic, few Royal Arch chapters have had little time to prepare fully for the installation but the members of Chapter of Equity stood up to the task and shared the work. Companion Ian Lynch installed Chris Douglas into the first principals chair and then respectively Ian Locke and Norman Speed were installed into the second and third principal's chairs
The address to the companions of the chapter was given by the principal guest who made sure each part was clearly explained. Kevin Poynton presented the address to the three principals, the whole ceremony being under the watchful eye of director of ceremonies Ian Berks.
Later at the festive meal the members were the first to be presented with the Royal Arch's latest innovation to promote a daily advancement in Masonic knowledge.
Nicknamed 'the Travelling Pedestal' the miniature replica of the pedestal situated in every Royal Arch Chapter room, but relatively inaccessible for inspection due to the layout of the room. Colin's idea is to have the replica on display at the meal following the ceremony to promote discussion and questions from the members to enable them to gain more understanding about our ancient and honourable Masonic Order.
The Travelling Pedestal will accompany Colin on every visit to his many Royal Arch engagements throughout the Province, giving each first principal the opportunity to lift the veil covering the pedestal and retract the notebook from within to record their signature and comments upon their experience of the ceremony for posterity.
The picture shows the pedestal situated next to a wine bottle to give an idea of scale. The wine bottle was removed after the picture was taken and was used for medicinal purposes!