Once in a while, we all get 'that warm glow of satisfaction' when we know that what we have done, be it volunteering to do something or donating to a good cause, or just reading about the efforts of others, that we know will really make a difference to those concerned. Such was that 'warm glow' felt by three brethren who came across an inner-city community-based project located in Liverpool.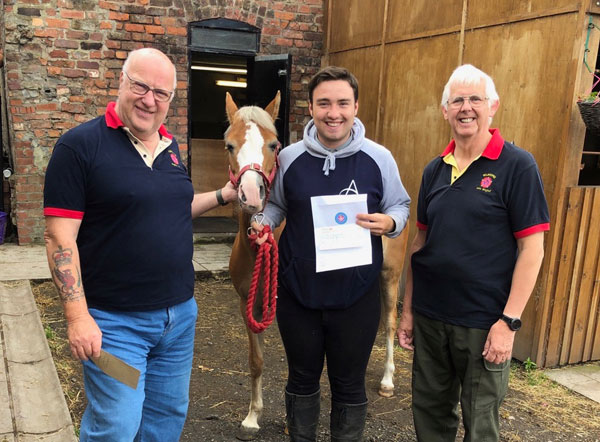 Park Palace Ponies is a riding school based in an old cinema on Mill Street, in the heart of the Dingle in the Liverpool 8 area. It opened in April 2017 with the aim to give an opportunity to kids between the ages of seven and 10 from across the entire city, to learn how to ride and learn what is involved in caring for a horse including 'mucking out'. There are just four full time staff who are supported by an army of local volunteers, including the children, who look after the horses and stables daily.
The riding school is approved by The Association of British Riding Schools and registered with Liverpool City Council and relies on donations to supplement its income from the riding lessons in order that it can continue its work in providing an opportunity to youngsters. Some of the ponies are sponsored such as 'Magic' and 'Kev' who are sponsored by 'The Racing Post' and 'The Peter O'Sullevan Charitable Trust'. For those who don't know, Sir Peter O'Sullevan CBE was an Irish-British horse racing commentator for the BBC, and a correspondent for the Press Association, the Daily Express, and Today.
During the lockdown staff decided that as people could not visit the stables, then the ponies would visit the people, and so they did, travelling the local neighbourhood, knocking on doors and visiting the kids. What a surprise, open your front door to be greeted by the sight of a pony standing on your doorstep.
So, having heard and learnt a little of the activities of Park Palace Ponies, 'Larry, Curly and Mo' better known as John Bruffell, Geoff Cuthill and Steve Walls, all members of various lodges and chapters meeting in Liverpool, decided that they would seek approval of support for the ongoing good work
In June they put their case to 'The Alt Board of Corks' at Ormskirk and were awarded the sum of £150. This was closely followed by donation of £500 made at the Annual General Meeting of the West Lancashire Masonic Clay Pigeon Shooting Society – a magnificent total of £650.00p. Further to this, Masonic lodges and chapters within the Liverpool Group are looking to assist with donations.
John Bruffell and Steve Walls of Temple Lodge No 1094 visited the stables and presented the donations to Joe and 'Millie' and were assured of the thanks of all who would benefit from your generosity. Such generosity to a locally based organisation goes a long way in achieving its aims and certainly helps in allowing the stables to continue and we three, who have met and agreed all say a big 'thank you' on behalf of the staff, volunteers, children and not least the ponies, for your generosity
Park Palace Ponies have secured, through their fund-raising efforts, the lease on a parcel of land in Aigburth, Liverpool where they will open a second school for their riders who have gained sufficient experience and competence and will be able to develop their skills still further.
During the summer months, Park Palace Ponies will be visiting Aintree Racecourse, taking the ponies to a new area as well as continuing its work in the south of the city. For further information on Park Palace Ponies just click here. You will find videos, photos and reviews as well as reports from BBC Radio Merseyside, BBC News North-West and The Liverpool Echo.