Members of the Leigh Group, alerted to the difficulties being endured by local families suffering from the unprecedented social and economic effects of the COVID-19 crisis, decided to try and mitigate some of the financial pressures on those most in need.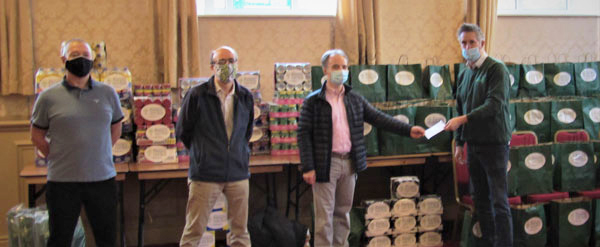 The group contacted the local Atherton and Leigh Foodbank, headed up by Project Manager Warren Done and asked him: "What could be done to help."
In his reply, Warren relayed to the Leigh Group team the importance of fresh bread and fruit produce in the diet of everyone and informed them that local Tesco stores gave a 20% discount to all purchases made by the foodbank to help them in their fantastic efforts to support those most in need, inspired by Warren's efforts the Leigh Group purchased a £500 Tesco gift card to help Warren and his team in the Christmas period.
Warren also gave the group reps a shopping list with the main items required being, amongst others, men's deodorant, toothpaste, tinned fish, cordial juice, rice pudding and custard. Armed with the shopping list the intrepid trio visited a cash and carry and purchased another £500 worth of the requested essentials.
The members of the Leigh Group dug deep during these difficult and distressing times, not only with the cash donations but by collectively donating 1,600 individual items of food produce for the cause, some presented at the hall by those excepted from the lockdown conditions, and some items collected with the assistance of the scouts.
All in all, a fantastic day for local charities with another donation in the form of a cheque for £500 presented to John Rullo, Fund Raising Manager for Macmillan Cancer Support Greater Manchester on behalf of the Leigh Group Social Committee.
To round off the Christmas goodwill, £1,370 was donated to the 2021 MCF 2021 Festival.