Another proud chapter has relinquished its charter after much thought and deliberation.
King's Chapter No 3101 had its charter issued in November 1923 after petition from King's Lodge. It was determined by the 'Founders' that membership should be restricted to the members of King's Lodge and this rule covered the first 50 years of the chapter, until rescinded in 1974. The King's chapter was consecrated on 14 January 1924, the founding three principals being William James Trickett, Joseph Chipchase and Thomas Rainford Jackson. The other petitioners named on the charter were William Holdsworth (1926), Robert Harold Dexter, Edward Gell, Joseph Parkinson (1927), William Ewart Brooks, John Waterworth (1930) and Thomas Dowd. The year given in brackets is the year they became first principal. The charter clearly states the name and title bestowed as 'The King's Chapter.'
The summons for the final meeting in 2019 shows Philip Brown, Peter Morris and Gary Jones, as first, second and third principals, with Terence Willis as IPZ, however Gary Jones was unable to attend on the evening, so Vic Albin kindly stood in for him. After opening the chapter, Phil Brown welcomed Sam Robinson, Kevin Poynton and John Roberts, all of Supreme Grand Chapter, accompanied by Provincial Deputy Grand Director of Ceremonies Dave Thomas, with Provincial Grand Steward Dave Atkinson. Sam, a member of King's Chapter was its first principal in 1997. After pleasantries had been completed, all stood in departed merit with respect for Leonard Beddows who had been first principal of the chapter in 1991.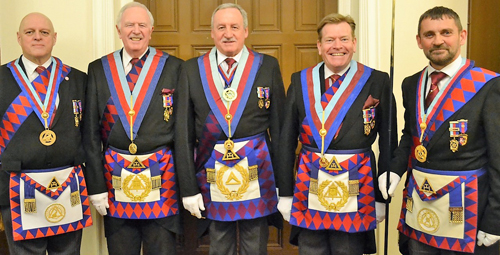 The final business was carried out, first approving the accounts and after confirming all was correct, it was deemed that all the money would be shared between the WLFC and the MCF 2021 Festival. Following this, David Kemp gave a brief but informative history of the chapter. Sam Robinson addressed his fellow companions, remarking on the charitable donations of King's Chapter from 1924 to the present day.
Closure is always a sad event and the pragmatic decision was reached that it was impossible to carry on until the centenary in 2024 in any meaningful way, particularly with the recent closure of King's Lodge, as the chapter had lost its natural feed.
The chapter was then closed in due form, with the charter being ceremonially rolled up, fastened and handed to Sam Robinson for return to Supreme Grand Chapter.
The valedictory address was given by Kevin Poynton in a superlative manner fitting the occasion. The companions then formed up and recessed out for the final time as King's Chapter.