It could never be said of Michael Ernest Collins that he considers himself important. To his fellow brethren in Liverpool Mercantile Lodge No 4319 however, Michael is very much considered to be of outstanding importance as he was once again installed into the master's chair.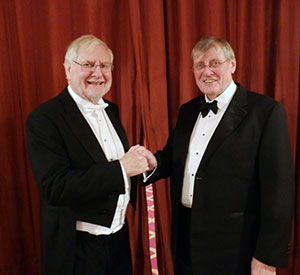 The evening commenced when members and guests arrived at the famous Adelphi Hotel, Liverpool, to enjoy a welcome glass of sparkling wine while renewing old acquaintances, mingling with many senior members of the Craft who also took the time to meet and chat to two recent initiates of the lodge, Michael Wolf and Jack Knott. Also present was the retiring local care officer responsible for the Gladstone Group, Derek Elston, who introduced his successor Christopher James Sandham, known to all of his acquaintances as CJ
The lodge was opened by the WM Reg Evans, assisted by his wardens. Following confirmation of the minutes and prior to the main business taking place, Reg announced that a founder's jewel which had been in safe keeping for over 40 years was to once again be used. It was to be worn at future meetings by whoever is the oldest past master present, older in terms of years since they were first installed. On this occasion it was to be David Blaquiere. David would hand back the jewel to the lodge secretary Peter Lingfield at the end of each meeting for safe keeping. At each subsequent meeting, it would again be worn by David or, if he was not present, by the next oldest past master.
The director of ceremonies Paul Shepherd had the task of organising the officers and members into place in the lodge room as well as forming the huge number of Provincial grand officers, grand and acting Provincial grand officers ready to process in. They included the Provincial Grand Master's representative Howard Jones and Gladstone Group Chairman John James.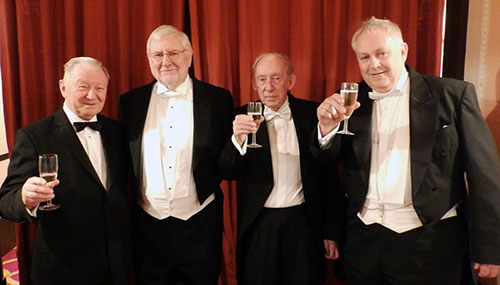 Once everyone had been seated, Reg welcomed Howard, who he referred to as an old friend of Mercantile Lodge. Reg then requested the treasurer Ian Walton to occupy the master's chair to carry out the duties of installing master. Ian of course delighted in agreeing. His first duty was to request the Provincial Senior Warden David Edwards to occupy the senior warden's chair and the Provincial Junior Warden Paul Storrer to occupy the junior warden's chair. He also requested Ian Elsby to continue to act as inner guard. Ian then opened in the second and subsequent third degree to enable director of ceremonies, Paul, to request the brethren to salute in turn, the two Past Deputy Provincial Grand Masters present, Howard Jones and Mercantile member Brian Gillbanks. They thanked the brethren and greeted them well. Paul continued with salutations assisted by his assistant director of ceremonies David Hilliard.
At the appropriate moment, master elect Michael Collins was presented by Brian Gillbanks and David Hilliard.  Michael repeated his obligation and once a board of installed masters had been declared, Michael was installed in a perfect ceremony by Ian. Michael was formally greeted by past masters, master Masons, fellow crafts and entered apprentices in turn. The address to the newly-installed master was given by Geoff Antrobus, an officer in the Grand Lodge of Spain and very old friend and fellow lawyer of Michael's.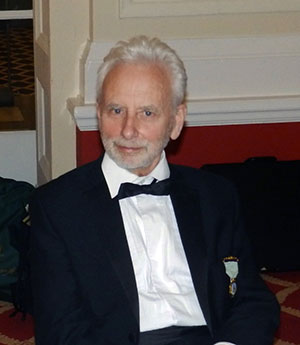 Michael proceeded to invest his officers for the ensuing year, commencing with his wardens, John James McKay as senior warden and Professor Mike Jones as junior warden. Provincial Senior Grand Warden David Edwards gave the address to the wardens, a duty he has performed on numerous occasions as was obvious by his perfect delivery. Once all officers had been appointed and collared, the address to the members of Liverpool Mercantile Lodge was given with sincerity by Howard Jones. He related the fact that the last time he had attended Liverpool Mercantile Lodge; he had on that occasion also congratulated Michael on attaining the master's chair. In congratulating Ian as installing master, he reminded him that he was to install his successor in the Lodge of Peace and Unity No 314 in the Preston Group, a lodge he is also a member of, as is David Edwards.
Communications from Grand Lodge included a grand lodge certificate for the newly appointed inner guard Michael Wolf. It was presented to him by Michael who also congratulated him on his appointment, the only master Mason on the ladder of progression.
Director of ceremonies Paul then asked the brethren to be upstanding as grand officers retired, escorted by the acting Provincial grand officers in attendance. Two of the newly appointed stewards preceded their exit in order to wait upon them with pre-dinner refreshments.
When the business of the lodge was concluded, almost 50 members and guests gathered in the Pearce Suite before taking their places to enjoy a fine festive board which, in keeping with the time of year, consisted of turkey with all the usual trimmings.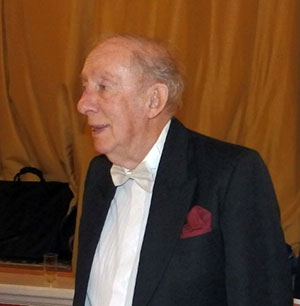 During the course of the dinner, Paul called the brethren to attention while Michael, Howard and Brian took wine with everyone present at various times. The toast to the new WM was proposed by Reg Evans who announced that he was that day celebrating his birthday of 81 years. Paul halted him in mid flow to call upon all present to sing a hearty version of that old favourite, 'Happy birthday to you'. Reg was then presented with a birthday cake which he insisted on sharing with everyone present.
Michael's response included many thanks to both members and visitors for their support, many of whom were very regular visitors. He particularly thanked his old friend Geoff, for travelling from Spain to be present and for taking a part in the ceremony. Michael is certain to be a success as WM as it will be his third term in total in Mercantile Lodge. Michael was first installed as master in the Province of Cheshire back in 1981. He was also WM in Lodge of Perseverance No 155 in 2016. Michael was also the Provincial Senior Warden in 2010
The toast to grand officers was proposed by the Provincial Senior Grand Warden David Edwards. Howard responded, commenting on his many past visits to the lodge, the last one being in 2007 when Michael had been installed as WM for the first time in Mercantile Lodge. A former bank manager, Howard related a humerous story about a bank robbery, with a punchline which had everyone laughing and nodding their heads in approval.
All too soon it was time for the last toast of the evening, the tyler's toast. Due to the lateness of the hour, Paul Harford proposed the shortened version. It marked the end of a very memorable and enjoyable evening for Michael and all the members and guests.

Article and photographs by Phil Marshall.