When the challenge went out from the Provincial Grand Master Tony Harrison to all the lodges and chapters in West Lancashire, to donate food and other necessities to local foodbanks, it was only days before notices were reaching the members from group chairmen, asking for their support.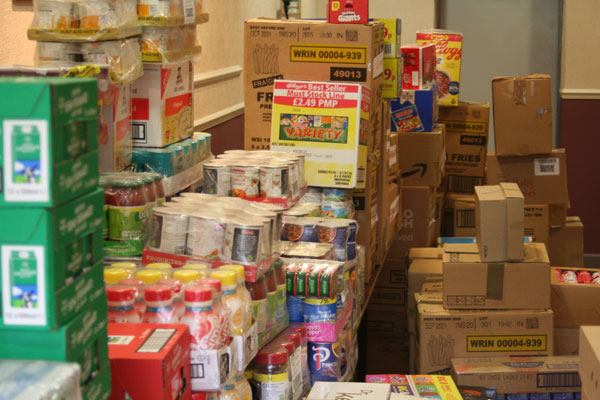 In the case of the Wigan Group, John Selley (vice chairman of the group) under instruction from the group chairman, Geoffrey Porter, had organised each lodge and chapter to appoint coordinators. The group secretary Chris Reeman requested each lodge secretary and scribe Ezra to advise members of drop off times at Bryn Masonic Hall. Phil and Christine Hughes, the hall stewards, were eager to receive in excess of 12,000 items from Masons around Wigan.
The cash donations, from those members who were self-isolating and totalling over £1,200, were utilised to purchase bulk items from Bookers and ASDA who regularly support 'The Brick'. The Brick is a small project that delivers big results for the community it serves. It offers services to people who are homeless, in poverty or facing debt crisis. As its name suggests, it provides a safe, solid building block for people in crisis to begin to construct a new life and become valuable members of society.
Keeley Dalfan, Financial Director, with a team of; July Nicholson, Receptionist, Emma, Volunteer Coordinator and 144 other volunteers, runs the busy headquarters in Arcade Street, Wigan. She said of the centre: "The Brick doesn't differentiate between who needs what. We have been working for over 10 years in various forms but in the last five years we have seen demand rise by 300% in 2020, with a third of those  being children." She added: "Food poverty isn't just caused by unemployment or zero-hour contracts. For as many people as we help there are as many reasons for their need."
Chris Reeman has worked with The Brick in its various forms over the last two years and was accompanied by Geoffrey Porter and John Selley when the Brick tail-lift van arrived at Bryn Masonic Hall to collect the donations.
It had taken just 20 days for the local Freemasons to collect over 1,200 items and the driver couldn't believe the amount he had to squeeze into the large van. He made an appointment for at least one more collection during the week. A team of members made quick work of loading the van which made its way to the St George's Centre, Water Street, where the 1,000s of items are housed for distribution up to and including Christmas. And once the distribution is complete the 24/7 webchat will still be manned.
Keeley asked Geoffrey Porter and John Selley to thank all the Wigan Freemasons for their support and Geoffrey thanked Keeley for her, and the other volunteers, hard work. As the officers of the Wigan Masonic Group and Johns wife, Sue, left for home, they were aware that their work will ensure those in need will receive support over the coming weeks through the work of The Brick.
If you would like to get in touch with The Brick to volunteer or donate, visit their website by clicking here.
Or mail: enquiries@thebrick.org.uk Your support will be much appreciated.

By Ian K Dawson,
Wigan Group Publicity Officer.