The sacred delta or equilateral triangle is one of the most ancient symbols in the world. One of our oldest references to this is Euclid's 'The Elements' written over two millennia ago, which examines the construction of an equilateral triangle.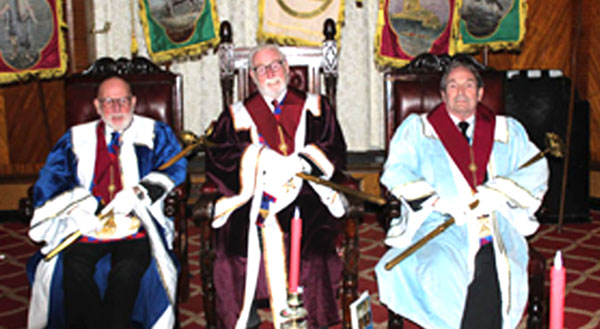 Brian McCartin's 'Mysteries of the Equilateral Triangle' describes how evidence of equilateral triangles has been discovered even earlier still with the archaeological evidence of houses at Lepenski Vir on the banks of the Danube in what is now modern Serbia, which were constructed using equilateral triangle construction principles in 6000 B.C.
The equilateral triangle is an important symbol and in Royal Arch Freemasonry it is the ancient symbol referring to God, the Grand Geometrician and Great Overseer of the Universe, to whom we must all submit and most humbly to adore.
In Freemasonry we are all encouraged to make a daily advancement in Masonic knowledge and so with that in mind, companions and guests of Sacred Delta Chapter No 216 met at the Britannia Adelphi Hotel, Liverpool to deliver a lecture, entitled 'What is the point of other than the Craft degrees?'.
The chapter was opened in fine form by the three principals, Mike Melling, Ian Elsby and David Jones, as first, second and third principals respectively. Having dealt with the chapter business and enquiring if all were seated comfortably, first principal Mike then began the lecture.
Using Reverend Neville Barker Cryer's book 'I Just didn't know that' as the source, the lecture examined the purpose of the Royal Arch degree in relation to the Craft, and then looks at the various other Masonic Orders that a Mason can join.
Mike explained the principles behind the lecture and presented an extremely interesting insight into the historical aspects of the degrees, explaining Reverend Cryer's supposition as to a suggested Order that a Mason could consider joining, only having first completing their Masonic journey by joining a Royal Arch chapter and completing the ceremony of exaltation.
It was fascinating to hear the explanations and it was certainly an advancement in Masonic knowledge for all those who had the pleasure of hearing the lecture. At its conclusion, the companions applauded Mike in recognition of the hard work he had put in place.
The chapter business having concluded, the companions retired to the festive board. Sacred Delta is a very friendly chapter and the festive board was a relaxed and humorous affair.
Charity steward Gerry Carson, in presenting the charitable donations of the chapter, also revealed how generous the companions are in their fundraising efforts, with £600 raised so far split four ways between West Lancashire Freemasons' Charity, MYASC, Stick 'n' Step and Whitechapel Homeless Charity, a very splendid effort indeed, and a fine way to round off a very enjoyable chapter meeting.