Downshire Lodge No 594 celebrated a golden jubilee commemorating 50 years of service to Freemasonry of its director of ceremonies Terry Longworth. The lodge was opened by the WM Adrian McLoughlin, ably assisted by his wardens and lodge officers.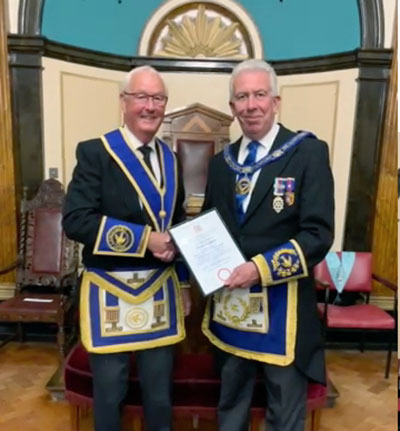 On completion of standard business, the lodge was raised to the third degree to welcome Assistant Provincial Grand Master Mark Matthews, along with Steve Kayne, Liverpool Group Chairman Dave Johnson, all escorted in by Provincial Deputy Grand Director of Ceremonies Robb Fitzsimmons. The work of the lodge was resumed in the first degree and the appropriate salutations performed, after which Mark Matthews was invited to take the chair of King Solomon to oversee the evening's celebration.
Mark began by wishing all present a very good evening and commenting that it was his undoubted pleasure to be leading the celebration to honour Terry for the very special milestone he had achieved. The Deputy Provincial Grand Director of Ceremonies was requested to ensure Terry was comfortably seated in his preferred place, that being in his rightful chair as the lodge's director of ceremonies.
Speaking directly to Terry, Mark began by saying: "Terry, I trust that you are settled, so that I can recall some of your life story to the brethren gathered here tonight to support you."
Terry's story began in July 1946, when he was born at the Oxford Street Maternity Hospital in Liverpool to Fred and Ethel Longworth. They were difficult times as the country was only just coming out of the trauma of the Second World War.
In 1946 the movie 'It's a Wonderful Life' was released. Popular songs included 'I got the Sun in the Morning', 'Let it Snow, Let it Snow, Let it Snow', and 'I Get a Kick Out of You'. Also born in that year were Freddy Mercury, Dolly Parton, Cher, Barry Gibb, Sylvester Stallone, Benny Andersson of ABBA and Donald Trump.
Some significant facts from 1946 included the nationalisation of The Bank of England, the television license was introduced and the family allowance (a cash benefit paid to mothers) was launched. In sport, the first post war FA Cup Final took place with Derby County beating Charlton Athletic 4 – 1.
Terry attended Dovedale Road Primary School in Liverpool before progressing to Liverpool Institute High School for Boys and later gained a place at Coventry University in 1964, where he completed a Bachelor of Science Degree with Honours in Aeronautical Engineering. Whilst at University he played rugby in the position of prop forward and about this time he met his future wife Pamela on a 'blind date'. Their first ever meeting was under the statue of Saint Michael at Coventry Cathedral – quite ironic that the lad from Liverpool had an early meeting with his girlfriend under a statue. However, unlike our own Liverpool Lewis's statue meeting place, Saint Michael is clothed.
As a young man, Terry's great passion and ambition was to be a pilot in the Royal Air Force but unfortunately despite all his best efforts that didn't quite work out for him. Determined to have some connection to aircraft however, his first job was as an aerodynamicist. In time he moved into mechanical engineering with Pilkington Brothers. Also in his working life, Terry fully embraced IT technology very early on by becoming a project manager, systems manager and then a project director.
Returning back to his days in Coventry, Terry married Pamela, (following that highly successful 'blind date'), at Holy Trinity Parish Church, Coventry in 1968. Their family was completed following the births of their daughters Becky and Sally. They now also have their grandchildren Jack, Ella, Ada, Eva and Freddy.
With regard to Terry's Masonic career, he was proposed into Downshire Lodge by his father Fred and seconded by Bob Lowe when he was still living at home. He was initiated on 22 April 1971 and raised the following year on the 25 May 1972. It was a coincidence that on the date of his initiation and given his personal interest in flying, aircraft and aerodynamics, the then Soviet Union launched the rocket Soyuz 10 as the world's first mission to the first ever space station Salyut 1. The mission was unsuccessful as the cosmonauts were unable to dock and had to return to Earth – it looks like they could have done with Terry's expertise and help!
Terry had the great experience of being in office on the ladder of the lodge with his dad Fred who became master in 1978, to be followed by his son Terry in 1982. This was followed by an excellent Ladies Night at the Gateacre Park Hotel which was attended by over 120 people. Due to relocating for the purposes of work, Terry resigned from Downshire Lodge and joined Ellesmere Lodge No 730 in Chorley (now Astley and Ellesmere Lodge), again becoming master there in 1993.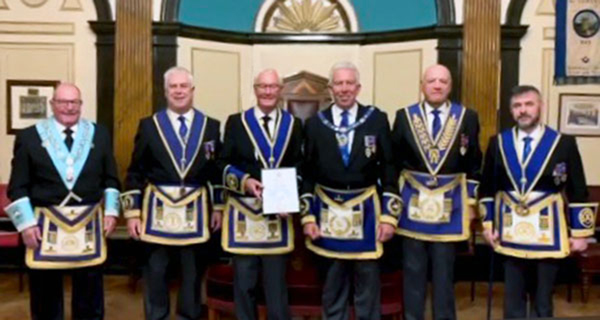 Returning to your Terry's working life, he became a teacher at Blackburn 6th Form College in 2002, specialising in A Level computing and information and communications technology. This included teaching students how to write computer programmes and develop systems, work he found particularly rewarding, eventually retiring in 2011.
After retirement, Terry moved back and re-joined Downshire Lodge in 2012, becoming the director of ceremonies in 2017, the position that he still holds to date. His Masonic work and achievement were recognised in 2016 when he was appointed to the rank of Past Provincial Junior Grand Deacon.
In retirement Terry enjoys gardening, DIY and, to use his own terminology, 'tinkering around with dolls houses'. The doll's house interest is proving to be very popular with his grandchildren too!
Terry's 50 years of service to Masonry is a remarkable achievement and, as Mark commented at the end of the presentation: "I hope that you will continue to have many more happy years in the Craft. Terry, it has been my great honour to preside over your golden jubilee. Thank you also for your time and hospitality when I visited your home to learn about your life and Masonic progress."
Mark continued by inviting all present to join with him in showing their congratulations and appreciation to Terry, who that night was celebrating 50 years as a craft Mason, in the traditional West Lancashire Province way, Mark finished off by saying: "The Provincial Grand Master Tony Harrison has also sent you his congratulations and recognition of your achievement in the form of a certificate which I will now ask our group chairman Dave Johnson to read." When done, Mark presented the 50-year certificate to Terry and invited him to join his delegation for the processional retirement from the lodge room to the festive board.
At the festive board the toast to Mark Matthews was proposed and Mark replied in the first instance by congratulating Terry and hoped he would enjoy many more years of craft Masonry.  He then passed on the message from the Provincial Grand Master with regard to taking lateral flow tests before attending meetings, the focus being on safety, of not only oneself, but of others who may be more vulnerable.
Mark also requested that, at the Provincial Grand Chapter and Provincial Grand Lodge in Blackpool on 12 October, all should comply with guidelines per the message sent to all from Province. The 2021 Festival Celebration Banquet on Saturday 18 September revealed that the Province had raised £3,504,423 for the Masonic Charitable Foundation 2021 Festival. Mark thanked all for their efforts and contributions and outlined that the Provincial Grand Master would now like us to focus our charitable giving back towards West Lancashire Freemasons' Charity.
Mark also turned to thank the Liverpool Group Chairman Dave Johnson for his efforts within the group, and the lodge secretary Len Farrell for his assistance towards the smooth running of the night's procedure. Special thanks were extended to the Provincial Deputy Grand Director of Ceremonies Robb Fitzsimmons for his work and for adding, as always, something a little special to the occasion.
The highlight of the evening came at the festive board when Terry Longworth rose to reply to the toast to him. He enthralled the audience with many stories and anecdotes about his life and Masonic journey saying: "I can't believe that 50 years has gone so fast, I still have very vivid memories of my initiation and I am so glad that I joined Freemasonry as I have met so many good Masonic friends, both in this country and abroad."