Garston Masonic Hall was the venue to celebrate Edward Vernon Weaver's 60 years as a Freemason and a member of Allegiance Lodge No 7352 in the presence of Assistant Provincial Grand Master Andrew Stephen Whittle.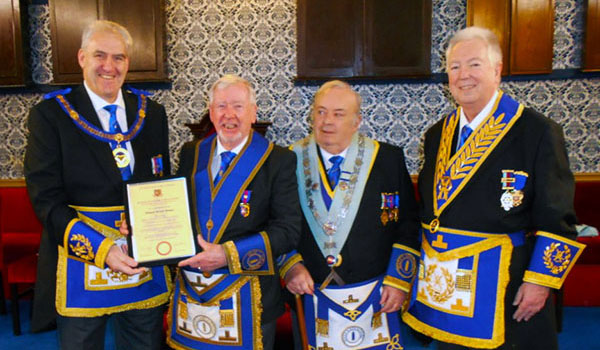 The WM Kenneth Dobie opened the lodge in the three degrees and Assistant to the Provincial Grand Director of Ceremonies David Boyes entered the lodge and Andrew Whittle was admitted with other dignitaries including the Woolton and Garston Group Chairman John Murphy.
Andrew accepted the gavel from the WM and took the chair and asked David Boyes to place Edward (Ted) Weaver in a prominent position in the lodge. Andrew explained that his first official outing as a new Assistant Provincial Grand Master should have been to attend Allegiance Lodge on Friday 3 April 2020, to preside over the 60 years in Freemasonry of Edward Weaver. Needless to say, that prospect had to be postponed due to the COVID pandemic but, finally, the celebration could take place some 23 months later.
Ted Weaver was born in October 1936 in Liverpool to parents Harry and Florence Weaver. Ted spent his formative years in the West Derby area of Liverpool with his two older siblings Olive and Arthur. His education started at West Derby Church of England School. Ted was a member of West Derby Church and sang in the choir as well as attending the scout troop attached to the Church. His secondary schooling took place at Wellsbourne Road School from where he won an engineering scholarship to attend Old Swan Technical College.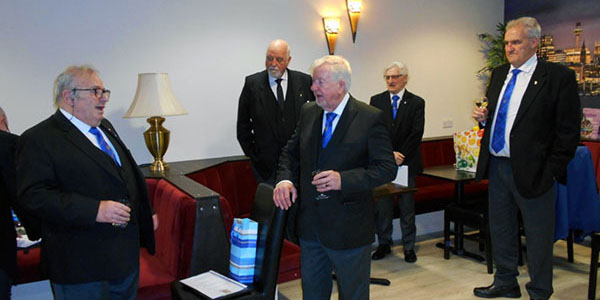 The scholarship enabled Ted to gain a five-year apprenticeship with Napier English Electric Company, where he stayed with for a total of nine years. Due to his occupation, Ted was exempt from National Service so he joined the Royal Auxiliary Air Force until it was disbanded in 1957, as it was felt that it was no longer required as sufficient time had passed since the end of World War II. Ted's employment saw him take up a post at Lucas before moving to Plessey's as a work study engineer.
Eventually, Ted joined Northgate in Ellesmere Port; a firm involved in the sewing industry. But only three weeks into his employment he was working in the dispatch department when a sports car pulled up and a man alighted from the vehicle, walked into the dispatch area and started examining the finished garments. Ted, being ever mindful of security, went up to the male and asked him to leave the dispatch area and pointed out the prominently displayed 'access is strictly forbidden' signs, informing the gentleman that he needed to report to reception.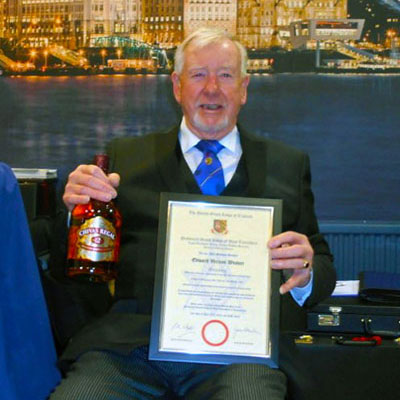 A few minutes later, reception contacted Ted and told him to report to Mr Williams the General Manager. Upon entering his office, Ted realised that the gentleman sitting in the office with Mr Williams was the gentleman he had just scolded in the dispatch area. The words from Mr Williams, "Allow me to introduce our Managing Director Mr Good" made Ted's heart drop. All ended well however and Ted remained in the clothing industry, joining W M Bird and finally one of their subsidiaries Dannimac. This last job eventually meant that Ted had to leave Liverpool and move to Guisborough in Cleveland until his retirement in 2003.
Ted met a young lady by the name of Dorothy Dobie and after courting her, they eventually married. Unfortunately, after 12 years the marriage ended. Nevertheless, Ted remained a very close friend of the Dobie family and it is well represented in Lodge of Allegiance and they were present for Ted's celebration.
In order to improve his dancing skills, Ted joined the 'Billy Martins Dancing School' in Old Swan, Liverpool. His dancing teacher decided that he needed a regular dance partner and so she introduced him to a lady called Wyn. By the end of the evening Wyn suggested to Ted that they should meet on the Saturday for the weekly dance. Ted discovered that, not only was Wyn a far higher skilled dancer, but in fact had won several medals. It transpired that his dance teacher had been match–making. And what a success she had made of it, as Ted married Wyn in 1974 and instantly became dad to five children who ranged from six to 20 years.
Ted and Wyn's love of dancing saw them have their honeymoon in Blackpool, watching the World Dance Championship and they went on to be members of the famous 'Billy Martins Formation Dancing Team'.
Following retirement, Ted and Wyn moved to their current home in Sandbach, Cheshire which has allowed them to enjoy the countryside and, given the stiffening of joints, dancing and caravanning was to be replaced with cruising and spending time visiting family in France during the summer.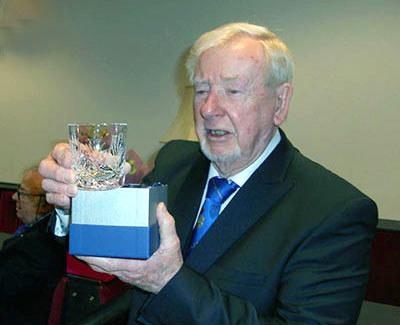 Ted was initiated into Lodge of Allegiance on 11 March 1960, having been proposed by Harold Trafford and seconded by Dougie Begg, who was a founder of the lodge. Ted progressed through the various progressive lodge offices and became WM on 1 May 1970 and then again in 1987, 2009, and 2010; a total of four times in the chair of King Solomon.
The Province of West Lancashire recognised Ted's hard work by appointing him to the rank of Past Provincial Assistant Grand Director of Ceremonies on 16 October 1980; promoting him to Past Provincial Senior Grand Deacon on 16 October 1988 and once again to the very high rank of Past Provincial Junior Grand Warden on 12 October 1995.
At the end of the narrative, Andrew addressed Ted by saying: "Ted, such is the importance of your own diamond jubilee that our Provincial Grand Master Tony Harrison has caused a certificate to be struck to mark this wonderful achievement and I now ask our group chairman John Murphy to read it."
There was a drinks reception after the lodge had been closed and Ted was presented with several gifts, including glasses engraved with the square and compasses. Ted thanked everyone for attending his special evening.