In the presence of Assistant Provincial Grand Master Andrew Stephen Whittle, Garston Masonic Hall was the venue for celebrating Edward (Ted) Crone's 50 years as a Freemason as a member of Excelsior Lodge No 3580.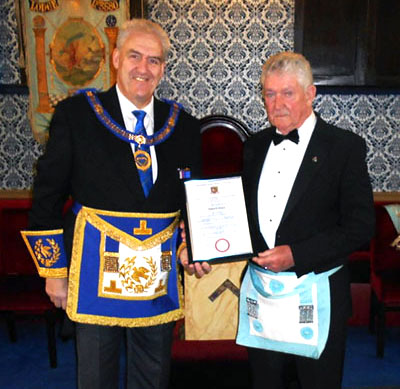 The WM Ray Morris opened the lodge in the three degrees and Provincial Deputy Grand Director of Ceremonies Rob Fitzsimmons entered the lodge and announced the arrival of Andrew Whittle, who was duly admitted with other dignitaries including the Woolton and Garston Group Chairman John Murphy.
Andrew accepted the gavel from the WM and took the chair and asked Rob Fitzsimmons to place Ted in a prominent position in the lodge. Andrew proceeded to explain that Ted was born Edward Crone in August 1940 in Liverpool, to parents Edward and Catherine Crone of Beech Road in Huyton. Ted's father, who worked for the Unit Construction Company before and after WW II, served with distinction in the Royal Welsh Regiment during the War. His mother Catherine was a housewife who held several part-time jobs when circumstances allowed. On the night of Ted's birth there was a large air raid in Liverpool and so his birth was probably not in the most pleasant of circumstances. Edward was the eldest of 11 children, having four brothers and six sisters.
From a very early age Ted developed a strong work ethic and was very conscious, even working two paper rounds at school to help his mother out with the care of his siblings. During his formative years Ted was a bit of devil and had a cheeky streak which saw him push a young girl called Vivienne into a pond. This poor young girl who was only eight years old at the time, understandably had no interest in Ted. That was until he reached the age of 14 and the emergence of the King of Rock and Roll, Elvis Presley, bursting onto the music scene and becoming the idol of 1,000,000s of young female fans. At this juncture, Vivienne realised that Ted had matured into an Elvis Presley lookalike. This was the beginning of a romance that has lasted over 60 years.
As teenagers Ted and Vivienne set up their own business and bought a mobile grocery round, and those who are old enough will remember that Liverpool had numerous such mobile shops selling all sorts of groceries. In fact, many would claim that the generation of the 1960s were the most green and conscious about recycling. Families would go shopping, always taking their shopping bag, tea caddy, biscuit tin to be refilled and used glass milk and lemonade bottles, (the return of which was how many children earned their pocket money). Most other things came in brown paper which was then used to start the coal fire. Plastic bags were virtually unheard of.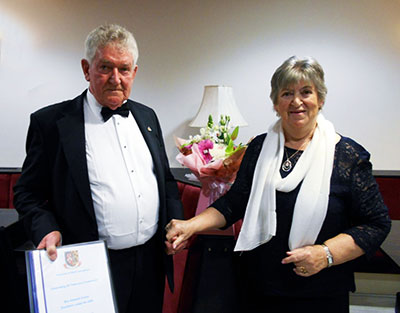 Ted and Vivienne were married on 29 December 1962 at St Michael's Church, Huyton and 2022 sees them celebrating their diamond wedding anniversary. Ted and Vivienne's mobile grocery round was so successful that they were then able to buy a grocery shop as well. After they were married Vivienne's dad Harry bought into the business and they were able to sell their grocery business and purchased three fishmonger shops in Speke, and subsequently added a fourth shop in Halewood.
Ted and Vivienne were blessed with two children Lisa and Gary, of whom they are rightfully very proud. The family business was working well and they thought they were set for life. When large supermarkets opened and started selling fish however, Ted and Vivienne's trade suffered, so with two young mouths to feed they sold the business.
Ted went to work for Merseybus as an inspector so that the family would have a stable income. But Ted was the victim of his own efficiency on one occasion. During the day that the Toxteth Riots of 1981 took place, Ted was the Road Inspector for the Princes Park and Upper Parliament Street area of Toxteth and on that day was the only inspector on duty, so he had to spend all day and evening redirecting buses away from the troubles and sending them back to the depots for safety. He eventually finished work only to find that he had left no buses running for him to catch home to Halewood, so he had to walk all the way – what a mistake to make!
Ted was to continue working for Merseybus, rising to the rank of Senior Inspector before eventually reaching the age of retirement and joining the ranks of those who can rest and relax, having done their duty.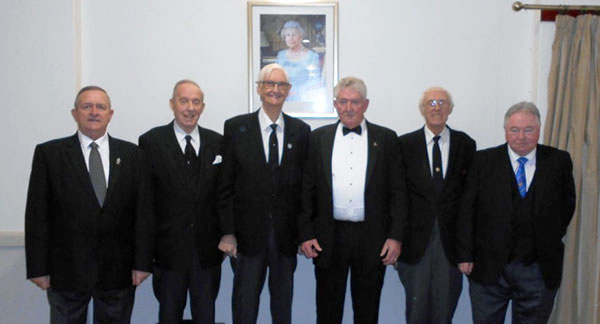 Freemasonry played a major part in Ted and Vivienne's life as both are Freemasons. Vivienne is a member of St Peter's near Canid Lodge under the banner of the Order of Women Freemasons, meeting at the Olive Bank Community Club, Wavertree, Liverpool. Vivienne joined Freemasonry when her son was only 10 months old and when, at that time, the lodge met at the Derby Arms, very near to their home in Halewood. She remembers that she was able to go to a lodge meeting and afterwards disassemble the room, put away the furniture and still manage to get home to put her son to bed. Vivienne has progressed in the Order of Women's Freemasonry and has risen to the rank of Grand Inspector, which is equivalent to our rank of Assistant Provincial Grand Master. Vivienne has responsibility for the ladies' lodges meetings in the Liverpool area, and on the day of Ted's celebration was at her Grand Lodge quarterly communications at Pembridge Gardens in London.
Ted's Masonic history is that he was initiated into Stanley Priory Lodge No 6741 on 11 November 1967 at Hope Street in Liverpool. He was passed to the degree of a fellow craft on 10 February 1968 and raised to the sublime degree of a master Mason on 27 April 1968. Ted progressed through the offices of steward, inner guard and junior deacon before he started to work for Merseybus. Having to work shift work caused him problems with attending lodge meetings on a regular basis, so he stood down from the ladder. Stanley Priory Lodge moved to Garston Masonic Hall in 1996 but unfortunately, due to falling membership, it was to close in December 2004 and surrendered its warrant after 54 years. Ted became a member of Excelsior Lodge on 10 November 2004 and has remained a member ever since.
In closing his presentation, Andrew spoke directly to Ted saying: "I'm sure I speak on behalf of everybody present that we are absolutely delighted to see you here this evening to celebrate you attaining 50 years as a Freemason and even more so that you have allowed us to celebrate your special evening with you. Such is the importance of your own golden jubilee that our Provincial Grand Master Tony Harrison has caused a certificate to be struck to mark this wonderful achievement which I shall now ask our group chairman John Murphy to read."
The evening was completed with a drink's reception and festive board in which Ted thanked everyone including his guests for attending his special evening.