Members of Childwall Lodge No 5235, part of the Liverpool Group, attended the home of long-term member Edward (Ted) Bromhead who was celebrating 50 years in Craft Masonry. Accompanying them were Assistant Provincial Grand Master Marl Matthews and Liverpool Group Vice Chairman Tim Burgess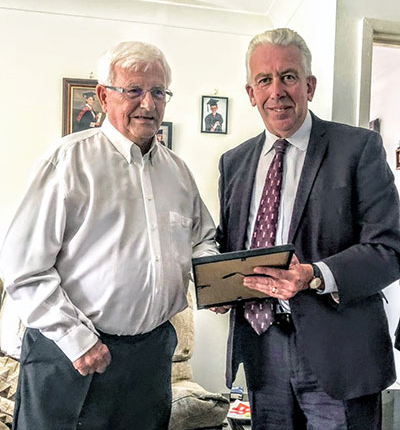 Mark addressed Ted on how he had the honour and privilege to be able to spend the afternoon in celebration of his landmark achievement in attaining 50 years as a Freemason. What made the event an especial was that it was taking place where Ted felt the most comfortable, and more importantly, with his beloved wife Brenda.
Ted was fortunate in being born in Liverpool, always a good start in life, at the beginning of 1944 to two proud parents, Francis and Ethel. At this time Francis worked for Liverpool Transport and Ethel was a dinner lady. Fortunately the horrendous bombing raids of previous years had subsided, although the odd attack still occurred. Of course, 1944 was the fifth year of WW 2 and the conflict was now mainly in the Allies' favour with the D-Day landings, code named Operation Overlord taking place six months subsequent to Ted's birth.
In the same month as his birth most events were naturally focused on the war and near the end of January the siege of Leningrad (now St Petersburg) was finally broken by our Russian allies, with an estimated loss to themselves of over 1,000,000 people, primarily through starvation.
During the same year many other babies would be born who would also bring pleasure to people. In later life, from the world of 60's music. 1944 gave us Roger Daltrey and John Entwistle of The Who, Nick Mason of Pink Floyd, singer Joe Cocker and guitarists Jimmy Page and Jeff Beck amongst many.
One surprising fact is that American talk show host Jerry Springer was born in England on 13 February 1944 at the London underground station of Highgate while his parents were sheltering during a bombing raid. His parents, who were Jewish, had escaped from Prussia (now part of Poland), but sadly his extended family never made it out of Germany and perished in various concentration camps. Jerry and his family emigrated from England to the USA in 1949. Notable Americans born in the same year as Ted included actor Danny DeVito, boxer 'Smokin' Joe Frazier, singers Gladys Knight, Diana Ross and Barry White.
Ted proudly presented himself as a dapper young scholar at Arnot Street School, Walton and besides his academic achievements it was during this time that he excelled at swimming. Such was his prowess that he swam for Lancashire Boys and held the record for the 25 metres breaststroke.
On leaving school, Ted was successful in securing an apprenticeship as a fitter turner at D Napier's. His skills were highly envied and sought after, enabling him to progress onto Lucas Aerospace as an inspector. After a number of years and careful planning Ted took a change of direction by owning and managing his own corner shop, eventually returning to engineering and his employment up to retirement was with Rentokil as a machine setter on production.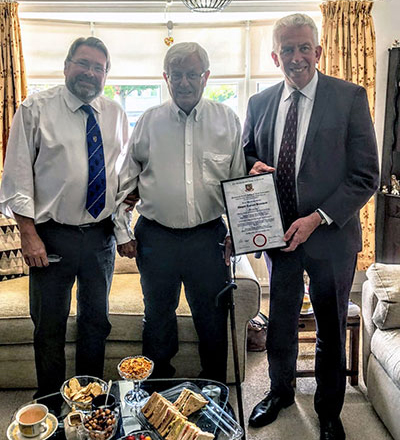 As Ted was finishing his apprenticeship at 20, he joined the Territorial Army and served for a five-year period until he was 25, and during this time attained the rank of corporal.
An ancestor of Ted had a rather more celebrated career, as Lieutenant Gonville Bromhead was instrumental in the defence of Rorke's Drift during the Anglo Zulu War and was subsequently awarded the Victoria Cross. In the film 'Zulu', which it must be remembered is a film and not an accurate documentary, his part was played by Michael Caine.
A quick look at the year gives a clue to why Ted decided to relinquish his military career. This was the year he married his beloved Brenda at the Baptist Chapel on Aigburth Road. Following this, along came their children Helen, Janine and Lord (Stuart). As the years have passed, the family continued to grow with grandchildren Taylor, Abigail, Samuel, Rubin, Francesca and Charlie and now the first of a new generation in great granddaughter, Sophia.
In terms of Ted's Masonic career he was initiated into Downshire Lodge No 594 in 1970, holding various lodge positions before being installed as their WM in 1985. In 2011 he became a joining member of Childwall Lodge, being particularly proud when son Lord Stuart Bromhead became master of that lodge. Mark Matthews added that he had been fortunate enough to have been present at that occasion and it really was a memorable evening!
In his home life Ted, was an accomplished musician and a competition standard piper with the Liverpool Pipe Band and performed at the Liverpool Festival in 1984. Obviously one can only assume that during his playing days, and the hours of practice, he must have had some very understanding neighbours! Ted's other hobbies include a keen interest in birds, travelling and gardening. In fact, he is such a keen gardener that in a previous house he lived at, he constructed a miniature golf course for his children.
Mark then stated: "It has been his great honour to preside over Ted's home' Golden Jubilee' and I thank him for his great hospitality." Turning to all gathered, Mark said: "Ladies, gentlemen and brethren please join with me in showing your appreciation to Ted, who today is celebrating 50 years as a Craft Mason." This was enthusiastically received.
Turning to the recipient Mark next said: "Ted, our Provincial Grand Master Tony Harrison is aware of your celebration today. He has also sent you his congratulations and recognition of your achievement in the form of a certificate, which I will now ask our group vice chairman Tim Burgess to read." When Tim had finished, Mark presented the certificate to Ted.