Team Oasis is an inclusive children's charity based in the Toxteth area of Liverpool. The building in which it is housed was derelict and a local builder, at his own expense, renovated the building to a high standard. It has a community hall, as well as a recording studio and other facilities.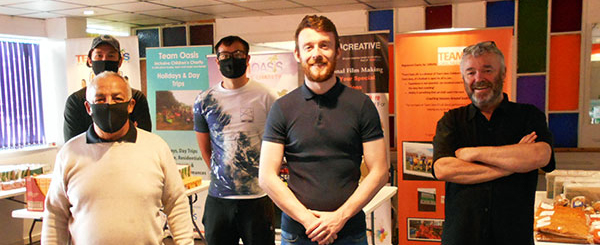 The charity exists to provide services and support all children of all abilities, backgrounds and circumstances and has been in existence for 18 years. Paul Nilson is the manager and is supported by 20 staff and volunteers.
Within the building they use, they are able to provide dance classes for children of all ages from three years old to 18 and provides music lessons among a long list of other activities. It has received numerous accolades for its work, including a Duke of Edinburgh's Award and appearances in other countries.
Bill Wenton of Harthill Lodge No 8443 which is part of the Woolton and Garston Group has been a support worker with Team Oasis for 16 years working with children in the building and on social outings; also organising a get together and entertainment for people with mental and physical difficulties.

Before the COVID-19 lockdown he had been organising weekly gatherings for elderly people to enjoy themselves.  Bill has been involved during the lockdown delivering food parcels for people in need.
Team Oasis has had a duty of care for all in the local community and so, with the support of different organisations including the local supermarket, they have been providing seven days a week free food stalls of bread, milk, fresh fish and fruit for vulnerable families. They have also been shopping for the community, including delivery of food/arts and craft packs, toys and clothes.