At the installation of Russell Morris as the new WM of Tarleton Lodge No 7871 at Park Hall Hotel, Charnock Richard, the lodge was honoured by the presence of Peter Lockett, as the representative of the Provincial Grand Master Tony Harrison. Peter was accompanied by the Ormskirk and Bootle Group Chairman Graham Chambers, Ormskirk and Bootle Group Vice Chairman Malcolm Alexander, grand officer Brian Fairhurst and acting Provincial grand officers John McGrady and Christopher Taylor.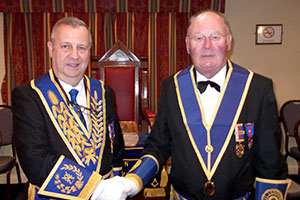 The outgoing WM Colin Mills, before opening the lodge, thanked the brethren of the lodge and hoped they'll support the new WM Once the initial lodge business had been completed, the lodge's director of ceremonies James Wright announced that Peter Lockett was without and sought admission. Peter was then admitted into the temple accompanied by the grand and acting Provincial grand officers. Colin then warmly welcomed Peter to the lodge.
Colin asked Stephen Dunn if he would assist the lodge by occupying in the chair of SW, Thomas Ryding if he would occupy the chair of JW and John Webster if he would assist the lodge by acting as IG. The master elect Russell Morris was then presented to the lodge by the presenting officer Thomas Ryding and after Russell had taken his obligation the outgoing WM Colin then installed Russell according to ancient custom into the chair of King Solomon. The working tools for the third degree were presented by John Webster, the second degree tools by Raymond West and the first degree tools by Raymond West, all in a confident and proficient manner.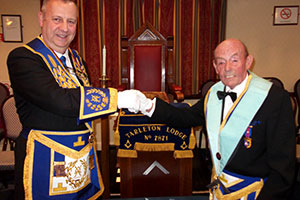 During the installation of the officers of the lodge, the address to the lodge's new almoner Colin Mills, was given by John Thompson, the group's Pastoral Care Officer, who also thanked Colin for taking the role as almoner and also thanked the former almoner Thomas Ryding for all his hard work he had given. The address to the brethren of the lodge was given by principal guest Peter Lockett.
At the end of the ceremony, Peter brought the congratulations on behalf of the Provincial Grand Master, congratulating Russell on becoming WM, Peter then congratulated Colin for the way he installed Russell into the chair, James Wright and the brethren who had delivered the working tools and all the brethren of the lodge who had been involved in ceremony.
Russell then presented Peter with two cheques on behalf for the following beneficiaries; £500 to MCF 2021 Festival and £300 to go to Holy Cross School in Ireland, in the memory of Simon Mills, Colin's son. Peter gave grateful thanks on behalf of all those who will benefit from the kind generosity of the members.
Following the meeting the brethren made their way to an excellent festive board held over in the Park Suite of the hotel, where the evening's celebrations continued, during which a raffle was held raising £154 which will be donated to Masonic and non-Masonic charities at a later date.