The brethren of Lodge of Concord No 343 held a meeting to celebrate 50 years in Freemasonry by John Sydney (Syd) Kenyon.  The Lodge was honoured by the presence of Assistant Provincial Grand Master Stewart Seddon along with his team of acting Provincial grand officers together with a collection of visiting brethren including John Rimmer, Vice Chairman of the Preston Group.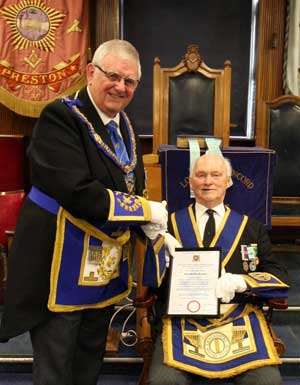 Stewart took the chair for the presentation address. He asked the Provincial Deputy Grand Director of Ceremonies to place Syd Kenyon in the chair before him. Stewart reminded the brethren that they were summoned to a very special meeting to honour and pay tribute to John Sydney Kenyon, Past Provincial Junior Grand Warden of the Province of West Lancashire who has served the Craft, loyally and faithfully for 50 years.  Consequently, it was good to see so many brethren in attendance.
Stewart commenced by informing the brethren that the story begins in 1929, and illustrated the significant events which occurred that year in both the United Kingdom and the world. However, the most important event so far as the brethren were concerned was the birth of John Sydney Kenyon. Stewart informed the brethren that the family home was in Deepdale. Syd's father, also called John Sydney, and was a plumber and decorator, his mother Jane, a housewife.
After primary education, Syd went on to Preston Technical College where a Commercial Course was completed. Syd's youth included the enjoyment of playing football and later moved on to a smaller ball when he took up golf becoming a member at Ashton and Lea Golf Club and playing off a 17 handicap.
Syd's working life began in the offices of Joseph Hodgkinson Coal and Coke Merchants on Corporation Street until he was called up for National Service in 1947 enlisting in the RAF.  Following initial training at Wilmslow, he was posted to Hanover in Germany for the full duration of the Berlin Airlift dealing with the administration and accounts relating to that operation. The Berlin Airlift, lasted for more than a year and carried more than 2,300,000 tons of cargo into West Berlin.
Following de-mob, Syd returned to Preston and began work for the gas board where he became manager of the pre-paid meter department.  When the department was relocated to Fleetwood, he decided to move to Brown Brothers Auto Spares in Manchester. However, the call of the sea beckoned and Syd eventually moved to Fleetwood taking a position with P & O where he rose to the position of North West Area Manager for Transportation and Shipping. During his time with P & O, Syd and Hilda, his wife, enjoyed two world cruises on the liner Canberra.  Following a series of heart attacks Syd took early retirement in 1986.
Stewart then took the brethren back to Syd's demob, when Syd had returned to Preston and his very good friend Neil Hodgson started frequenting a café called Dinky's which was in what is now the Christian Aid Bookshop. The café was owned and run by Mrs Wensley who had two daughters, Hilda and Jenny. Syd and Neil took a shine to the girls but courage in asking them out was a little lacking. However, in 1950 the boys went on holiday to the Isle of Man and who should they bump into but, Hilda and Jenny. The rest they say is history. Syd and Hilda's romance blossomed and they were married on 27 February 1954. They honeymooned at the Strand Palace Hotel in London.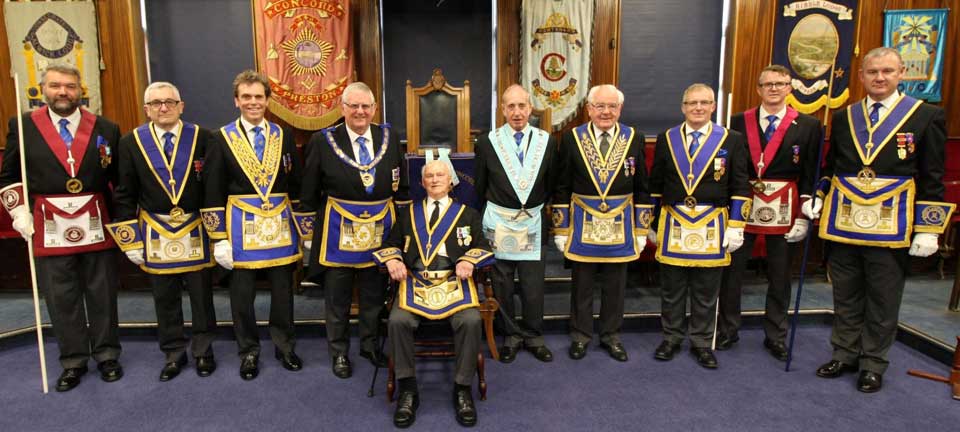 Syd (seated) with Stewart Seddon along with grand and acting Provincial grand officers.Syd and Hilda have been blessed with three children; Annette who is a Headmistress, Jannette who is head of an infant school, and Stephen who is head of global organisation management for Dufry Switzerland. They have four grandchildren; Matthew who is an engineer in Denver, Colorado, Richard an engineer with BAE Systems, Paul also an engineer based in Winchester, and Rebecca who is not an engineer but a speech and language therapist.  They also have five great grandchildren.
Stewart then enlightened the brethren about Syd's Freemasonry, and requested the secretary to read the minutes of the meeting relating to the initiation ceremony of John Sydney Kenyon. Syd was initiated into Lodge of Concord on 18 September 1969. He was passed to the second degree on 17 March 1970 and raised to the sublime degree of master Mason on 19 November 1970, eventually becoming WM on 19 January 1984. His appointment as charity steward in 1978 was a position which was held for a period of 23 years, finally handing over the reins in 2001. Whilst in the chair, Syd had the great pleasure of initiating his son Stephen, into the lodge. He was a steward of the lodge from 1985 to 1990 when his career took him to Switzerland where he still lives and has become a Swiss resident.
In 1984, Syd joined Setantia Lodge of Installed Masters No 7755 whilst in the chair of the Lodge of Concord and became a founding member of Dona Conferentes Lodge No 9392 in 1991. Indeed, he was the founding senior warden and its second master. Syd was made an honorary member of the Lodge of Concord in 2018 in recognition of his long and devoted service. Syd's exemplary efforts led to a first appointment in Provincial Grand Lodge in 1992 to the rank of Past Provincial Deputy Grand Superintendent of Works followed by a promotion in 2001 to the very high rank of Past Provincial Junior Grand Warden.
In the Royal Arch he was exalted into Chapter of Concord No 343 in March 1971, becoming its first principal in May 1987. He was almoner of the chapter from 2003 to 2004 and again from 2007 to 2011. Upon joining Setantia Chapter of First Principals No 7755 in 1988, Syd served as third principal in 2004/5 and second principal in 2011/2.  In addition, he was the charity steward of the chapter for 12 years from 2005 to 2017. In 1992, Syd received his first Provincial appointment in Royal Arch to Past Provincial Grand Sojourner and in 2007, he was promoted to the high rank of Past Provincial Grand Scribe Nehemiah. Syd is also a member of the Mark Degree.
Stewart further reminded the brethren that the evening was a very special occasion as the mathematicians will no doubt have calculated that not only has Syd attained his golden jubilee in Freemasonry he also reached the ripe old age of 90 in September and in February 2019 he and Hilda celebrated their 'blue sapphire' wedding anniversary of 65 years.
Syd's entire life has also been an example of what makes a good Freemason, a good citizen, a contributor to society as a whole; to quote Hilda, a good husband and a wonderful parent. The brethren were further informed that there is also no doubt, that during the last 50 years, anyone who happened to learn that Syd was a Freemason, could not fail to see anything other than a good ambassador for the Order.
Stewart then requested John Rimmer to read the certificate, which acknowledges the Province of West Lancashire's great appreciation of Syd's half a century of membership of the Craft, before presenting it to him. The brethren retired to the festive board where Syd was delighted to be able to respond to the toast to his health.