It is a long tradition of the members of Preston Guild Lodge No 4408 to support their local charities with donations at this time of year. This year, the members were delighted to share £2,600 between: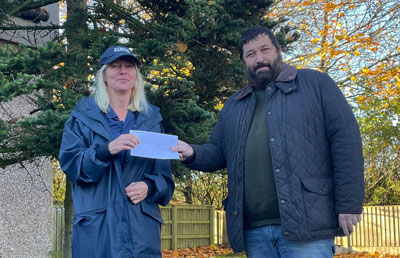 Preston Street Pastors.
Barnardo's Young Carers Scheme.
Derian House Children's Hospice.
George Barton Trust Motor Neurone Disease Research.
Alzheimer's Society, Preston Branch.
The Walnut Group Prostate Cancer Support, Preston.
Rosemere Cancer Foundation.
Grimsargh Wetland Trust.
As part of the distribution of the donations, a team of Preston Guild Lodge members pitched up to help the volunteers of the Grimsargh Wetland Trust as well as deliver their cheque for £300.
Grimsargh Wetlands Trust is a fairly new nature conservation site. Set up in 2017, the Trust is responsible for promoting the conservation, protection and improvement of the nature reserve. It is made up of three decommissioned reservoirs which used to provide water for the local community and industry. Grimsargh Wetlands' is made up of three main habitats, The Mere, The Island Lake and The Fen, which provide homes for a stunning range of wildlife at a time of encroaching urbanism.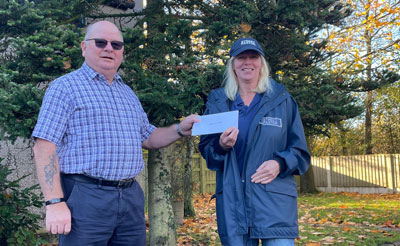 Preston Street Pastors are part of a national team first pioneered in 2003. It is an organisation which is growing worldwide and started to patrol the Preston and South Ribble district in 2008. They are trained volunteers recruited from local churches who care about their community. They patrol from 8:00pm until midnight on Friday nights in the St Matthews and New Hall Lane area of Preston, spending time with young people on the estates. They call into shops, takeaways, pubs and clubs to chat with local people, all the time looking out for anyone in need.
On Saturday the Pastors patrol from 10:30pm until 03:30am in Preston City Centre. They ensure the homeless are looked after and know where to go to find help. They also spend time with young people enjoying their night out in the pubs and clubs, helping everyone to stay safe.
Preston Street Pastors were represented by a lady name Maggie, who attended the Wetlands Trust site to receive their contribution, not only from Tim Horton, immediate past master of the lodge but an additional donation from Cliff Jones, a member of another Masonic Order, the Bellisama Chapter No 405.