Preston Street Pastors perform an invaluable service in the city centre and the St Matthews area of Preston. From a small army of about 50 volunteers, teams turn out each weekend to provide support for the homeless and offer assistance to anyone in distress.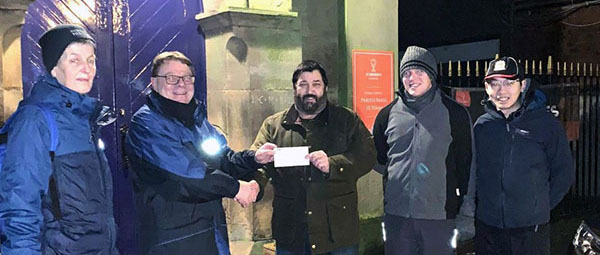 A group of Street Pastors patrol the streets in all weathers and have built up an enviable reputation for their care for others. They are quite famous for handing out flip flops to those who find their choice of footwear has not been the best for a long night out! The Street Pastors care, listen and help people in distress. But they also provide hot drinks and snacks for those in need.
On one of the coldest nights of the year, the Mayor of Preston Neil Darby and his Consort Dan Leung, chose to spend time with a team of Street Pastors to witness first-hand what excellent work they do. They were also able to assist through the evening and gain an even better understanding of the challenges faced.
On such a freezing night, the hot drinks and kind conversations were very welcome; a simple but necessary comfort for those in need.
Tim Horton from Preston Guild Lodge No 4408, based at Preston Masonic Hall, popped out to visit the group and spend some time with them too. The prime purpose of Tim's visit was to present a cheque for £500 to the Street Pastors. Paul Blackett, the Street Pastors Coordinator thanked Tim for the additional funding. This will help the Street Pastors deliver even better services for those in need in Preston.