Members of Harmonic Lodge No 216 visited local charity Stick 'n' Step at Tudor Hall, York Street, Runcorn. The lodge is well known as a happy, friendly and historical lodge and equally for its generosity, not only in supporting Masonic charities but also for its very keen support of small local charities.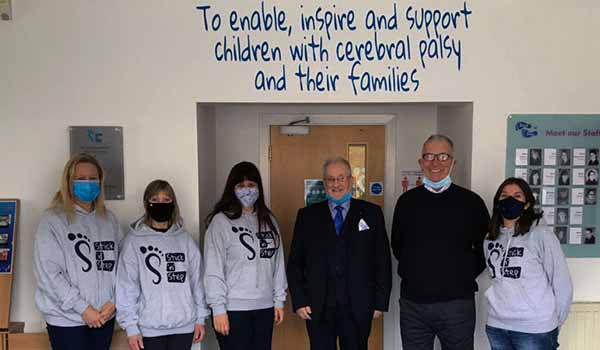 Stick 'n' Step is a non-government funded charity that specialise in providing free of charge conductive education sessions to children and young people with cerebral palsy up to the age of 25. The sessions are delivered by highly skilled professionals from their specialist centres in Runcorn and Wallasey and are designed to help each person reach their personal potential in terms of mobility, confidence and independence.
Secretary of Harmonic Lodge Eric O'Callaghan supports the charity and has once again been very grateful to the brethren who approved a donation of £200 which was made available through the lodge charity steward, after the lodge's installation meeting.
Community fund organiser Rhianna McDermott of Stick 'n' Step extended Eric an invitation to visit the centre at Runcorn and see the children receiving therapy and education with their conductors.
Eric and newly-installed master James Murphy accepted the invitation with pleasure and the visit was duly organised. Eric and Jim arrived as planned but unfortunately storm Eunice intervened and put paid to any children being present, as it was unsafe for them to travel.
Jim and Eric were made most welcome with a hot drink and a very informative tour of all the facilities in the centre and, after the cheque was presented and gratefully received, the visit came to an end with a 'team' photograph of the conductors and Eric and Jim.