Stewart McVernon was installed as mater of Poulton le Sands Lodge No 1051 by his long-standing friend and school mate, Provincial Grand Master Tony Harrison, assisted by officers from the Provincial team; Provincial Grand Director of Ceremonies Malcolm Bell, Provincial Deputy Grand Directors of Ceremonies Gary Smith and Ryan Modlin, Provincial Senior Grand Warden Dan Crossley, Provincial Junior Grand Warden Ben Gorry, Provincial Deacons Geoff Bury and Ray Griffiths, Past Provincial Assistant Grand Pursuivant Joe Crabtee and Provincial Grand Steward Carl Horrax. Tony was further accompanied by grand officers Malcolm Alexander, Phil Gardner, John Lee, Jim Wilson; Lancaster and District Group Chairman Neil McGill and vice chairman Scott Devine.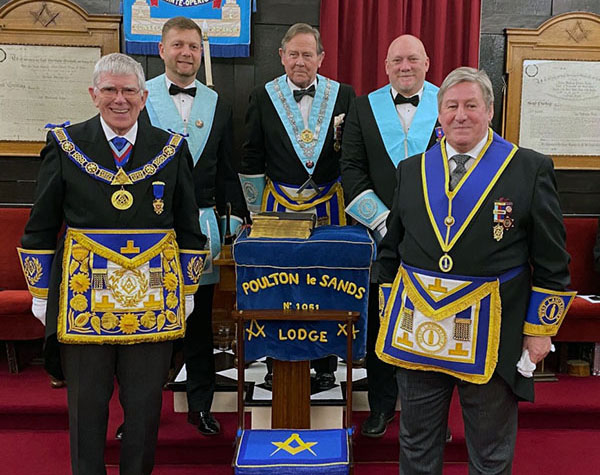 Since the untimely death of John Allington in 2021, Stewart has been acting master of Poulton le Sands Lodge. Poulton le Sands Lodge was formed out of an amalgamation of Poulton Hall, Rowley and Sandylands Lodges. This was the third time that Stewart had been installed as WM of a lodge; firstly with Poulton Hall Lodge in 1983 and then again in 1991.
During his former time as a Royal Marine, it appears that Stewart spent much of his military career focussed on playing rugby for the Royal Navy, Royal Marines and the Combined Services.
On leaving the Royal Marines, Stewart married his wife Kath in 1973 and they have two sons and five grandchildren. He joined the family firm Alex Willis, a firm of undertakers founded by his great grandfather in 1881. Stewart became a director of the company in 1975. His love of rugby continued with his appointment as club secretary of Vale of Lune Rugby Football Club in 1974, a position he held for 19 years.
Stewart received his first Provincial appointment as steward in 1993 and has subsequently been promoted to Past Provincial Junior Grand Warden. He was a founder member of Lancaster Loyne Rotary Club in 1980 and has been active in Royal Arch at Sandylands Chapter No 5702 where he was first principal in 1987, 1998 and 1999, and is currently scribe Ezra.
At his installation ceremony, Stewart was presented by Geoff Bury. The installing officers were Dan Crossley as installing senior warden, Ben Gorry as installing junior warden and Dave Shaw as installing inner guard. The third degree working tools were presented by Shaun Stewart, the second degree tools by Peter Cleminson and the first degree tools by Paul Stebbing.
Once placed in the chair of King Solomon, Stewart appointed and invested Matt Catlow as senior warden and Ian Woods as junior warden. The address to the master was given by Geoff Bury; that to the wardens by Phil Gardner and that to the brethren of the lodge by Tony Harrison. On completion of the installation ceremony, Stewart presented Tony with a list of Masonic and non-Masonic charitable donations totalling just under £7,200.
The organist for the evening was David Tattersall and 72 brethren attended the festive board which was held at Morecambe Masonic Hall. The toast to the WM was given by Phil Gardner and a raffle raised £560.