Temple Lodge No 1094, meeting in the Roman Suite at Liverpool Masonic Hall, has had the pleasure of celebrating with Stewart Hyde his attaining 50 years membership to the lodge. On the evening it was opened by the master Robbie Fitzsimmons ably assisted by his officers, and according to Bottomley ritual.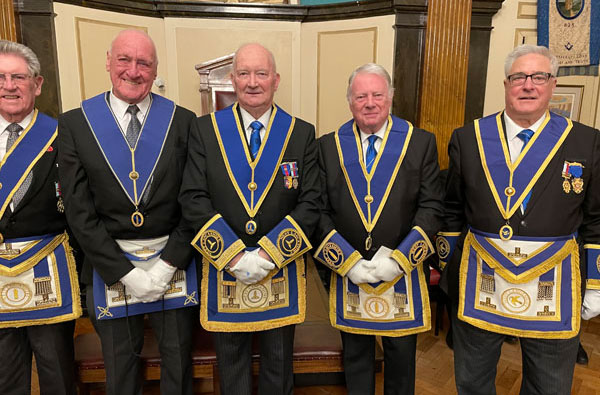 After completing the standard business agenda Gary Smith, Past Provincial Deputy Grand Director of Ceremonies was admitted and announced that Assistant Provincial Grand Master John James was outside and demanded admission. His arrival into the room was warmly welcomed being also accompanied by AProvGM Andrew Whittle and other grand and Provincial grand officers. On admission Robbie warmly welcomed John and on presenting him the lodge gavel John gladly accepted.
Assistant Provincial Grand Master John James called for Stewart Hyde to be placed before him and made comfortable. John explained to all present that it was an honour for him to celebrate and congratulate Stewart for the landmark achievement of golden jubilee, his 50th anniversary of being a Freemason. What is also remarkable, that despite with both work and illness, in those 50 years Stewart had an attendance record of 95%, which is an outstanding achievement. Lodge secretary Dave Crowley was requested to read the minutes from Wednesday 13 December 1972 which was with regard to the initiation of a certain Colin Stewart Hyde, (known as Stewart), a period of 50 year and 29 days ago.
John then proceeded to tell the brethren about Stewart. He had been born in Broadgreen Hospital here in Liverpool to George and Mary. The date of Stewart's birth is well known, it coincided with the first day of Operation Market Garden, the Allied attempt to secure bridges over the Lower Rhine at Arnhem, Holland, also known via book and film as 'A Bridge Too Far'.
His father George worked at the Watsons Garage, Oldham Place, within Liverpool city centre, on the Jaguar and Daimler Floor. On the outbreak of WWII, the garage also worked on commandeered vehicles, military vehicles and those arriving on convoys from the USA, so he was designated as 'reserved occupation' and so did not enlist in the Services. He became an Air Raid Warden and as a driver for the Auxiliary Fire Service including during the infamous Liverpool Blitz.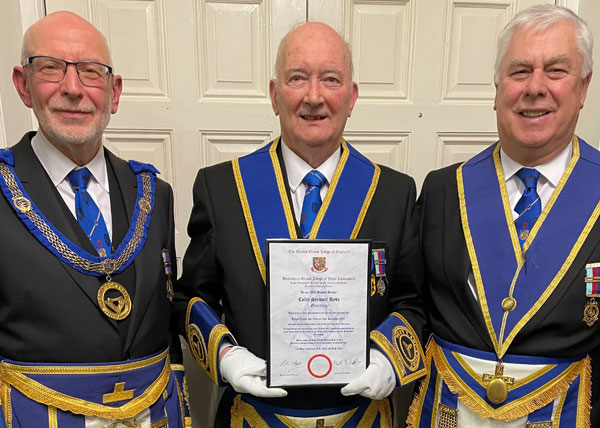 The family all survived the war and Stewart attended the St Michaels's in the Hamlet Primary School, Aigburth and on passing the 11 Plus, the Toxteth Technical Institute which soon changed to the Toxteth Grammar School. He left after completing the sixth form with a number of GCEs in July 1963. Like many of his peers, Stewart joined the scout movement as a cub scout, but rather than advance to the boy scouts he moved over to the Air Cadets with a view to joining the RAF and learning a trade. However, experience of summer camps on RAF stations made him think again.
His paternal grandmother had had a long-term lodger who had come down from Scotland to join the Liverpool City Police, and although the lodger was now married, he remained a firm family friend and Stewart talked to him about the police and just after his 19th birthday, walked into Lark Lane Police Station and asked for application forms. After due process he was attested and after training he was posted to Prescot Street Police Station, Liverpool. In 1966 he was given an advanced driving course and on passing was immediately attached to the Traffic Division.
He served for 31 years, mainly in the Traffic Division, but also within Divisional Policing, CID attachment, Complaints and Discipline and leaving as a result of an injury on duty in 1994 sustained during a firearms training exercise, (he was a national qualified police rifle marksman), with the rank of Inspector. After recovery, he worked as a civil servant until his retirement at 65 in 2009.
In 1972, he was invited by two of his colleagues to a couple of Masonic social events which he enjoyed and he was asked to consider joining Freemasonry, his seconder being Bob Fisher who is still an attending member of Temple Lodge. Sadly, Bob was not able to attend this meeting after having surgery earlier in the day. Stewart's initiation took place in the Ionic Suite, Hope Street, on Wednesday 13 December 1972. Stewart was raised on 13 February 1974 and proceeding to occupy all the various lodge offices until ascending the master's chair on 11 April 1979. His year actually lasted 13 months as his successor was on holiday in the April so the that installation took place on 14 May 1980.
Following his year as IPM, he became treasurer, but also normally took an office on past masters' nights or if in an emergency.  In October 1987 he received his first appointment as Past Provincial Grand Deacon and in 1993 promoted to Past Provincial Junior Grand Warden. In 1996, in order to assist the ladder, he left his position as treasurer to take the master's chair again.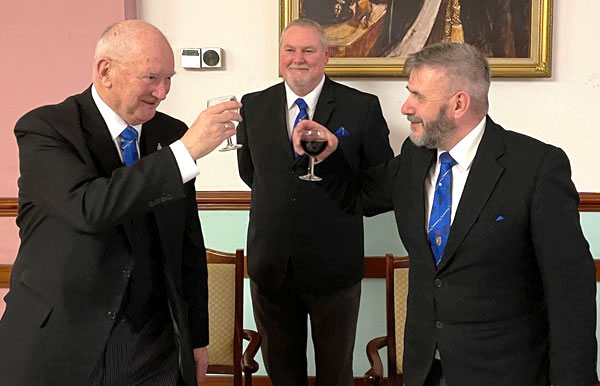 On leaving the master's chair in 1997, he volunteered to become the lodge DC, which he still holds in January 2023, although he stepped back to ADC for a couple of years to assist another brother. On Wednesday 9 May 2018, he was further promoted to his present rank of Past Provincial Senior Grand Warden, but was unable to attend in person as he was receiving radiotherapy at Clatterbridge Hospital having been diagnosed with advanced and aggressive prostate cancer, which is now in remission.
Stewart became a member of Royal Arch Masonry in the De Grey and Ripon Chapter No 1356 being exalted on Wednesday 7 October 1981. Although he started on the ladder, the meeting dates proved a problem with his progress in the Craft, so in April 1988, he became a joining member of Temple Chapter No 1094.
He became the first principal in 1993 and again in 2004. He took the office of scribe Ezra between 1995 and 2002 and received his Royal Arch appointment as an acting Provincial Grand Steward in 1999 and promoted to Past Provincial Grand Sword Bearer in April 2003. He resumed the office of scribe Ezra from 2005 until the chapter surrendered its charter in February 2019. He received his current rank as Past Provincial Grand Scribe Nehemiah in April 2010.
He became a joining member of the Saint John's of Jerusalem Chapter No 203 in September 2018 and became first principal in September 2019. Due to the disruption by COVID-19, he remained in office until September 2021 when he was able to install his successor and is currently serving as a chapter steward. Stewart is also a member of two other Masonic Orders.
As well as donating to the regular Masonic charities and appeals, he has taken part in several charity events, from the 1997 3-Peaks Challenge for Down Syndrome with other Freemasons, family and friends, to more recent long distance charity cycle rides. Stewart is married to Norma and they have two daughters, Gina and Nickie, and still going strong. Both he and Norma give regular donations to a range of other causes, particularly prostate and breast cancer which his wife has overcome. He has also been a voluntary ambassador for the Northwest Air Ambulance Charity.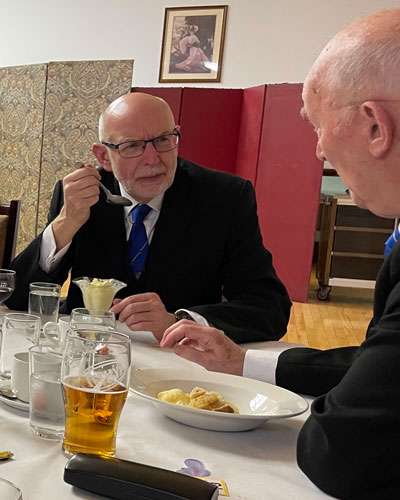 They both enjoy travelling but with the recent pandemic, plus a list of illnesses, that has had to be curtailed. Being avid caravaners, they had many fine outings with their great friends Bryan and Sonia Wearing, and it was lovely to see Bryan here in attendance tonight. Another strong interest of Stewart and Norma is the family history of both wings of their families, (a sometimes infuriating) hobby, with Stewart still trying to establish why a great-uncle was awarded the Military Medal in WWI.
At this point John James requested group chairman Dave Johnson read out the 50-year certificate previously signed by Provincial Grand Master Mark Matthews, and on completion it was presented by John to Stewart, with much applause. Stewart then presented a personal cheque to John drawn in favour of the West Lancashire Freemasons' Charity. Stewart was escorted back to his place in the lodge and Robbie Fitzsimmons returned to his seat as master.
John James may have thought his duties had come to a close, however during the risings he took the opportunity to present a master Mason certificate to James Langley. John then in full procession left the lodge with Stewart Hyde beside him. On closing the lodge WM Robbie processed out and the brethren made their way to the main banqueting suite.
At the festive board, Stewart thanked all for their attendance and the support given to him so freely, not just tonight but over the last 50 years. He thanked Temple Lodge for the bouquet of flowers which Norma had received in the afternoon. The lodge also presented a bouquet to John James for his wife, and another to James Langley whose wife had just given birth. After a fantastic evening, both in the lodge and at the festive board Stewart wished all a safe journey home.