It was another very special occasion and a memorable night for the Ormskirk and Bootle Group, when companions and the many guests of Thornton Chapter No 8008, gathered at the Litherland Masonic Hall to witness the installation of Stephen Oliver as their new first principal.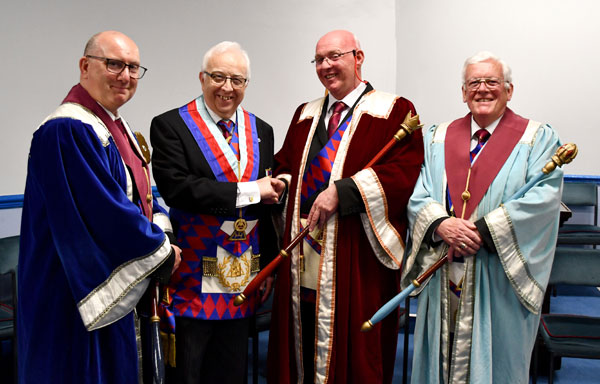 Stephen was due to become the first principal two years ago, but due to the Covid pandemic and the lockdowns the country experienced, it wasn't until the 2022 installation ceremony that Stephen could finally take the first principal's chair.
The chapter was pleased and honoured to have the presence of Malcolm Alexander, Assistant to the Provincial Grand Principals, as their principal guest for the installation. Malcolm was accompanied to the ceremony by Ormskirk and Bootle Group Chairman Graham Chambers, grand officers; Peter Levick, Roy Pyne, Frank Umbers and acting Provincial grand officers Ken Rouse and John Karren along with Russell Skidmore and Chris Taylor.
The meeting commenced with the outgoing first principal John Roxburgh, opening the convocation, with his companions; Stephen Oliver the second principal and Andrew Oliver the third principal. Once the initial business had been completed the DC Barry Jones announced that Malcolm Alexander was without and sought admission. Malcolm was then brought into the temple in a procession, accompanied by the grand and acting Provincial grand chapter officers.
After Malcolm was warmly welcomed by the three principals to the chapter, the installation ceremony commenced with the companions of the chapter and visitors witnessing Stephen Oliver, Andrew Oliver and Len Hudson being installed as first, second and third principals respectively, in a magnificent ceremony, with the three robe addresses equally being delivered by Roy Pyne.
At the conclusion of the ceremony, Malcolm brought the congratulations on behalf of the Grand Superintendent Tony Harrison, wishing the three principals an excellent and enjoyable year in office. Malcolm then congratulated John Roxburgh, Roy Pyne and Barry Jones for the way they performed their parts in the ceremony, before congratulating all the companions of the chapter who had been involved with the ceremony.
Stephen then had the great pleasure to present Malcolm with a number of cheques for charities; Friends of Tithebarn £100, Litherland Masonic Hall £100, WLFC £100, the Ukraine Appeal £100, Bootle Widows £50, as well as a number donations that have already been donated, Feel Good Factory £100, Medicine Sans Frontier £250, Aintree Hospital £100, Froth £100, Food Bank £300, and Tithebarn £500, making a total of £1,800 in donations from the chapter to charities. Malcolm on behalf of the recipients thanked the companions for their very kind generosity.
Following the convocation the members and guests retired to enjoy an excellent festive board, with lots of humour and festivities.