A rather special celebration was arranged on Thursday 20 January 2022, to honour Stephen Beswick. A special, highly respected gentleman celebrating 50 years of being a Freemason.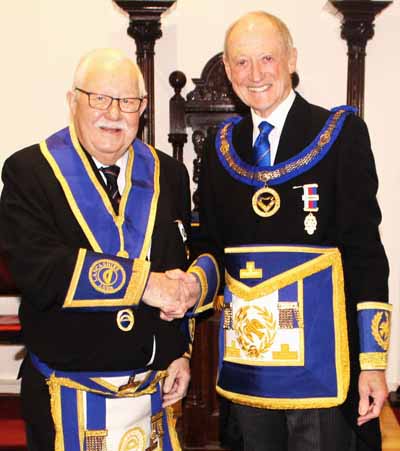 Members and distinguished visitors alike of Davyhulme Lodge No 3715, meeting at Urmston Masonic Hall were delighted to receive Barry Jameson, Assistant Provincial Grand Master, accompanied by South Eastern Group Chairman Gareth Jones along with Provincial Deputy Grand Director of Ceremonies Ryan Modlin and Provincial Grand Steward Ian Wood.
The lodge business being dealt with, the special part of the evening arrived as Barry entered the lodge room in ceremonial form and was presented to the WM, Chris Moors.
Chris, having welcomed Barry and his attending officers offered him the gavel of the lodge which on this occasion he accepted, also taking the master's chair. Barry then addressed the brethren, thanking the lodge for their very kind welcome and explaining what a great pleasure it was to be with the members and visitors of the lodge to share this very unique and auspicious occasion.
Having ensured that Stephen was comfortably seated in prime position, Barry began his presentation stating that his office of Assistant Provincial Grand Master carried a number of onerous responsibilities and duties, but also a number of great privileges, and the prospect of being able to officiate at a 50th celebration was, without doubt, the amongst best!
DC Andrew Berry then proceeded to read an extract from the lodge minutes for the meeting held on the 20 January 1972 which, coincidentally was the meeting at which Stephen was initiated. Barry Jameson then continued quoting information which Stephen had provided during a convivial hour that the two had spent together the previous week, supplemented by information given to him by Andrew.
Stephen was born in July 1940 in London, Hillingdon near Uxbridge in the so-called ceremonial county of Middlesex. A ceremonial county being one to which a Lord Lieutenant is appointed. Barry suggested that this possibly accounted for the fact that Stephen's accent was somewhat removed from that more commonly found in this area, south-west of Manchester.
Stephen's parents were George and Claire, his father having had long service with the RAF before going into the teaching profession. Stephen was eventually the eldest of four children, a brother, Lance, now living in Canada, Jeremy who lives in Rutland and a sister Theri who lives in London.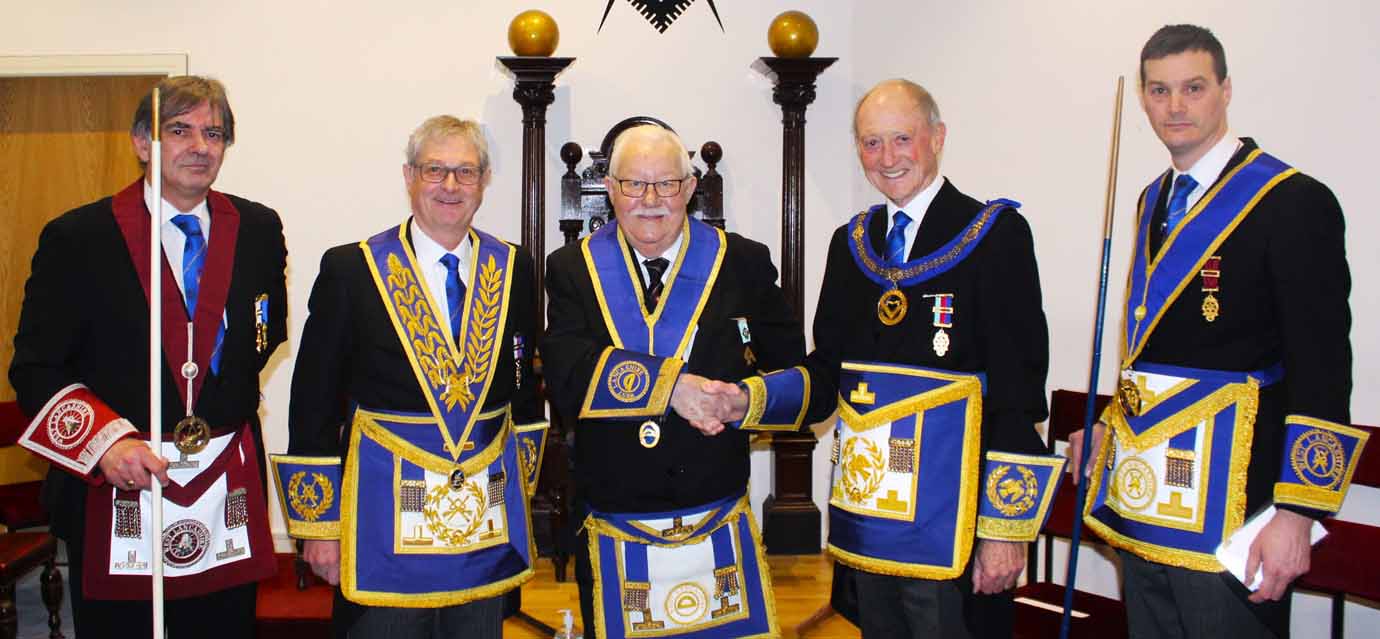 He attended the John Lyon Lower School in Harrow, which promotes itself as a 'highly academically selective independent school', established initially for the education of local boys, it is now co-educational. It was established by the founder of Harrow School, John Lyon and acts as a feeder to it. The line of Harrow progression stops there as Stephen left school in his mid-teens, to join Barclays Bank – pursuing the well-known phrase, 'follow the money'. After an initial eight years with Barclays, he continued his career in banking and finance with several financial institutions and eventually, his work brought him to the North of England.
Stephen's father was also a Freemason, a member of Wendlesworth Lodge No 6640 in London and fortunately, he also had family connections in this Davyhulme Lodge where he was proposed by an uncle, William Rex Miller in December 1971 and became its 219th member, being initiated by him on the 20 January 1972, aged 31.
Stephen's father, a holder of London Grand Rank, also joined the lodge in March 1981 so was certainly a member when he first went into the chair of this lodge as its 68th WM. However, his father sadly passed away in June 1989, so was not able to see him serve a second year as WM in 2005 and a third in 2006.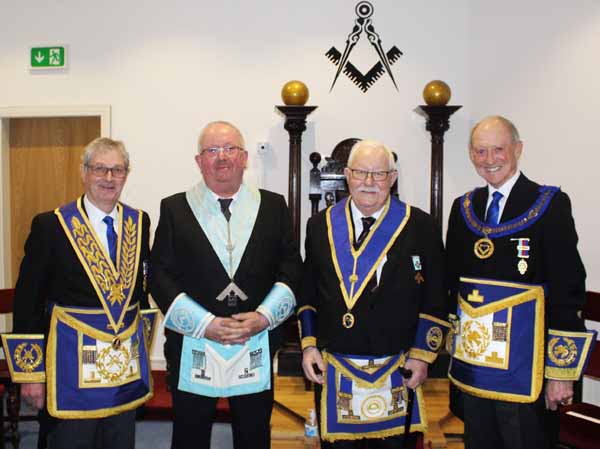 Through family connections, Stephen has a long and possibly unique record as far as the position of inner Guard is concerned. A distant relative and founder of the lodge, brother Beardsall, master in 1918 was the first inner guard of the lodge. Another relative, A H (Bertie) Rex who was master in 1945 also served as inner guard as did his installing relative William Rex Miller. Stephen has been in that position for a while now, so becoming the fourth-generation member to serve within the entrance to the lodge. Indeed, it was thought at one stage that his family would have provided the first and possibly the last inner guard as the lodge was struggling. But fortunately, the lodge has recovered and, it is hoped, will continue for many years to come.
Turning to family matters, Barry went on to tell that Stephen has been married to his present partner Maureen, who he met at a dance, for 15 years and that both enjoyed dancing as a social recreation.  They have two grown children, daughters Catherine and Samantha and, through Samantha's marriage, two grandchildren with fine Scottish names, Gregor and Cameron and also a great grandchild, Lilith.
When Stephen first moved to the north, he played rugby for Thornton Cleveleys. Barry commented that they were a decent rugby side as he had played against them in the late 1960's and they were well mannered but uncompromising! Stephen played for them and on occasion would get called to the more senior Fylde Rugby Club where he recalled having Sir as he is now, Bill Beaumont's head, tucked into his lower regions, a pleasure and a privilege no doubt.
Barry went on to say that Stephen had a cheerful though at times, understated disposition and it was a pleasure to spend some time getting to know him ahead of the evening's celebration. Masonically, it was known that Stephen joined Davyhulme Lodge in January 1972 and 50 years to the date, we can celebrate his landmark 50th anniversary.  He has served as it's WM on three occasions and extended his family's record as inner guard for the lodge. He has also been its treasurer, almoner and is currently, both inner guard and almoner. Having received his first appointment in Provincial Grand Lodge as PPJGD in 1992 he was then, in 2013, promoted to his current high rank of PPGSuptWks.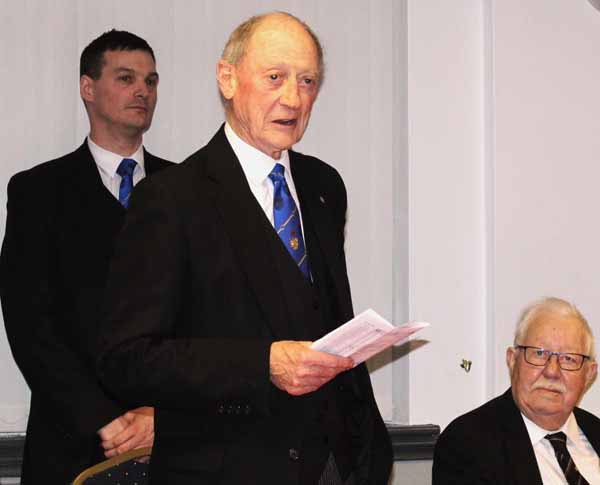 Barry went on to say that the Provincial Grand Master Tony Harrison also recognised Peter's outstanding contributions and had produced and signed a celebratory certificate to commemorate the evening, which was then presented by Gareth Jones, South Eastern Group Chairman, followed by very richly deserved applause from all present.
Stephen responded to the applause quite emotionally, saying he felt very privileged and thanked Barry for his very kind comments. He thanked all who had attended, particularly those brethren from Davyhulme lodge.
The celebratory part of the ceremony completed, Barry vacated the chair handing the gavel back to the WM Chris, who thanked him for his presentation and very kind words towards their highly respected member.
On completion of the ceremony, Barry requested Stephen to join him in leaving the lodge room with the grand and acting Provincial grand officers.
An excellent festive board ensued, encompassed by food and cups of cheer along with a heartfelt response in return from Stephen and the brethren will have all left the celebration with a sense of pride at being in the presence of such a respected freemason.