When nurse Pollitt was delivering a baby in September 1939 in Platt Bridge, Wigan, she had no idea that the sixpence that she had just earned would provide the Province of West Lancashire with a future Assistant Provincial Grand Master and Third Provincial Grand Principal.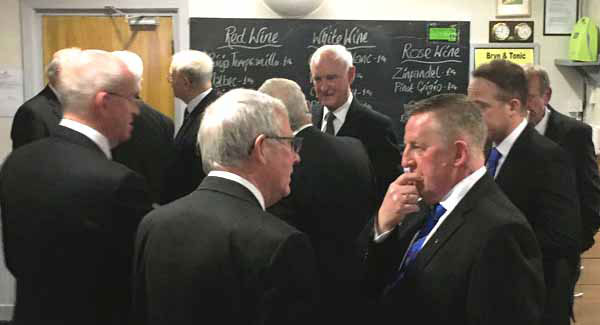 In fact, Stanley Oldfield would hold many important Craft and Royal Arch offices within the Province in the next 50 years, he just didn't know it. Fast forward 51 years, unfortunately COVID postponed his celebration at Bryn Masonic Hall and his Masonic friends and colleagues from the Province and around the United Grand Lodge of England met together at Stanley's Bryn Lodge No 6553 to celebrate a famous milestone.
When the lodge was opened by the WM John Taburn, he quickly offered the gavel to Assistant Provincial Grand Master David Ogden who, on this occasion retained it and occupied the chair of King Solomon to offer the best wishes of the Provincial Grand Master Tony Harrison and to give a heartfelt history of Stanley's numerous successes throughout his life.
It was apparent from the very first sentence that this was going to be special hour with David filling in a number of sections with his own personal memories from a friendship going back over 40 years. David reminded Stanley and the brethren of Stanley's schooling at St Nathanial's Church in Platt Bridge before passing his 11 plus to attend Hindley and Abram Grammar School, but it was his time in the Boys Brigade that would set a course for him in uniform and a National Service spent in Cyprus with the Royal Military Police and then on to a career in the Police Force retiring eventually with the rank of Superintendant.

Stanley's marriage to Marlene 60 years ago and the birth of Kate and Andrew, laid a foundation for a career in Freemasonry and with Marlene's support he offered himself to Freemasonry completing each task offered and gradually progressing through the ranks of leadership as they were offered, but his first appointment and possibly most important was as WM of Pemberton Lodge No 4686. He had been initiated on 27 January 1971 and eventually took on to the role of DC in 1991. As a Wigan Group officer, Stanley took on the offices of group secretary in 1991, group vice chairman in 1995 and group chairman in 1996, relinquishing the office in 2004.
Appointments to the Province came in the form of ProvAGSec in 1991 and ProvJGW in 1994. His UGLE investiture as PAGDC came in 1997 with a promotion in 2005 to PJGD. In April 2008, Stanley was appointed AProvGM with responsibility for Liverpool and it would be another 5 years, when in 2013 he retired from the role.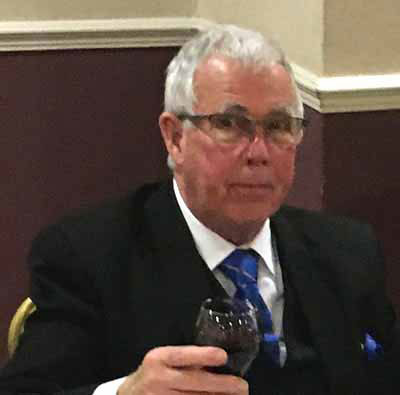 It doesn't take much imagination to guess what Stanley's Royal Arch CV looks like. From 1973 when exalted into Corinthian Chapter No 2350. He made steady progress and became first principal in 1988 and ADC in 1992 until 1995. Pemberton Chapter No 4686 made Stanley an honorary member in 1997 and he rose steadily through Provincial Royal Arch giving service in the roles of ProvDepGSwdB, PPGSN, PGSB, Assistant to the Provincial Grand Principals, Past Assistant Grand Sojourner and Third Provincial Grand Principal between 1973 and 2016.
David reminded the brethren that besides being a keen golfer who had held the position of Chairman of the Provincial Golf Society from 2011 until 2013, outside Freemasonry, Stanley was a keen fund raiser for the North West Air Ambulance and also a great worldwide traveller, having spent many hours on boats, trains and planes travelling to the great wonders of the world including the pyramids, and the Taj Mahal as well as trekking up Table Mountain.
At the end of a great adventure story, David requested Geoffrey Porter, the Wigan Group Chairman, to present Stanley with a certificate on behalf of the Provincial Grand Master, recording Stanley's 50 years of service to Freemasonry. Geoffrey pointed out that this certificate was personally signed by Tony Harrison and was affixed with the seal of the Province.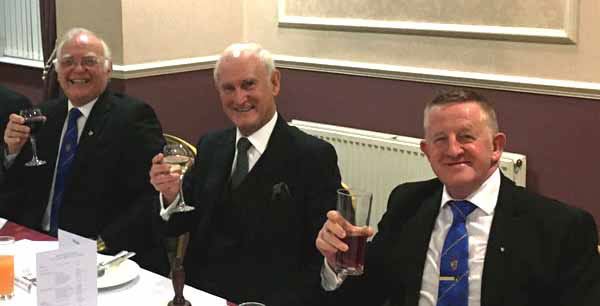 David thanked everybody for their attention and passed the gavel and the chair of King Solomon back to the John who thanked him and the Provincial team for their help and support. After the almoner's report and a collection, the WM rose for the first time asking if there were communications from UGLE. At this time the AProvGM and the Provincial team retired from the lodge. The WM rose for the second and third times before closing the lodge and retiring.
At the festive board in Bryn Masonic Hall's tremendous dining room, it was great to see the hall full again with a top table the full length of the room. The old stories were being told again and the food, as usual was first class. David took wine with all present, the loyal toast and toasts to the UGLE and the Province's leaders taken before David paid tribute to Stanley's tireless efforts during the past 50 years and thanked him personally for his friendship. Stanley responded in true style with humour reminding everybody that charitable giving comes from the heart.
Article by Ian K Dawson, Wigan Group Publicity Officer.